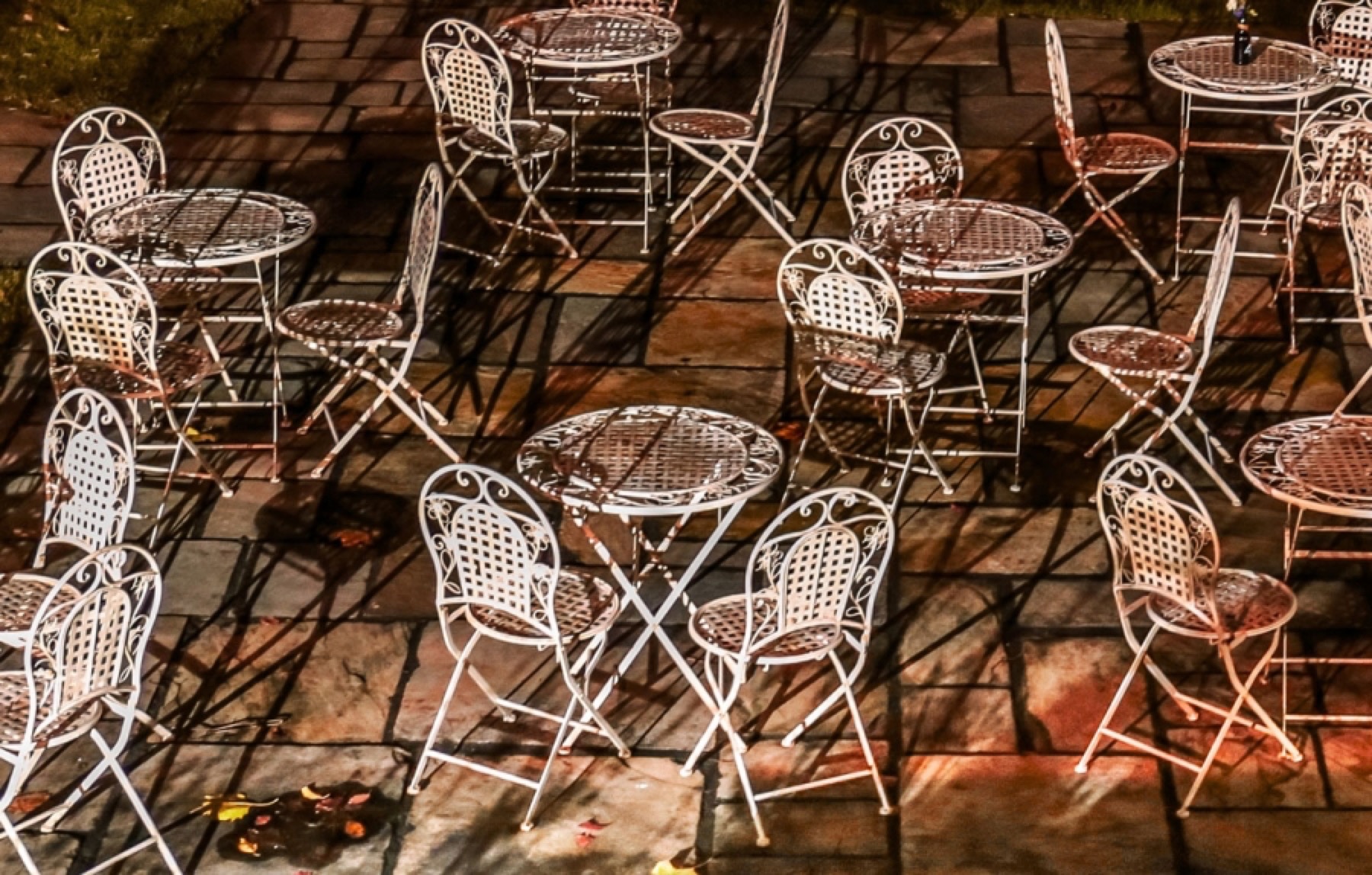 Photo by Bill Mackie on Unsplash
A REVOLUTION
By Leesa Cross-Smith
The Glimmering Hush
---
I
n late August, September, and early October, my
Whiskey & Ribbons
book tour took me to Georgia for the Decatur Book Festival and to Lexington for both the Kentucky Women Writers Conference and the Kentucky Great Writers Series. I was on a panel, I read, I recorded a podcast and read again. I haven't flown on this book tour, preferring to drive instead. I've done a
lot
of driving. So much of touring is the "in-between," the getting from one place to another—the gas stations and bathroom stops and lap lunches and snacks and grocery store salads and GPS and traffic and suitcases and hotels and parking garages. The majority of the time I've been traveling with my husband and our two children, adding multiple layers to the logistics. Once we're back home it feels like suddenly stepping off a treadmill—the world, still loud and blurry and whizzing past as I try to adjust to standing still again.
One thing that helps me settle and organize my brain, my heart, my work, is repetition. Taking stock of things and making lists. Mid-September, I announced my new short story collection, So We Can Glow, and my new novel, This Close to Okay, both forthcoming from Grand Central Publishing in 2020 and 2021, respectively. I've been working on those and listening to the computerized voice on my phone read those books back to me as I walk my morning miles and take my carpool drives. As the curtain closed on summer, I finished new drafts and took comfort in my annual sports rituals of late summer/early fall. I watched the US Open. I watched the Packers. I watched baseball.
I listened to "Just Like You" by Keb' Mo' over and over again the same way I did when I was working at a coffee shop when I was in college. Keb' is singing, "I feel just like you and I cry just like you and I heal just like you and I break down just like you," and I'm wondering if people would actually live their lives differently if they listened to that song every morning before they went out into the world or interacted with other people. The realist in me knows this is absolutely not true, but my heart, I don't know, thinks maybe it could change the world or something. Even the smallest mercies matter, the revolutions in miniature. I feel this way about fellow Louisvillian Bonnie "Prince" Billy's The Letting Go album, too. It's feathery and tender, filled with love; the title of the album becomes more and more important upon each listen. And I celebrated the twenty-fifth anniversary of Counting Crows' August and Everything After by listening to the album on repeat for a good stretch like I do at times ever since I got it on cassette tape back in 1993, when I was a sophomore in high school. It became one of my most important high school soundtracks and still remains one of my favorite albums. It's soothing to me.
One of my best friends recently told me over coffee that I'm a "self-soother" and this is true. And being a self-soother, I'm also very private. People have actually said things like, Do you and your husband ever fight? Do you ever get depressed? (Yes and yes, of course! "I feel just like you and I cry just like you.") But it's wild that we live in such a time of immediate, constant commentary and oversharing that if someone doesn't speak openly about everylittlething going on in their life, then some people assume they must not have problems or ever get sad. I'm just like you, but I don't like unnecessary noise. This is self-preservation because I'm easily startled and my emotional battery gets sapped very quickly. When I feel the world or my emotions spiraling out, getting quiet is how I right them. When I'm feeling anxious or overwhelmed, I purposely (sometimes obsessively) throw myself into one thing that interests me. Sometimes it's a book I'm working on or a musical I want to learn every word to. Or a knitting project. And sometimes it's a certain actor or movie. Familiarity, repetition, and focus light up my creative heart, allowing me to circle back and stretch out, giving me extra room to think and breathe. I can't create if I can't relax and I can't relax if I'm not comfortable.
Over the past few months, I've found comfort in a movie I used to watch on repeat when I was in college: Donnie Darko. Donnie Darko is moody and nostalgic with a killer soundtrack and it simultaneously reminds me of the early 2000s and the 1980s, in which the movie is set. It's a quiet movie that is at times funny and dark and sad, with a punchy comic-bookishness to it. At one point, a character remarks to the main character, played by Jake Gyllenhaal, "Donnie Darko, what the hell kind of name is that? It's like some sort of superhero or something" and Donnie responds "What makes you think I'm not?" Soon after, there's this exchange between the two of them:
"You're weird."
"Sorry."
"No, that was a compliment."
I mean it as a compliment, too, when I say Donnie Darko is a weird, surprising, complicated movie that takes a lot of rewatching in order to understand and even then, there are plenty of websites dedicated to "explaining" it. And I'm not alone in my intense love for the movie; it's a cult classic. When I watch Donnie Darko, I almost always watch it at least twice in a row not only because I love it and Jake Gyllenhaal so much, but because I am familiar enough with the dialogue and sounds and music cues that there are no surprises and that comforts me. Patrick Swayze, Drew Barrymore, and Noah Wyle are also in it, adding to the eighties/nineties nostalgia and familiarity. In They Made Me Do It Too, a documentary about the movie, it is described at one point as an "eighties John Hughes teen movie . . . if directed by David Lynch." Donnie Darko is about fate and family and high school. Hypocrisy and fear and love. Time travel and mental health. And like August and Everything After, it's dreamily autumnal. Donnie Darko is also about God.
I think of one of my favorite hymns, "Come Thou Fount of Every Blessing," and the lyrics, "Bind my wandering heart to Thee. Prone to wander, Lord I feel it." That's my prayer, always—even amid the wandering, that my heart will be bound to God, so I'll find Him in everything and never be able to stop writing about Him or thinking about Him. My dad, who is a preacher, met us down in Decatur for the book festival and told me about the sermon he'd heard that Sunday morning. The pastor had said "the world is loud but sometimes God is quiet." And because I know this to be true, I'm a listener.
My final scheduled book tour events are in October: recording another podcast and a library reading in Fort Knox. I am looking forward to those and also to my hibernation time afterwards. Time alone with my family and movies and knitting and tea and candles and books. The quick brights of spring and summer swapped for the slowed darks of fall and winter. The long light will leave us, stealing the green and so many of the birds with it. It's change, but it's a familiar to everything there is a season change. All of us taking a go at another revolution around the sun. And I will work and wait and listen—patient and warm—for the light to return. For what comes next.
THE GLIMMERING HUSH PLAYLIST: October
---
"The Glimmering Hush" is a part of our weekly story series, The By and By.
Enjoy this story? Subscribe to the Oxford American.