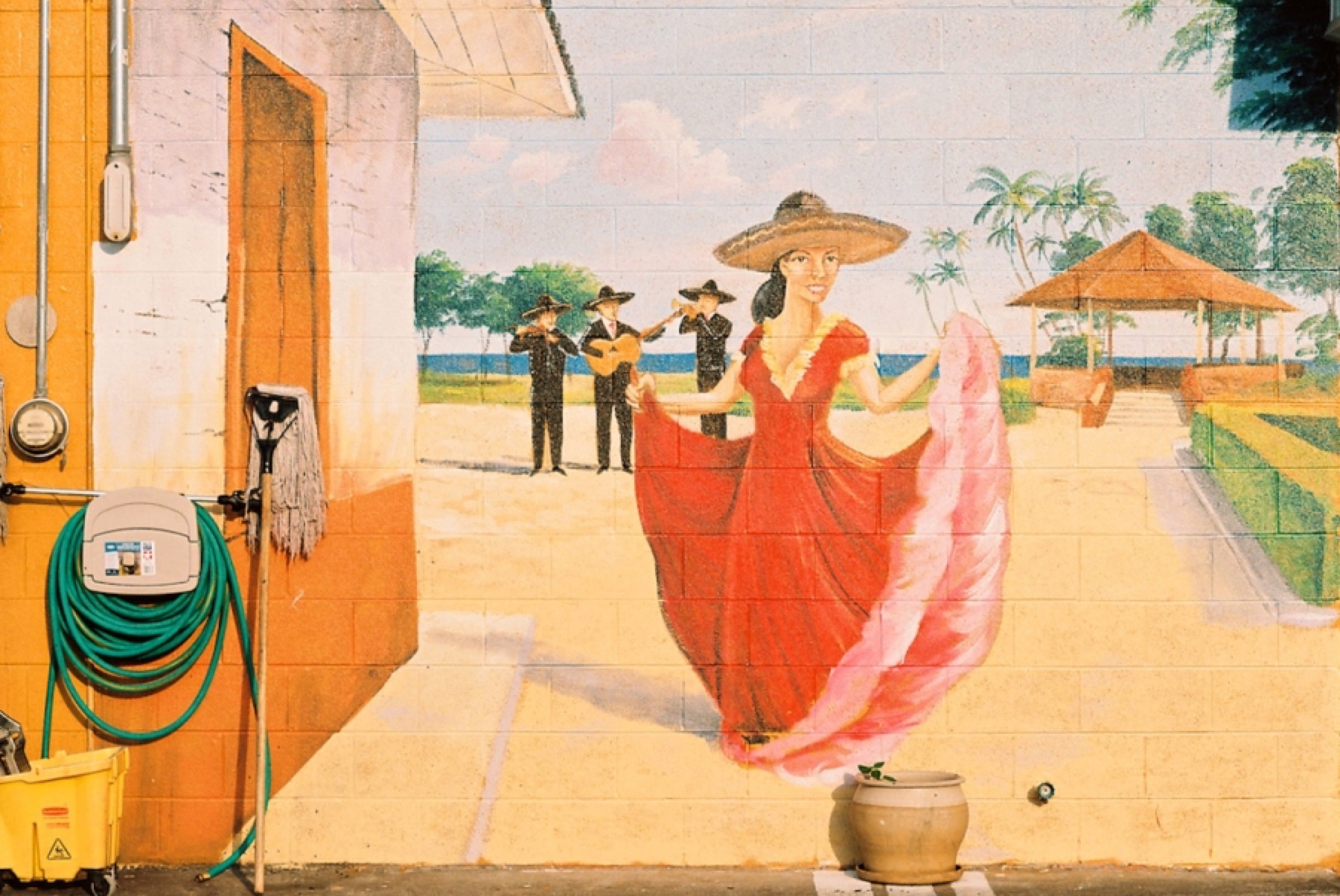 Image © Kim Jenkins
A VOICE FROM THE NUEVO SOUTH
By Sandra Gutierrez
Soon after arriving from Canada to live in the South, I became the first Latina food editor and columnist of a newspaper in North Carolina. It was 1996. My husband and I were settling into the small town of Cary, and we were the only Latinos in our neighborhood. I had been at the paper a week when one of my editors received a letter from a disgruntled subscriber, upset that her beloved paper had chosen "a Mexican" to write the cooking section. It hurt. Not only because my family is not Mexican (we're Guatemalan), but also because the term Mexican isn't an insult, and she clearly meant it as one. I took the slight as a challenge and set out to prove her wrong.
I started as a generalist, writing about ingredient-based cooking, technique, and world cuisines, intentionally avoiding writing about Southern food. First I had to decipher its secrets: the biscuits and field peas, the cobblers and fried pies. I read and studied voraciously. Books by the contemporary greats—Nathalie Dupree, Damon Lee Fowler, John Egerton, and Paul Prudhomme—joined my copies of the classics: The Virginia Housewife by Mary Randolph, In Pursuit of Flavor by Edna Lewis, and of Southern Cooking by Bill Neal. I amassed a collection of regional community cookbooks and spent hours leafing through historical books like What Mrs. Fisher Knows About Old Southern Cooking, Soups, Pickles, Preserves, etc. in my local library.
For twelve years, I learned the food of my new home—including the racial injustices that were part of its culinary legacy. I relearned how to cook, this time from Southerners. My family's vacations became opportunities to stop roadside for tastes of peach ice cream and tomato jams found on Highway 211 in the Sandhills. I sampled my first boiled peanuts in a run down gas station somewhere near Savannah, Georgia, and I devoured my first chicken-on-a-stick at a Chevron in Oxford, Mississippi. I went to as many potluck suppers as I could, and my rule was taste everything. At first, I sleuthed in secret. Then I began asking my readers to teach me to cook in their home kitchens. I still hold close the memory of standing in Mrs. Johnson's linoleum-floored kitchen, me mirroring her as we mounded piles of winter flour, cut lard into it with our fingers, poured "just enough buttermilk to make the dough wet and sticky," patted it together, folded it over three times, rolled it lightly with a shared wooden pin, and then, with the metal rounds she'd inherited from her grandmother, cut out biscuits. I stood by the oven door watching my first Southern biscuits rise with the same excitement I felt as a little girl waiting for my first cake to bake in my toy oven. No matter how many biscuits I make now, none have tasted better than Mrs. Johnson's.
I am ashamed to tell you it took me many more years before I had the guts to start writing about Latin food.
Two decades have passed since that first newspaper column, and the South is now second to the Southwest in Latino population. The Nuevo South is no longer just black and white.
The first Mexican migrant workers arrived in the 1880s, but, with the exception of Florida, the South remained hermetically sealed off from widespread Latino immigration for much of the twentieth century. In the 1990s, legal changes such as the repeal of the Temporary Protective Status (which precluded the deportation of immigrants back to their countries due to natural disasters or armed conflict) welcomed Latino residents. According to the U.S. Census Bureau, the number of Central Americans alone grew nine-fold between 1980 and 2013. Arriving contemporaneously were highly skilled South Americans, who fled the flailing economies in their countries. From 2000 to 2010, the Latin population in the region grew by almost 70%.
Today, all you have to do is take a drive to witness the explosion of Latin culinary businesses. In North Carolina, the grocery chain Compare Foods has giant stores that rival the size and opulence of any Kroger, and inside you'll find aisles of Latin American fresh and processed products, organized by country of origin. In smaller communities, strip malls house tiendas, family-owned markets that usually include butcher shops and bakeries. Travel the highways beneath the 39th parallel, and you'll encounter kiosks that sell empanadas (hand-held pies), pop-up Peruvian rotisserie chicken restaurants. Love Cuban food? Try Nashville's Back to Cuba Café; or sample Venezuelan arepas (griddle corn cakes) in Liz Hernandez's Arepa Mía of Atlanta.
I've spent most of my adult life in the South. Yet I've found that many of my neighbors still don't know what to do with me. I don't fit the label of what a Latina "should be like." Even to many of the intellectual Southerners I have met—most of whom claim to be socially progressive—I seem to be too light-skinned, too well educated, or too well off (all so relative, of course). I can't tell you how many times I've heard, "Oh, my cleaning lady is from Guatemala"—right before I get a brush-off at a party. Sometimes, people are prepared to accept only a certain kind of Latina. The kind they can feel sorry for. The kind they can feel superior to.
For the same reasons, some members of my Latin community seem to think I am too American, a gringa even—particularly when they meet my blue-eyed husband (a descendant of Europeans who migrated to Guatemala last century to escape wars and economic devastation). When he speaks to them for the first time with a perfect Guatemalan accent, his words are often followed by nervous giggles and comments like: "You speak Spanish?" At times I have felt like I live between two worlds, neither here nor there. As much as I worried for our daughters—that they, too, would experience frustrations over their multicultural identities—I'm proud to say as adults they've joined the new Southern-Latino generation of professional women who are an integral part of the socio-economic reality of the region, one as a dentist and the other a lawyer. Latin Americans settling in the South—like any demographic reduced to an ethnicity—are of diverse economic, cultural, and racial backgrounds.
Three years after I began my job at that North Carolina newspaper, my editor asked me why I had written about so many international foods but had never covered Latin American cuisines. I told her I was afraid of being stereotyped. Her answer was simple: "You were hired over dozens of Southern candidates because of your writing skills and food expertise—and because we knew you'd bring a new vision to the paper." So I began approaching Latin foodways, but I did so through its truth: that it's a tradition with twenty-one different cuisines, of which Mexican is only one.
I prioritized familiarity, even as I broke with stereotypes. Southern readers were comfortable with Italian food, so I wrote about the cuisine of Argentina, greatly influenced by Italy, with its multiplicity of pasta dishes. Did you know that every 29th day of the month, Argentineans eat gnocchi? Neither did my readers in Cary, who were fascinated that gnocchi could provide filling meals to those who couldn't afford meat until payday (traditionally, the last day of the month). Building on the growing interest in Asian flavors, I wrote about Peruvian food, showcasing recipes for chaufa (fried rice) and Nikkei-style dishes such as tiradito (a mix between sushi and ceviche). Cary ate it up. I wrote about Mexican food, too, but not the bastardized version found often in American eateries. I bridged cultural differences through foods like tortas (sandwiches), chilaquiles (tortilla casseroles), and cochinita pibil (Mexico's version of pulled pork). And, through it all, I continued to write about traditional Southern cuisines. The honest voice that came out of my complex Southern life touched a nerve with my readership; suddenly, my column's popularity rivaled that of larger newspapers, and nationally recognized chefs, authors, and cooking personalities sought coverage in my section. My voice, now so unafraid, was being heard and respected. When I left the newspaper in 2004, the same disgruntled reader from my first week called to say she was sorry to have sent that letter; she would miss my columns.
While I researched and wrote, I noticed a new culinary movement developing throughout the South. Chipotle peppers were making their way into barbecue sauces and jalapeños were peppering hushpuppies. My friends were filling tacos with brisket and serving them with chimichurri. Others were making tamales with cornmeal and topping them with shrimp and pineapple salsas, or smothering dulce de leche on biscuits, dousing pound cake with it. I knew, together, we were onto something.
By the time the University of North Carolina Press asked me to write a book on the subject in 2009, the "New Southern-Latino Movement" was impossible for anyone to ignore. People were extending their Southern roots by joining them with those of others, exposing the new racial and sociopolitical realities of an entire region one dish at a time. The next year, Southern Foodways Alliance dedicated an entire conference to the Global South, which included the Latin American influences on Southern regional cuisine, and chefs like Bill Smith of Crook's Corner in Chapel Hill were creating fused dishes like sweet potato tamales. In less than a decade, the Movement had reached professional kitchens.
What we might be at risk to forget, though, is that the New Southern-Latino Movement was not born in academia or acclaimed restaurants. It was an organic crosspollination in which Latino and Southern home cooks, finding themselves in the same territory—and with similar cooking techniques and ingredients—had begun to adapt and create recipes that married their cultures. I was able to taste the Movement before I named it, at dinner parties in people's homes. My Latin friends were substituting grits for nixtamalized corn flour and replacing traditional chipilines with collard greens. My white friends were serving unforgettable menus featuring cabrito en barbacoa with tostones and coleslaw. This was a revolution created by regular folks seeking to find common ground through what they ate. Much like Southern foods, Latin American foodways originates from a history of need: poverty, slavery, and strife; and it tastes of survival: of wars, injustice, and oppression. But in this revolution, at this table, cultural marriage is a healing force because it comes from the people; it's happening by choice. As a Nueva Latina, I am not the maker of this movement. I am a part of it. So are you. Bienvenidos a la mesa!
---
This story received the 2017 Grand Prize of Les Dames d'Escoffier International's M.F.K. Fisher Awards for Excellence in Culinary Writing.
Enjoy this story? Subscribe to the Oxford American.