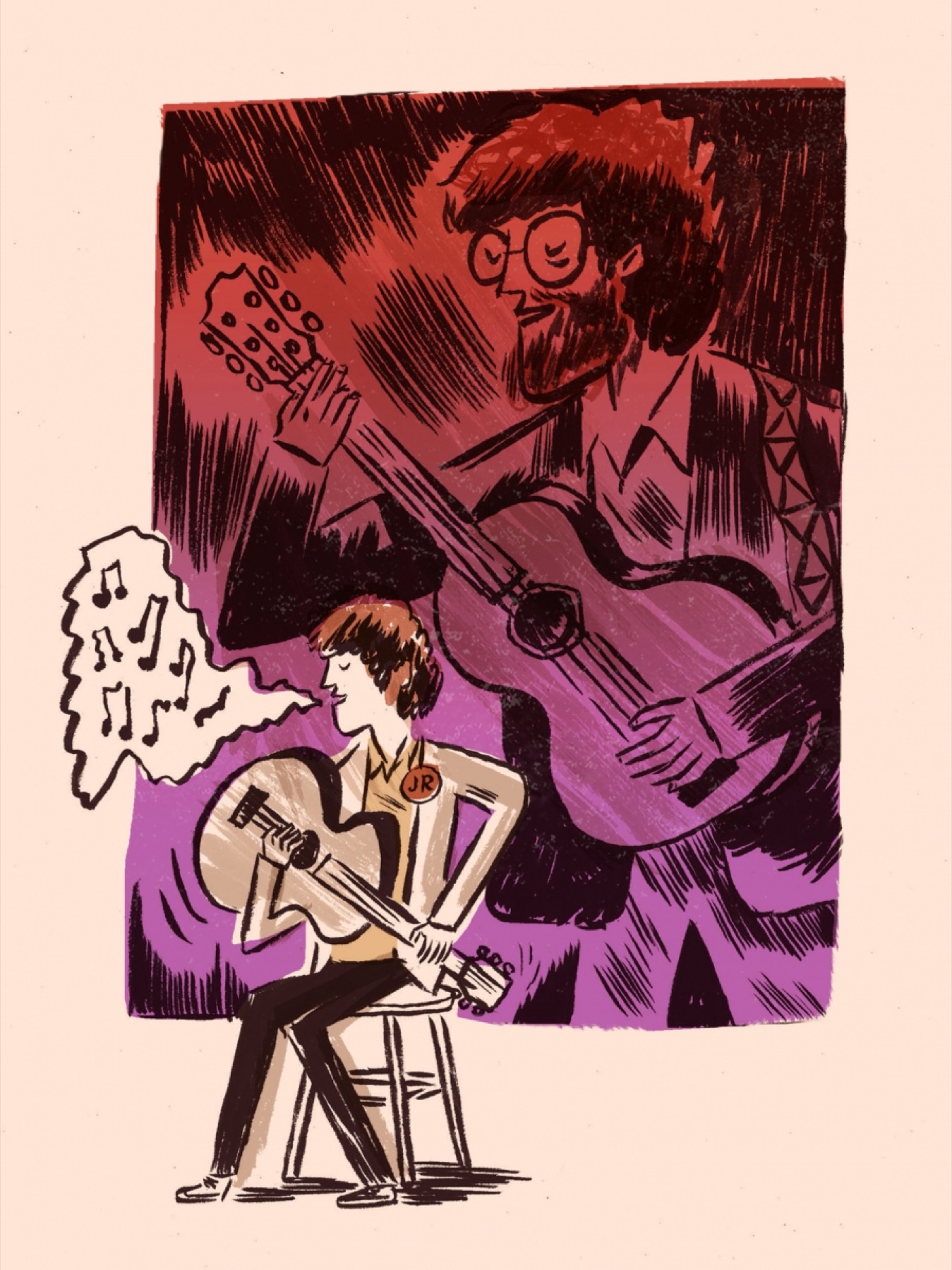 Michael Wapner Jr. | Illustration by Mike Reddy, musiciansyoushouldknow.tumblr.com
ALL THAT POSSIBILITY
By Oxford American
Recommendations from the editors of the Oxford American
---
In December, we had the pleasure of meeting Lois Reitzes, an institution of the Atlanta airwaves. (Lois has appeared on WABE, Atlanta's NPR affiliate, since 1979; we visited her arts and culture program, City Lights, to chat about the Georgia Music issue.) When we learned that Regina N. Bradley—who wrote for the OA about Field Mob, civil rights, and her hometown of "the 'Bany"—visited City Lights this week to give her scholarly take on the history of dabbing, we had to give it a listen. The segment does not disappoint.
"What is dabbing, you might ask?" posits Lois at the start of the show. Listen here as Regina breaks it down for reporter Gabbie Watts—from the role of social media in popularizing dances, to the Snap Era, to black Southern identity, to the authenticity of an Atlanta sound (and if there is such a thing anymore). For more from Regina, read "Country Notes by Country Folks" in our Georgia Music issue, or visit her online at RedClayScholar.com.
Years ago, Tom Piazza wrote for this magazine about Jimmie Rodgers, the early country music star from Meridian, Mississippi, with a "chameleonlike quality." In a brief recording career that began in 1927 in Bristol, Tennessee, and ended six years later with his death from tuberculosis in New York City at thirty-five, Rodgers's celebrity assumed a variety of identities: "The Singing Brakeman," "America's Blue Yodeler," and, posthumously, "The Father of Country Music." The singer, Piazza notes, had perfected "The endless American dynamic:
Strain at the leash, transform yourself into something unrecognizable, burn off the old, claim every possibility for yourself—contain, as Whitman suggested, multitudes—and then memorialize the past that you have killed to pay for all that possibility.
On a new record, Nashville stalwart Paul Burch considers Jimmie Rodgers in all his possibilities with an "imagined autobiography" across twenty songs—"tales," as Burch calls them in the album's notes, "honest but not necessarily true." We are taken with Meridian Rising (released last month on Plowboy Records), which draws on the facts of Rodgers life and the myths of his legacy (he never wrote an autobiography himself), and on his music. Years in the making, the album employs more than twenty musicians—Bruch's band, the WPA Ballclub, is bolstered by the "Meridian Rising Players"—to produce a collection of wonderfully divergent takes, all written and sung by Burch as Jimmie Rodgers in various moods, at various points in his life. Late in the album—having told of his upbringing in Meridian and travels across America, mourned the loss of a young daughter, dreamed of Paris, and more—Burch's Rodgers reflects on his short, peripatetic life: "'I'm sorry I can't stay,' / It's the first words you heard me say."
We here at the OA take our music pretty seriously, in case you haven't noticed our breathtaking, groundbreaking, earth-quaking, moneymaking, muckraking, booty-shaking music issue and CD. So we were thrilled to find the blog Musicians You Should Know, self-described as "portraits and biographies of the most important musical figures of our time," written by Jay Ruttenberg and illustrated by Mike Reddy (presumably to save on the astronomical fees for photograph rights). We were also gobsmacked and bushwacked to discover that, as encyclopediac as we are about music, we didn't already know any of these musicians that we should know, like the D.C. hardcore band Undisciplined Mutation, whose front man Evan Blecker is so straight-edged "his lips welcome neither drink nor drug; sexual activities are prohibited, as well as other hedonistic acts such as dancing at rock concerts and enjoying sunny days." Or the folksy singer-songwriter Michael Wapner, Jr., who, despite being "tone deaf and lacking even the most rudimentary sense of rhythm," chose to follow in the career of his more famous folksy singer-songwriter father: "Fans of the father instantly gravitated to the son, who resembled the elder Wapner in every way but quality." Follow it and find out every Thursday, when Reddy and Ruttenberg post new work, which musicians you should know that you don't know.
---
For more staff recommendations, subscribe to our weekly newsletter.