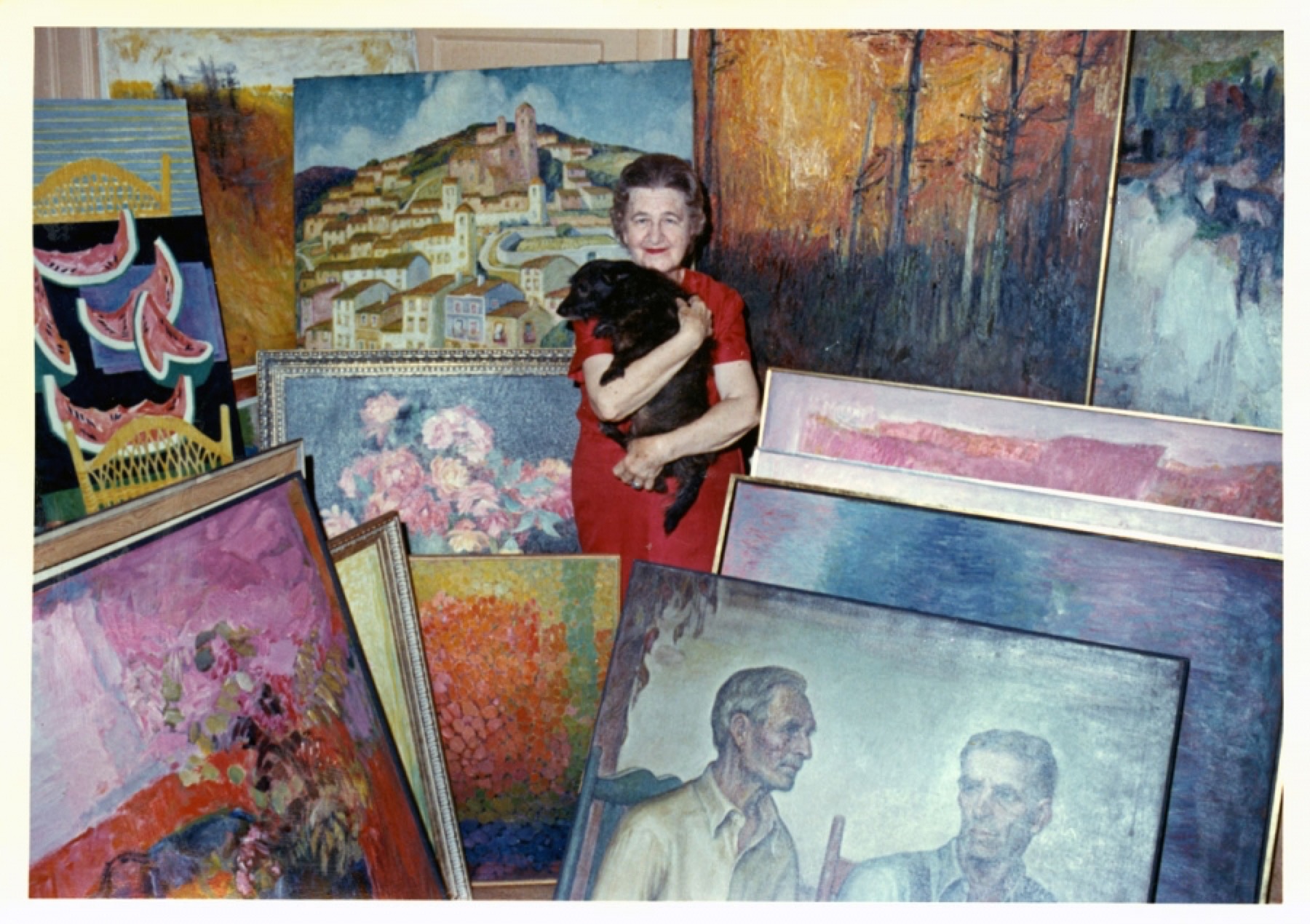 Photograph of Marie Hull (1890-1980) with her dog, Mimi, taken in 1966 (photo by Charles Gerald for the Clarion Ledger–Jackson Daily News) | Courtesy of Mississippi Department of Archives and History
BRIGHT FIELDS
By Oxford American
If you find yourself in Jackson this weekend, we suggest you visit the Mississippi Museum of Art for the opening of Bright Fields: The Mastery of Marie Hull, a large retrospective exhibition of one of the South's most gifted artists. Hull was born in Summit, Mississippi, on September 28, 1890—a time when women could not vote in this country. During her remarkable lifetime her paintings were selected for major exhibits around the world (including the 1931 Spring Salon in Paris). Hull created oil paintings, drawings, and watercolors, and her work includes landscapes, floral still lifes, portraits, and what she described as "lyrical abstractions": bold modern paintings in bright colors. Bright Fields showcases the depth and breadth of Hull's output, such as her portraits of African Americans—including "An American Citizen," in which she paints a man named John Wesley Washington dressed in fine attire, facing the viewer with an intense gaze. Washington was born into slavery, and Hull portrays him at ninety-four-years-old, a free man. Look also for Hull's moving sharecropper portraits, which she painted during the Great Depression. ("I find that people who live close to the earthly, fundamental things usually have more character in their faces," Hull said, of her choice to capture these subjects. "They have an unmasked look.") The museum will also display a collection of the artist's sketchbooks, which have never before been exhibited to the public. In conjunction with the exhibition, the University Press of Mississippi has published Levingston's book of the same title. See the show in Jackson until January 10, 2016, and view a selection of Hull's work below.
We are also excited, from afar, about the Lonnie Holley exhibit, Something to Take My Place, at Charleston's Halsey Institute of Contemporary Art, on view through October 10. Holley, sixty-five, is a musician and prolific folk artist in the Rev. Howard Finster mold. Last year, the New York Times Magazine dubbed him "the insider's outsider." Known these days for his music, which is released by Dust-to-Digital, the Alabama-born sculptor creates spontaneous and constantly evolving works out of salvaged materials, communicating powerful messages steeped in American history of his experience as a Southern black man. Often, his works have focused on the civil rights movement—see the work "Memory Paper," in which a piece of steel has been molted into pulped newspaper, lying on wooden pallet, symbolizing the weight of the period and the paper "it would take to tell the whole story." "Blood on the Shoes of the Civil Rights Walker," a piece composed of two women's pumps painted red on the soles, symbolizes "the blood . . . pouring through the shoes of the women." Of this piece, Holley says, "Women were the unsung heroes of the civil rights movement. They had to endure the hardships of outside and inside the home." Holley is now based in Atlanta. His works have not been shown on this scale in more than two decades.
Readers may recall Jamie Allen's passionate appeal for the dignity and preservation of Atlanta's embattled Gray squirrel population. "We city people have lost our connection to wild animals," Allen wrote in our summer 2014 issue. "Our pavement paradise, our automobile enclaves, and the pervasive technologies that sap our powers of observation have blinded us to our earthly neighbors." In recounting the efforts of the Inman Park Squirrel Census in Atlanta, of which he is a founding member, Allen implored us to see the invisible: to notice, and consider, the squirrel. Their last census, funded through Kickstarter, took place in 2012 and produced a wealth of information about the squirrels of Inman Park. As in any sound experiment, a follow-up census will be required to keep track of population variations, frequencies of sightings, and, perhaps, nut consumption. Next month, the group will conduct another one, and they're currently seeking volunteers. Squirrel Friends, come forward.
---
All works by Marie Hull (1890-1980), courtesy of the Mississippi Museum of Art