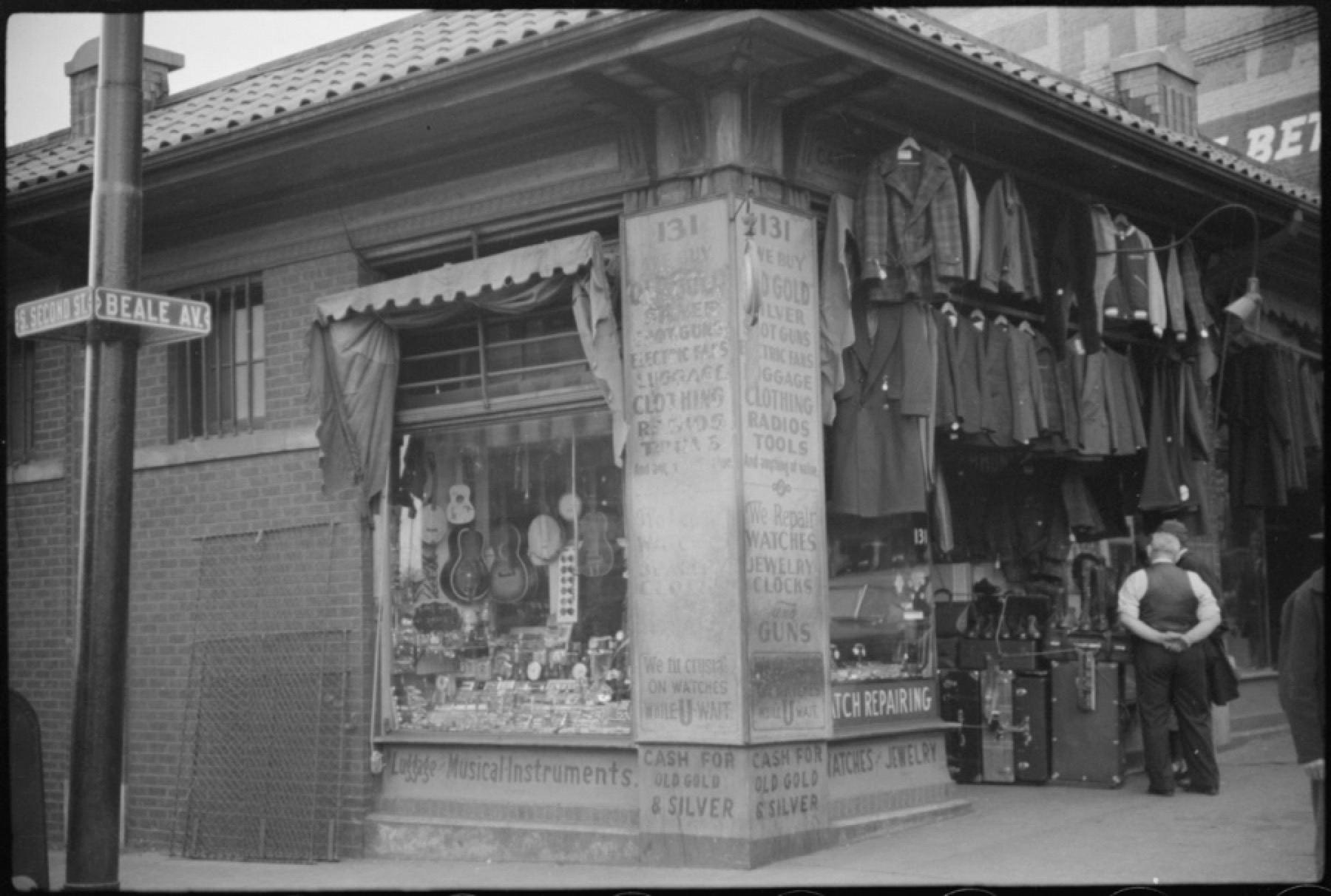 Beale Street pawn shop, 1939. Photograph by Marion Post Wolcott © Library of Congress
CAPTURING THE CHAOS
By Maxwell George
The music in Jim Dickinson's head
In the Oxford American's summer 2013 issue, most of page twenty-six is given over to a shadowy black & white photograph of a gentleman's shins. The image, taken in 1977, adheres to the old rule of thirds, the legs pleasantly dividing the frame across the middle, propped up on a shabby kitchen counter forward the remnants of what we assume was the subject's dinner. His body, everything above the knees, is out of frame to the left, but we know we can call him a gentleman because his pants are hitched up, revealing a pair of urbane sock garters keeping his black stockings stretched handsomely taut, and because we know from the caption that he is William Eggleston, the iconic photographer from Memphis. Writing in the New Yorker in 2005, Lauren Collins, having met him at the Chelsea Hotel, observed: "Eggleston was dressed fastidiously: navy-blue suit, white shirt, slim navy-and-red spotted tie, leather lace-ups." Had he lifted a pant leg, I imagine she'd have included his sock garters, too.
The Oxford American article is by the music writer Robert Gordon, author of the classic culture history It Came From Memphis. Entitled "Scare 'em a Little," the piece concerns another local photographer, Eggleston's onetime camera assistant, who is more famous as a musician with his band Panther Burns: Tav Falco, who had just published his first book, Ghosts Behind the Sun: Splendor, Enigma & Death: Mondo Memphis Volume 1, a sort of memoir-of-the-city. Gordon writes that it "makes visible those heroes whom the shadows have absorbed." In his book, Falco quotes Roland Janes, the great Sun Studio guitarist and producer, who died in 2013: "Of course Los Angeles and Nashville both are highly successful, we know about their success. I think Memphis was a more loose location. The music is less inhibited, as are the musicians. I think that's the basic difference. I think Nashville and Hollywood are more business-as-usual. In Memphis, you never know what to expect."
On page twenty-seven, opposite his image of the master's legs, are a couple of Falco's photos of the Cramps in Memphis in 1980. They had come to town to make their first album, Songs the Lord Taught Us, with Panther Burns' original guitarist, more famous as the lead singer of his own band, Big Star. Of course I'm referring to the late Alex Chilton, a man who embodied the shambolic music scene Janes evoked more than almost any other Memphian. In her 2014 biography of Chilton, A Man Called Destruction, Holly George-Warren describes his production process, or really lack of one, while making the Cramps' debut: "Clearly Alex had adopted the Dickinsonian approach to allowing all manner of mayhem, then capturing the chaos sonically." Or as producer Jim Lancaster told her: "I don't remember any particular production style that Alex used. But you didn't have to have a style—you had the whole city." Perhaps the person who best understood this philosophy, this musical attitude, this in-the-water Memphis spirit routinely singled out, was Chilton's mentor, the producer Jim Dickinson.
"Jim had manic purpose," Bob Dylan wrote in his 2004 memoir, Chronicles: Volume One, in the chapter describing the making of Oh Mercy in New Orleans, telling how he wished he had brought "someone who I liked as a musician, who had ideas and could play them, who had come down the same musical path as me." In his short book, Dylan gives Dickinson a whole page: "We had a lot of things in common and it would have been good to have him around."
Jim Dickinson's death in 2009 punctured the heart of American music; the blood spilled is quality, surprise, spontaneity, independence, mystery, memory, weirdness—undiluted rock & roll essentially, of which little trace remains. In his own, oft quoted words: "As a producer, it really is all about taste. I'm not the greatest piano player in the world, but I've got damn good taste. I'll sit down and go taste with anybody."
This month, Omnivore Recordings reissued a forgotten Memphis classic, a kind of conceptual compilation called Beale Street Saturday Night. Originally released in 1979 by the Memphis Development Foundation as a one-off benefit to raise money for the sorely needed rehabilitation of Beale Street's famous Orpheum Theater, then at risk of being sold off and demolished, the album is, in the words of his son Luther, "a Jim Dickinson masterpiece." ("He meant it to be," Dickinson's wife, Mary Lindsay, told me.) On Omnivore's website, Luther published a short essay that beautifully conveys the record's mission, it's enduring importance, and, crucially, its original context. "The '70s were a dark time for the city," Luther writes. "After the assassination, the city tore much of downtown down, bulldozing the path of MLK's march, (Jim) Dickinson would point out. Beale Street, which had been a vibrant neighborhood and cultural Mecca, was shuttered at the time of this record. A stain. Stax was demolished, literally." From this shambles Jim Dickinson coaxed treasures.
Beale Street Saturday Night spans fourteen tracks, a collection of songs and spoken memories that bleed together to create a specific and catholic history of Beale Street. Songs from Sid Selvedge and Sleepy John Estes are thrown in with others by Grandma Dixie Davis, a white vaudevillian pianist with a sickly sweet voice, and Furry Lewis, who made records in the '20s, and even a work song credited to "Alex," who was Dickinson's family's yardman and his first musical supporter. (He appears as Alec in Dickinson's memoir: "the greatest teacher of my life.") Guitarist Thomas Pinkston, the last surviving member of W. C. Handy's orchestra, served as narrator, and his stories of old Beale—like the crap game murder of Ben Griffin, "the baddest man to ever hit Beale Street"—floated over wistful guitar lines or fading horns, are the heart of the program. Other players include Teenie Hodges, Ry Cooder, and Lee Baker. Repeated listenings reward abundantly.
"A camaraderie of Memphis musicians, photographers, artists, thespians, and appropriate weirdos made up the underground scene in the 1970s," Jim Lancaster, who helped produce the album, writes in the new liner notes.
"We had supporters from the business establishment. Our common goals were to make Memphis, once again, a place where record companies would spend their money, achieve the revitalization of downtown, and create community support of Memphis Music so it could support us. And, always searching for further enlightenment, we were champions and students of the blues zen masters."
Beale Street was recorded on location around town: in the Orpheum, at Ardent Studios, in the Dickinson family living room, and even at the artists' homes when necessary. "Only in Memphis," Luther Dickinson posits, "would young white producers put such raw black music and storytelling together to create an integrated Southern masterpiece." This will seem like a stretch before you hear the music, but it rings true—this is a cohesive work, a story told by many storytellers. "Only in the grooves of this record does this Memphis exist," Luther adds, "the ghosts telling the stories to the kids, aged memory and youthful fantasy combining to create a world all it's own."
When I spoke with Lancaster, who now owns a recording studio in the Florida panhandle, he said they had intended to make a Vol. 2 but it never happened. He also hinted that Pinkston revealed to them, on tape, that W. C. Handy had lifted his classic "Beale Street Blues" from a local songwriter, although here on Beale Street Pinkston can be heard citing Handy as the composer. (Someone ought to look into that.) The album, Lancaster told me, "is a kaleidoscope of the last remnants of the original Beale Street of the '20s with some of the mid-'50s/early '60s guys, and then us. One of the only things we didn't include that we thought we ought to was the classical singers, the Beale Street opera singers."
Other considerations they did see to: Beale Street's printed mastering date was August 16, 1977, the day Elvis died, a hallowed anniversary in a city that has many. "In this century, Memphis, Tennessee, has changed the lives of more people than any other city in the world," Stanley Booth writes in an essay in the accompanying booklet, which also features unseen photographs from the time. Etched into the vinyl is Dickinson's mantra "World Boogie Is Coming," a detail preserved from the original release, and the cover is unchanged, crediting Jim under his full title, James Luther Dickinson. It bears a black & white photograph of a dilapidated side street off Beale taken by Dickinson's friend, a gentleman named William Eggleston.
Because it was produced "by the bank" as a fundraiser for the Orpheum, Gordon notes in It Came From Memphis, the album was sold mostly outside of record shops, at department stores and society functions, thereby "reaching the unconverted." Estimates of the size of that initial printing range from five hundred to a thousand copies; no one I talked to could quite remember. By the time Gordon's book was published, in 2001, his mention of Beale Street Saturday Night required a caveat for prospective seekers: "used bins in Memphis only." Thankfully, the discerning, determined people at Omnivore Recordings, along with the Dickinson family, have rendered that provision inaccurate. You can order a copy right here.

"From the back of the apartment I could always hear Dickinson arrive," Lancaster writes. "He was forever claiming he had triple vision, it was a small parking area, and Jim had a big yellow Torino, a '74. The telephone poles still have yellow smudges." These markings, the singular Dickinsonian touch, can be found all over the musical landscape, from the late '50s on. There are yellow smudges on the beams around here, too: Dickinson helped realize the earliest Oxford American music issues.
To celebrate the rerelease of this album and to further distribute the good gospel of Jim Dickinson, the Oxford American is pleased to present Dickinson's "The Search for Blind Lemon," which appeared in our 2013 Tennessee Music Issue. It begins:
I don't know when I first heard the music in my head. I don't remember not hearing it.
---