Coming Home Again
Leon Bridges on his new album, Gold-Diggers Sound
By Noah Taylor Britton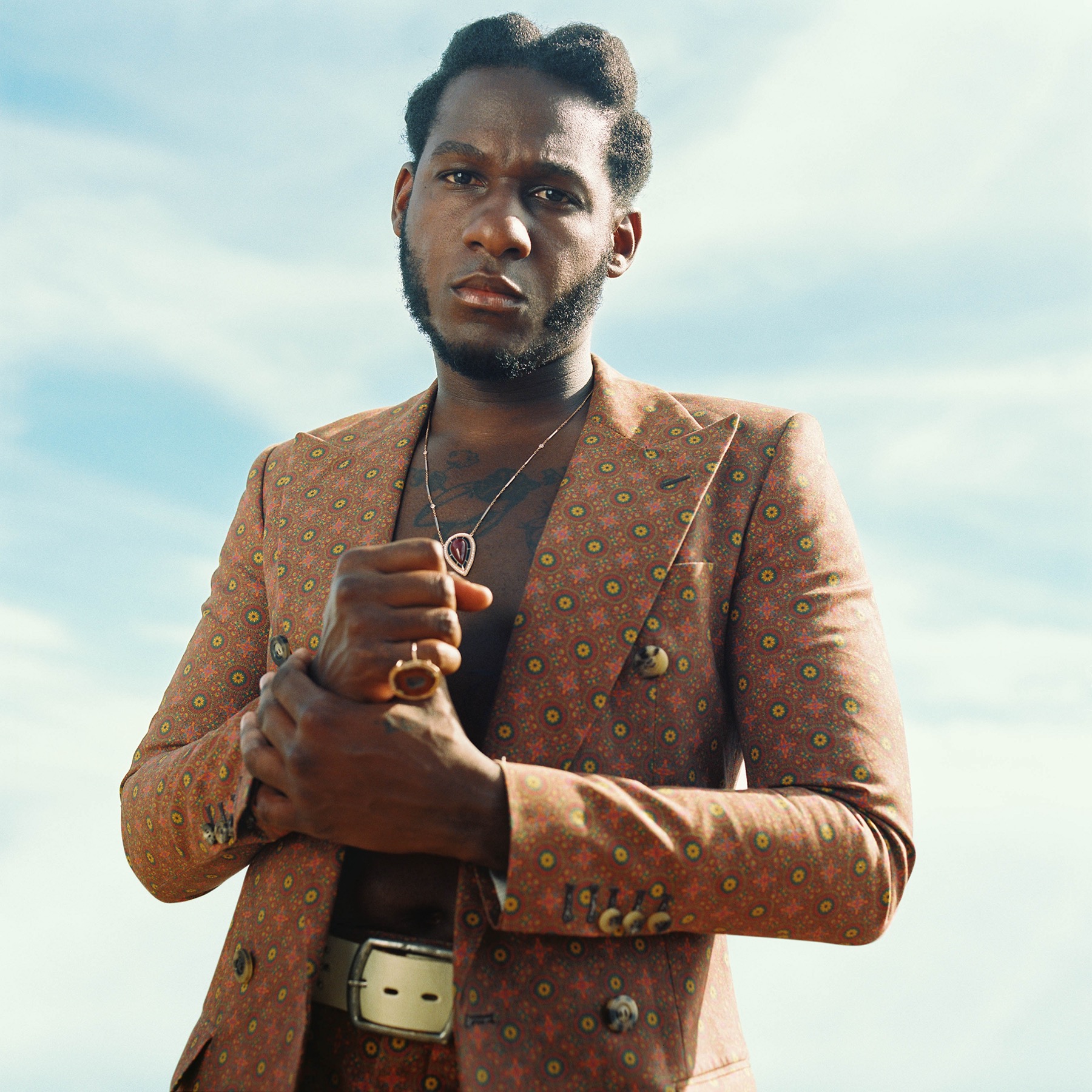 Photo by Justin Hardiman
Leon Bridges calls Gold-Diggers Sound his "L.A. record," but the album draws from a convergence of sounds characteristic of his home state of Texas. Bridges grew up in Fort Worth, in the heart of a state renowned for translating regional sounds to global phenomena: Selena's Tejano hits, DJ Screw's sonorous mixes, Beyoncé. Earlier this year, Bridges was named the 2021 Texas State Musician, seemingly the first Black artist appointed to represent the state's musical lineage since the position's inception in 2003. In the legacy of his predecessors, Bridges' latest album honors his origins while moving firmly beyond the confines of borders.
Gold-Diggers Sound follows back-to-back Grammy nominations for Bridges' two previous albums, which have elevated the artist to comparisons with the likes of Sam Cooke and Otis Redding. Bridges' third studio album, released on Friday, July 23, aligns more with his contemporary R&B influences, inflecting tracks like "Magnolias" with heady trap backings. In late May, the thirty-two-year-old artist released his Spotify playlist of inspiration behind the album, spanning in references from Jazmine Sullivan's Heaux Tales to Compton's Channel Tres. Whereas Bridges' initial success relied heavily upon nostalgia, this new album represents an artist unbound by genre or expectation, a heralding rather than a harkening.
"I understood early on that if I kept making five albums of Coming Home or this retro sound, then I would stay stagnant," he said during our conversation in the days leading up to his album release. "It's all about doing the music I love."
Gold-Diggers Sound, produced over the course of two years in residence at the eponymous California studio, combines the isolation of the past few months with palpably sensual reveries. The album opens with the pandemic-induced introspection of "Born Again." The song's pared-back intro transposes Bridges' raw vocals over a cosmic scaling of notes, projecting the most vulnerable of lyrics into a kind of celestial void. "Sit still, take it slow . . . It feels good to be alone," Bridges croons, reflecting on the transience of fame, a recurring theme throughout the album.
Many of the tracks on Gold-Diggers Sound are hypnotically propulsive, radiating with the groovy, seductive bliss of newfound love. In songs like "Motorbike" and "Steam," Bridges is less concerned with the "Mrs." of his previous studio album, content instead with the urgency and euphoria of a night out. The record opts out of hard binaries, sitting with suspense, possibility, and unresolved tension.
Gold-Diggers' compound in Los Angeles has been consistently reimagined over the past century. The site on Santa Monica Boulevard was designed as a "perfectly tuned bar, venue, boutique hotel, and recording studio." Co-owner Dave Neupert modeled this current iteration after Royal Street Inn in New Orleans, a Southern connection to a city with which Bridges maintains deep ancestral roots. The main building opened in 1924 as a tavern and inn, a way station for travelers along Route 66. The site has served as a studio for Ed Wood's otherworldly films and a rehearsal space for heavy metal bands such as Guns N' Roses, finally operating as a strip club for nearly four decades. Its eccentric history has been preserved in the disco-inspired glamour of the compound, past and present seamlessly merging as the backdrop for Bridges' album. The nine onsite studios allow for an organic, immersive creative process; guests can fall in love within the perpetual dusk of the dance floor and record a song about it the next morning.
We spoke with Bridges ahead of his album release to discuss the inspiration behind Gold-Diggers Sound and the Texan artist's connection to an L.A. hotspot.
OA: How are you feeling?
LB: Dude, I'm feeling good, man. I'm really, really proud of this body of work. I feel like it definitely reflects my growth as an artist, and I can't wait to get out in the world and see how people react to it.
OA: Did you know what kind of sound you wanted from the beginning, or did it evolve as you were working on it?
LB: It definitely was a process. When I initially sat down with my good friend Ricky Reed, who produced this album, I conveyed to him that I wanted to do more of a modern R&B album. We kind of threw around a couple of different sound inspirations. I was like, "I want to do a psychedelic R&B thing with some jazz interwoven in there."
I guess the North Star for us is when we worked on "Motorbike." Once we did that, that kind of informed how we wanted to shape everything else essentially.
OA: "Motorbike" was inspired by your time in Puerto Rico, right? It's interesting to see how place influenced the actual sound of this body of work.
LB: Absolutely, the way the sound is is totally contingent on where you make it. And I think the place it was made in is reflected on this album. This is my L.A. R&B record. Almost a deviation from my Texas thing. The Texas thing, the nuances, are there, but this is more so like an L.A. album.
OA: In regards to Gold-Diggers, what initially attracted you to the space?
LB: Man, so I discovered Gold-Diggers in 2018. My good friend and I, we threw a Grammy's pre-party there, and I was totally unaware of the hotel and studio aspect. During this [album's] process, before we got into Gold-Diggers, we kind of hit a wall, and we just wanted to find a place that could house all this music, a place that I could live in and just, like, establish that as my creative world. Gold-Diggers was that for me. When you look at the hotel, it has this nostalgic kind of vibe to it. It's almost like a place of refuge, you know, in the midst of this kind of gritty area. That's what resonated with me about the place.
OA: I'm really fascinated by the setup of this multi-hyphenate space. You're living in the same place that you're working. What was it like for you to create in that kind of environment?
LB: I've never really done anything like that before. It was really nice to just keep that momentum going, as opposed to having to commute to some studio. And I think that was the thing, finding a place that didn't feel like a studio. That was the beauty about this place, this live room, and a lot of these songs were derived from improvisational jams. . . . When you look at the whole writing process, it's like the whole space of Gold-Diggers was utilized for a dope musical moment to happen.
OA: Is that how "Gold-Diggers (Junior's Fanfare)" came to be?
LB: Man, that was Ricky's idea, and I think it's a cool juxtaposition to the album, you know? You don't really see that in modern R&B, that jazz element, which is beautiful.
OA: You've talked about how making this album felt like returning home. I'm interested in the idea that you were able to find home in this studio in L.A., especially given your connection to Fort Worth.
LB: I would say it was definitely a homecoming. When I initially made music, it was all done in a live room with analog equipment. My second album, Good Thing, not to diminish anything about that whole process, but it definitely felt dull in a way. The process was basically me choosing beats from the producer's library and then writing to those. Those beats could potentially be for Shawn Mendes or whatever artist, which is great. But I think the beauty of Gold-Diggers Sound and its process was homecoming in that way of getting back to the magic of creating music in this live space with other awesome musicians and just feeding off each other's energy and making music that way, from the ground up.
OA: I think it's interesting that you use "Born Again" to set the tone of the work, and that you also bookended the album with "Blue Mesas," both of which feel like the most personal songs on the album. How did those come to be and how did you decide to include them?
LB: Kicking it off with "Born Again" felt right. "Born Again" is a tune that transpired out of the pandemic. We recorded so much music, and it got to the point where we felt there was still something missing on the album. "Born Again" is something that just happened organically. Ricky Reed was doing this live stream series where he would produce a beat live, and so he basically sent me an instrumental. I wrote some lyrics and a melody to that instrumental, and he built it on that live. It ended up being something that really fit that missing piece to the album.
It's somewhat of a vulnerable angle to come at. With that song, I wanted to make this parallel to the concept of spiritual newness within the Bible. For me, personally, it was just this feeling of newness during the pandemic, a time where I really got to heal mentally and self-reflect and be close to my family. Really, having that time to catch up to the person that was running and on the road for so long.
OA: This album feels like an extension of your recent projects, like your EP with Khruangbin, also from Texas. Then there's Robert Glasper and Ink featured on the album. What most excites you about the music coming out of the South?
LB: When I look at this album, I feel like I'm on a journey of finding that new frontier, you know? What's unprecedented in R&B music? We're obviously not trying to reinvent the wheel here, but for me, it's like, how can I integrate my sound and the soul foundation within this modern R&B context? Honestly, I want to leave my mark, I want to be heard.
This conversation has been edited for length and clarity.