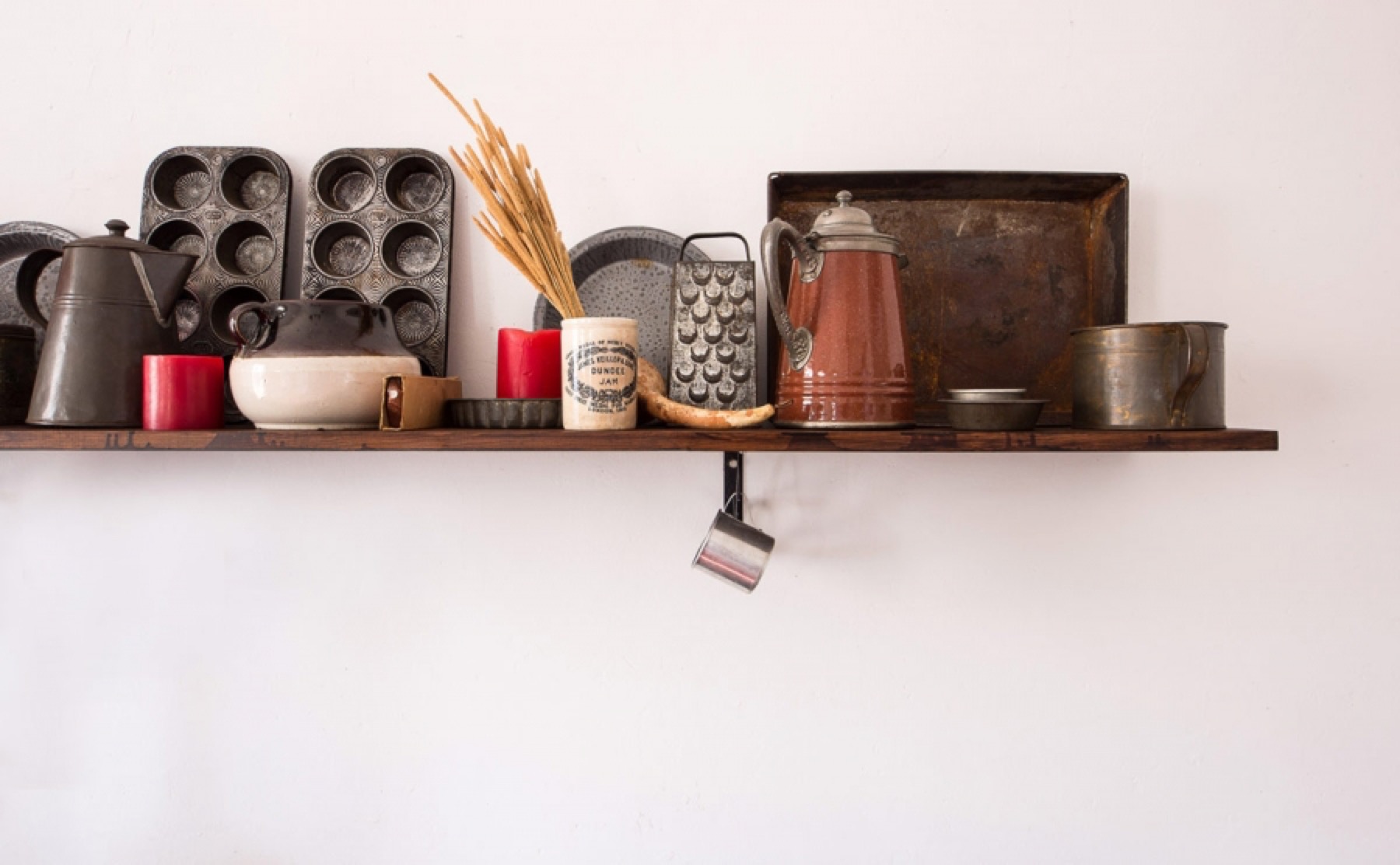 Image via Unsplash
CONVERSATIONS WITH CHRIS: QUESTIONS, ANSWERS, AND RECIPES FOR ALIEN ENCOUNTERS
By Delilah Pope
A Conversation with Chris Offutt
---
S
ince 2013, Chris Offutt has penned "Cooking with Chris," his irreverent "cooking" column in which he discusses life and the foods that fuel it—from dishwasher delicacies to baked possum. The final installment was published in our Spring 2019 issue, and Offutt was gracious enough to reflect on the "pragmatic and embarrassingly absurd" circumstances that birthed it. He also shares what's next and, true to form, signs off with a recipe—one that's out of this world.
---
Longtime readers of the OA have seen you contribute fiction and personal essays over the years, in addition to your column. How did you first become a contributor for the OA?
In 1992 I wrote an essay called "My Good Old Bad Old Days," and sent it to Marc Smirnoff. He published it. A year later, Marc published a short story of mine called "Target Practice." During the next twenty years, the OA rejected seven short stories. Then in 2013, my first food essay was in OA and it evolved to the regular column.
In past columns, you've told readers that you have a collection of unique cookbooks. Are you still collecting? Do you have a favorite, or a few favorites, that you've acquired?
I am an inveterate collector of anything cheap or free. Fortunately, obscure cookbooks have not yet become popular. I always browse that section in a used bookstore. One essay I never got around to writing included food on a UFO that an abductee had eaten. I wanted to tie it in with Space Food Sticks, a terrible "treat" that I ate as a kid.
What's your favorite piece of writing about food?
My favorite is More than Moonshine: Appalachian Recipes and Recollection by Sidney Saylor Farr. There is a candor and charm to the book that I enjoy. I am also partial to Martha Stewart. All those old bastards put her in prison for doing the same thing they'd done—insider trading. She was incarcerated due to her gender, not her crimes.
"Cooking with Chris" is ostensibly a column about cooking—but it's not really about cooking. What was the inspiration for the column? What was your secret to maintaining its unique tone?
The inspiration was pragmatic and embarrassingly absurd. I wanted to get invited to the Southern Foodways Symposium in Oxford, Mississippi. I crashed the event and had a good time but didn't think I could get away with crashing it each year. I wrote "Bible Cake," based on a recipe in a community cookbook that my first-grade teacher gave my wife when I got married. It was a personal essay with a recipe for "Bible Cake," which is also known as "Scripture Cake." I gave the essay to John T. Edge, who directs the Southern Foodways Alliance symposium, in the hopes that he'd give me a free ticket! As it turned out, he's also a contributing editor to the OA, and sent it to the editor. A few months later, the OA asked for another one and the column was born.
My secret to maintaining the unique tone is simple: it's one of irreverence combined with utterly embracing my own ignorance. I'm not much of a cook, and my relationship with food is more like fuel for a machine. In other words, I have to eat in order to do stuff—like be alive and write. A great deal of food writing is extremely serious and I wanted to expand the genre with a light-hearted approach. Writing them cheered me up. The risk I found was humor itself. You never know if what you think is funny will make other people laugh. Ultimately, the secret, as you put it, was not to take myself too seriously.
You mentioned in a recent interview that in contributing to the OA, you gave yourself the challenge of writing with humor. What has been your favorite piece to write for the magazine?
Hmm . . . Really hard to answer that. Whichever one I was writing at the time was my favorite. I'd march around my house and proclaim it was the best! So I'd have to say it was a fifteen-way tie. "Trash Food" got the most attention—it won a Pushcart Prize and has been reprinted in several anthologies and textbooks. Any "personal favorite" would be based on silly criteria related to my life at the time of writing. I leave it to readers to decide what they like best.
Your pieces, in addition to being funny, also carry a great deal of depth, sometimes delving into very personal and difficult subject matter. Which piece was the most challenging for you to write for the OA, and why?
"Chicken Cordon Blue Bloods" was the toughest. It didn't start as a food essay but a strange compulsive activity. When my father died, his favorite TV show was Blue Bloods, which I'd never seen. A few years after his death I watched every episode to try and understand Dad a little more. That didn't work out exactly. He was an old man with bad habits and he slept in front of the TV for his last few years. But I did learn a lot about how to assemble a television program that would be popular with white people over age fifty.
You've stated elsewhere that you turned to food writing as an uplifting personal exercise. Has this held true? Could you tell me a little about what that has meant to you? How does the process of writing about food differ from other subjects, and do you think you'll continue writing about food?
I wrote many of the food essays during the three years that I wrote a book about my father. The subject matter of that book was difficult and often dark. It affected me emotionally. When I got too down in the dumps, my wife urged me to write a food essay because they always cheered me up! I'm a dutiful husband and did as I was instructed. She was right—the food essays were wonderful respites from the harder material of examining my father's life and our relationship. I needed the humor as solace and escape. Writing them was a way to make myself laugh. If an editor asks for a food essay, I will say yes.
Do you think that your work in food writing will impact any of your future fiction? Do you think that your insights on food and cooking culture have already informed any of your work outside of the OA?
It's hard to predict future creative work but I believe that everything a writer writes will influence subsequent projects. The same way with reading. I'm not convinced that I had any particular insights on food and cooking culture. I leave such evaluations to the scholars and critics.
Speaking of work outside of the OA, what is next in the works for you? Do you have any upcoming projects?
I'm halfway through a novel set in the contemporary hills of Kentucky. I recently agreed to write a TV pilot for a Kentucky-born country music star. I've also been taking a few preliminary notes for an eventual project that combines the first-person narrator of Chris Offutt in a novel about alien abduction. It's a way to take advantage of my full vocabulary on the page.
I know that your last official recipe was published in the print issue, but I'm hoping you will humor us by signing off with a recipe.
---
Recipe to see a UFO
---
Go outside a lot.
If inside, look out the windows a lot.
Wear a watch to know if Time has stopped or altered.
If you see an owl, look around for a UFO.
If all else fails, undergo regression hypnosis to learn that you already saw a UFO and were briefly abducted. This will explain all your current emotional problems, your history of substance abuse, why you prefer to be alone, and why you can't remember your dreams.
Write a book about seeing a UFO.
The UFO will return.
The UFO occupants will use mind control to suggest you write a food column.
---
Enjoy this conversation? Order the Spring 2019 Issue