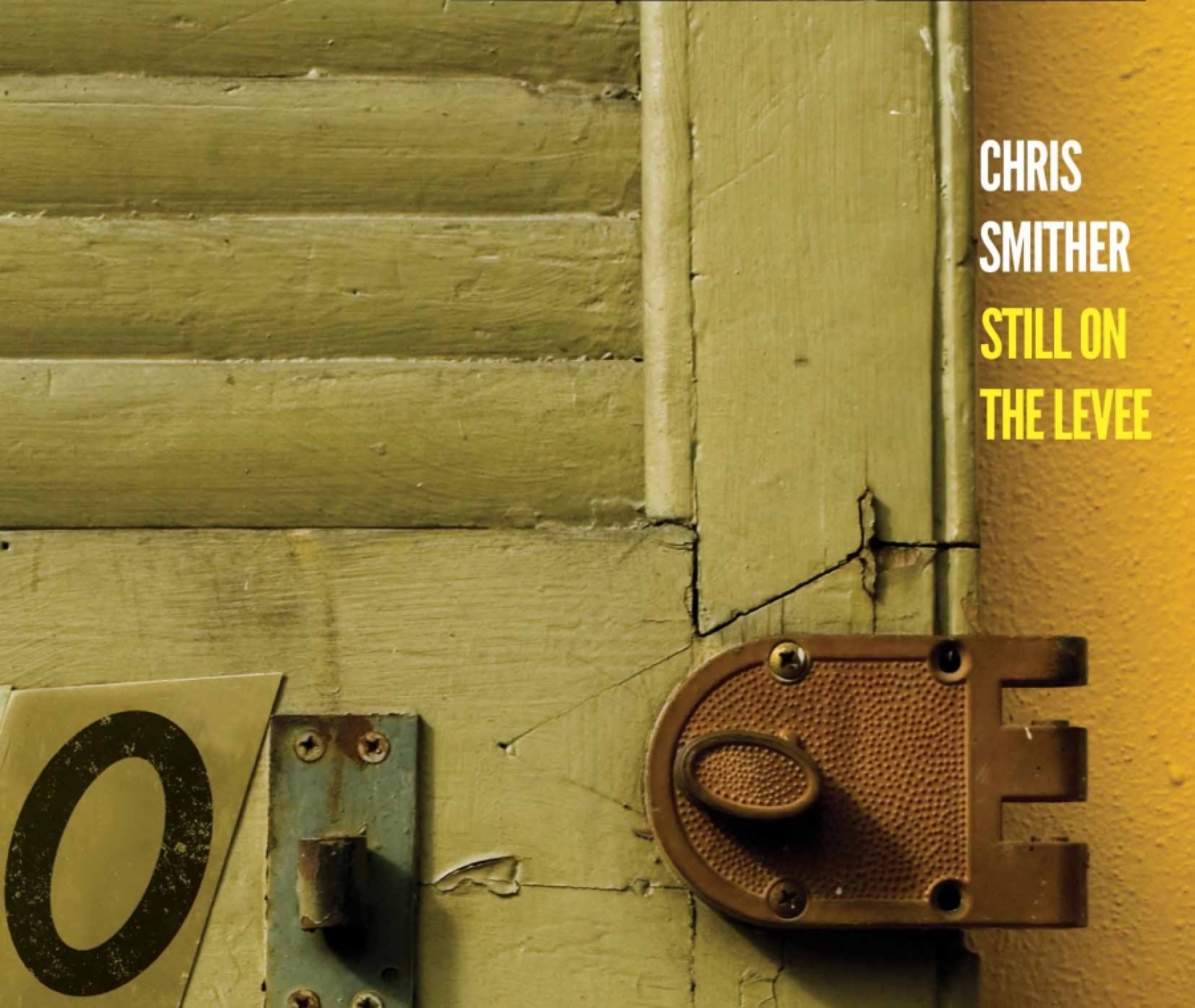 DEVIL GOT YOUR MAN
By Geoffrey Himes
When Chris Smither spent three weeks in New Orleans in 2013 to record his new album, Still on the Levee: A 50 Year Retrospective, it was the longest stretch of time the blues-folk artist had spent in his hometown since he left there as a twenty-three-year-old college dropout in 1968. He had returned to reconnect with his musical origins, but they proved difficult to get a handle on.
Smither's music doesn't bear the usual markers of the New Orleans sound. He's an acoustic country blues singer-songwriter in the tradition of Mississippi John Hurt or Townes Van Zandt—a songster, a folkie. "The folk music boom of the Fifties and Sixties barely touched New Orleans," Smither says. "The Quorum Club on Esplanade had folk acts, and I used to go down there to hang out. This guy Jerry Ferris played there and I thought he was pretty good. Many years later I opened for him when he was calling himself Jerry Jeff Walker. But it was a fringe thing in New Orleans; it has always been a horn and keyboard town."
Smither's longtime producer Dave Goodrich, however, insists that all the local musicians he's heard in New Orleans sound like Smither. "It wasn't literally true," Smither says, "but there was something to it. You can hear it in the way I tap my heel on the one beat and the toe on the two. It's the opposite of what people would do up North, but it doesn't bother people in New Orleans. I have trouble picking out those influences. It's like asking a fish what he thinks of water; it's the only thing he's known."
It was that rhythmic push-and-pull, that New Orleans sensibility that made Smither stand out among the hordes of other singer-songwriters crowding into the coffeehouses of New York and Boston in the Sixties. It was that Gulf Coast aesthetic that attracted the legendary blues folklorist Dick Waterman to Smither, and that enabled Smither to bond with Waterman's red-headed girlfriend. When that girlfriend grew up to become Bonnie Raitt, she helped make Smither's reputation by recording two of his earliest compositions, "Love Me Like a Man" and "I Feel the Same."
But Smither tossed that reputation out the window when two record-company debacles in the Seventies sent him spiraling into a lost decade of alcohol and drugs. Against long odds, he pulled himself together and built a new reputation atop a second career. Now he's looking back on his half century in music by re-recording twenty four of his old songs for a new two-CD package. In addition, he has published a book of his collected lyrics, and another album, Link of Chain: A Songwriters Tribute to Chris Smither, was released in September, with fifteen of Smither's compositions recorded anew by the likes of Raitt, Peter Case, Dave Alvin, Tim O'Brien, Mary Gauthier, and Jefferson Airplane's Jorma Kaukonen.
"About half of the songs on Still on the Levee I hadn't touched in fifteen to twenty years," Smither confesses, "so I had to learn them like I was learning someone else's songs—it was like I was covering my own songs. I would go back and listen to recordings of myself that are twenty and thirty years old and sit there and listen to them and go, 'What the hell is he doing?' And it was me playing! People always ask me, 'How do you keep songs fresh?' The trick is getting back into the spiritual headspace I had when I wrote the song. If I can do that for one song, why not for the whole career?"
Smither's father taught romantic languages at Tulane University, and the family lived on Laurel Street near the Audubon Zoo and the Mississippi River levee. "At night," he said, "you could hear the seals barking and the lions roaring." He heard brass bands in the streets, and he heard that familiar second-line syncopation in the Fats Domino and Ernie K-Doe records that played on the top-forty radio. During Mardi Gras season, he remembers the king cake parties and parades going on for three weekends leading up to the big day itself.
"That whole city is very inward gazing," he told me. "There's this whirlpool effect like New Orleans is the center of the universe, and everything else is just 'out there' somewhere. People in New Orleans talk about guys going to New York or Detroit as if they were these exotic places. There are a lot of musicians who say, 'Why should I go anywhere else? Why should I put up with all that traveling?'"
Smither was an anthropology student at Mexico City University when his roommate introduced him to the music of Lightnin' Hopkins. From there, he became obsessed with the blues. Two years later, during his junior-year-abroad in Paris, he stopped going to class and started playing guitar full-time. Back in New Orleans the next spring, he heard the folk-blues legend Eric Von Schmidt spent the winters in Florida. "I called him up and said, 'I'm a big fan, and I'd like to meet you.' He said, 'Sure, come on over.'" So Smither and a classmate hit the road. "Eric was a charismatic figure," Smither says, "the Boston version of Dave Van Ronk, not as famous as the people he mentored. He told me, 'You're very good. Where do you live? You need to get out of New Orleans and go to New York and Cambridge, where people can hear you.' So I did."
Smither's debut album, 1970's I'm a Stranger Too! took its title from "Have You Seen My Baby," one of two Randy Newman covers he included. There were also eight Smither originals on the disc, and three of them—"Devil Got Your Man," "A Song for Susan," and "Love You Like a Man"—are reinterpreted on the new album. Still on the Levee is subtitled A 50 Year Retrospective because Smither wrote his first song, "Devil Got Your Man," in 1964 as a nineteen-year-old college dropout in New Orleans, just back from Paris. On his way to Paris, he had stopped in New York's Greenwich Village to see Mississippi John Hurt and John Sebastian play at the Gaslight, and in France Smither practiced Hurt's relaxed ragtime arpeggios until he had them down pat. He then used them to write "Devil Got Your Man."
On his debut album, you can hear the twenty-five-year-old play those guitar figures with an old man's casual grace, backed by the great jazz bassist Richard Davis. But he sang like a young man, using vibrato, singing at the top of his range to warble an excuse to a woman for not loving her as well as he should: "I'm feeling sad, Mama, don't get mad. . . . Loving is a feeling this devil's stealing. He's stealing all I had." Smither's guitar motifs are more sharply defined on the new album, and his old-man baritone matches up with the ancient guitar feel.
"Finding my own voice came late," he says. "Well, I did have my own voice on those early albums, but it was very different from the voice I have now. It wasn't until the second period of my career that I could listen to the records and I could say, 'That sounds real.' It was all about being more disciplined and at the same time more relaxed."
Smither turned seventy in November, and he has traveled a long road, full of record contracts offered and snatched back, a music career lost and regained, women come and gone and one at last married. Finally, he's earned the right to sing about that old theme, possession by the devil. And at this point, he's no longer under the illusion that he can banish his demons once and for all; he just wants to work out a truce—but he can't do it by himself: "Why don't you roll on home?" he sings, "I can't take this devil, Mama, sitting all alone."