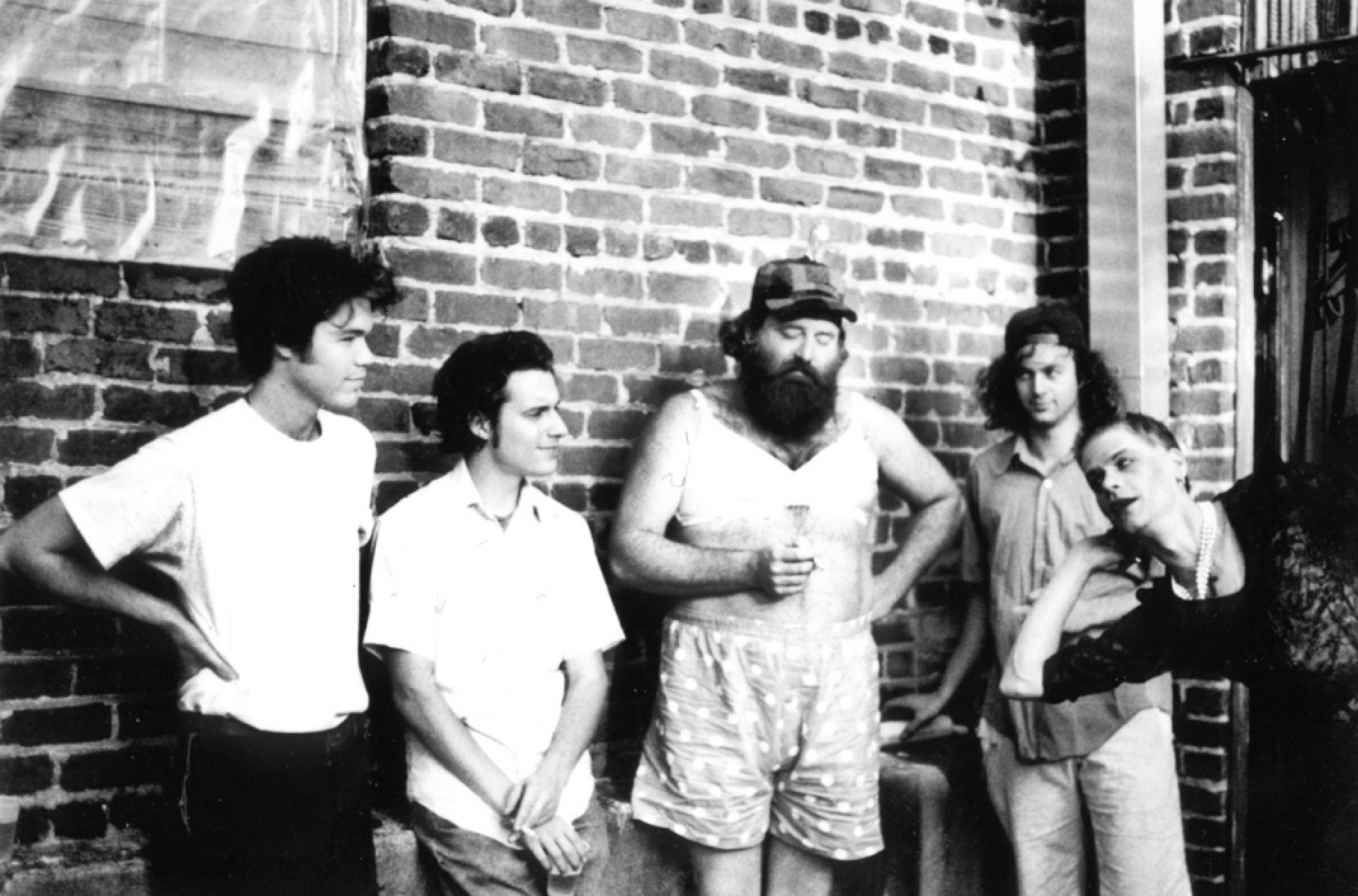 Allen Page, Christopher Mark Lopez, Deacon Lunchbox, Brian Halloran, Benjamin/Opal Foxx
DUST AND DRAG
By Nathan P. Owens
Dept. of Georgia Music discoveries
---
In 1957, William S. Burroughs, Allen Ginsberg, and Jack Kerouac traveled to Morocco for a summer writers' retreat, looking for inspiration, distraction, or whatever they needed at the time. On this trip, Kerouac found his sense of adventure had diminished and in its place was a nausea, a turning away from his nomadic experiences. In Desolation Angels, written around that time, he advises: "Avoid the World, it's just a lot of dust and drag and means nothing in the end."
At first glance a lonely gesture, for me these words also ring with power and humility, and reading them I think of the underground redneck poet and performance artist known as Deacon Lunchbox. Uncanny, unabashed, and unholy, Lunchbox—the cross-dressing onstage persona of Tim Ruttenber—was a mainstay of the DIY rock scene centered around Atlanta's Cabbagetown neighborhood in the eighties and nineties. In her feature "When the Fire Broke Out" in the Oxford American's Georgia Music issue, Abigail Covington eulogizes the scene, telling of its rise and fall, and the series of tragedies that shaped, and ultimately disassembled, Cabbagetown. Ruttenber's sudden death at forty-one in a 1992 car accident (with two fellow musicians) was one such defining point, and the tightknit music community was never the same without him:
Through Deacon Lunchbox, Ruttenber channeled his keen sense of social justice and appreciation for irony. . . . Offstage, Ruttenber was a gentle bear of a man, full of compassion. The support he lent to his friends' bands when he opened for them helped buoy the developing music culture.
Covington rightly places Ruttenber at the very center of Cabbagetown's creative outpouring, but her focus is the second wave band the Rock*A*Teens. For a deeper profile of Ruttenber, turn to his own writing, lovingly compiled by his family and friends in the posthumous book The Complete Lunchbox: The Life and Works of Deacon Lunchbox, a Cornucopia of Southern Culture—a collection of poetry, photographs, and other ephemera from Ruttenber's mercurial, creative life.
Today, three miles southeast of Emory in Atlanta, on Ponce De Leon Avenue, is a macaroni-colored abandoned shack. In 2013, a fire destroyed what was Marco's Pita, which in the mid-eighties was Tortillas, a burrito place by day that at midnight became the Mudd Shack. One of two venues offering open-mic nights promoted by J. T. Thomas—a member of the early Cabbagetown band the Chowder Shouters and a former editor at Atlanta alt-weekly Creative Loafing—the Mudd Shack housed what Thomas called "deranged caffeine junkies willing to perform poetry, acoustic music and short one act plays." This was the laboratory for the scene, providing space and an audience for young artists such as drag-queen crooner Benjamin (of the bands Opal Foxx Quartet and later Smoke) and groups like the moody Jody Grind and the rambunctious Chowder Shouters. Then out of the woodwork came middle-aged construction worker Tim Ruttenber, and out of Ruttenber came Deacon Lunchbox.
Taking the mic, he was a burly figure in a trucker hat, common clothes, and a thick red beard, before lifting his shirt to reveal a lacy brassiere or porcelain breasts held over his hairy torso, donning the look of what he called a "redneck sex-change." He shouted huskily absurd Southern musings while banging a construction bucket with a hammer or revving a chainsaw.
I got hypnotized by my windshield wipers
Ridin' down North Avenue
Picked up a dude named Chuck
Who asked me for a buck
I said shit chuck I'm a poor man too.
Lunchbox shared crass, nonsensical, and insightful truths, and believed artistic expression wasn't just for the highbrow. He once told Creative Loafing that working-class Southern expression is unexpected: "I've lived in rural areas most of my life, and the idea that working-class people aren't creative or imaginative is ridiculous." Indeed, Ruttenber had done time in the woods—after he was kicked out of Brevard College in the early seventies he holed up in a cabin in the North Carolina mountains ("in a meditative state that was punctuated by bouts of thorough drug experimentation," as Covington writes). In The Complete Lunchbox, his brother recounts those reclusive years:
After years of mountain solitude, meditation, dabbling in Eastern religion, following the then-child guru Mahara-Ji, listening to the Grand Ol' Opry and smoking home-grown dope, he rated pretty high on most introversion scales. There were stories of friends arriving in the winter to find him staring into the wood stove, not having ventured outside for days.
In 1976, Tim left the mountain for Georgia Tech, and that's where the Lunchbox persona—an accentuated caricature of the mild-mannered, political-minded Ruttenber—took shape. One of his English courses required an oral presentation, and as a means to get through it, he performed for the first time with a chainsaw.
In 1989, his first book of poems and essays, Some Different Kind of Songs, garnered national attention. The next year, PBS featured Lunchbox among a group of beat poets—also punk-icon Henry Rollins—showcasing rogue voices and talents. Most of them read somber, stoic pieces, so naturally Ruttenber stood out; while smoking a cigar he hacked through one of conservative pundit and humorist Lewis Grizzard's books with a chainsaw.
"There was no contrivance in Tim," J. T. Thomas said in a Creative Loafing article. "There was a little bit of contrivance in us because we were all kids who came from middle class backgrounds. But Tim was the genuine article."
Ruttenber's cabin sat atop Round Mountain, just south of Asheville—a rickety shack where he retreated to escape the influences of the world and become more himself. Buoyed by the smell of pine, orchid, and sawdust, he wrote:
I am hanging in limbo between two different realities faced with a fork in the ol' ephemeral highway of life. Standing at the crossroads scratchin' my head. Oh me, oh my, what do I do now? It drove Kerouac crazy. It's making me sit in a lonely place to write this down on paper. Yet, somewhere in the universal flow of the cosmos lies a secret passage to the escape hatch we're looking for.
---
Subscribe to our weekly newsletter for more in the Dept. of Georgia Music discoveries.