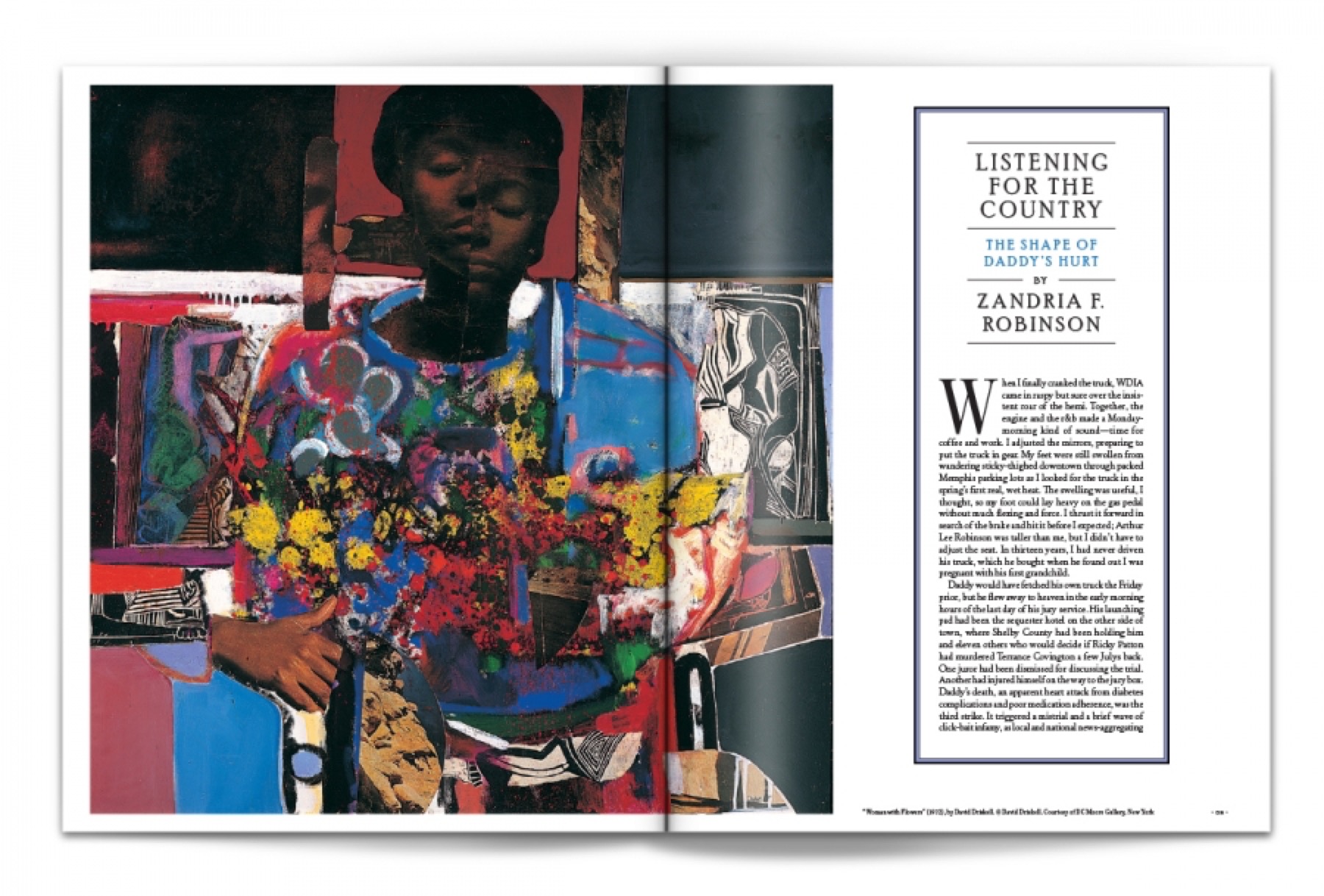 Zandria F. Robinson's Oxford American essay "Listening for the Country" is a finalist for a 2017 National Magazine Award.
FROM COUNTRY TO CITY
By Oxford American
The Oxford American has been nominated for a 2017 National Magazine Award: Zandria F. Robinson's "Listening for the Country" is a finalist in the Essays and Criticism category.
Zandria F. Robinson's personal essay begins with an unforgettable scene. After "wandering sticky-thighed downtown through packed Memphis parking lots," a woman finally finds what she was looking for: her daddy's old truck. Robinson's father had died in a dramatic fashion: he had a heart attack on the last day of his sequestered jury service in a high-profile murder trial (triggering a mistrial and national publicity). When Robinson finds the truck and cranks it on, WDIA—the classic Memphis-based radio station—comes on loud and clear. The sound starts a cathartic and inspiring wave of reflection. She writes:
Daddy's truck was one of those places—like a grandmother's house, a real and actual soul food restaurant, or a barbershop owned by an older black man who guards the radio by silent threat of the revolver in his drawer next to the good clippers—where one could reliably expect to hear either (and only) 1070 WDIA or 1340 WLOK. It was the other side of sound, the other side of Southern blackness, a steady if muffled undercurrent that persisted and quietly buoyed new generations.
Robinson's father, from Glendora, Mississippi, grew up immersed in blues culture and gospel. But his drinking and infidelities caused his family unresolved pain. In "Listening for the Country," Robinson sorts through his belongings, plans his funeral, and wrestles with her complicated memories—all while listening to the music her father loved. Written with precise compassion and vivid insight, "Listening for the Country" is an unsparing portrait of a family caught between city and country, love and loss.
This essay was published in the Oxford American's 2016 Southern Music Issue: Visions of the Blues.

Robinson, a writer and sociology professor in Memphis, is the author of This Ain't Chicago: Race, Class, and Regional Identity in the Post-Soul South and the forthcoming Soul Power. Robinson blogs at New South Negress and tweets sundries @zfelice. Listen to Robinson read an excerpt from the nominated essay on WKNO's feature from December 12, 2016, "Her Father's Music: A Redemption in Blues."

The National Magazine Awards honor print and digital publications that consistently demonstrate superior execution of editorial objectives, innovative techniques, noteworthy journalistic enterprise and imaginative art direction. Established in 1966, the awards are sponsored by the American Society of Magazine Editors in association with the Columbia University Graduate School of Journalism and are administered by ASME.
This is the Oxford American's fourteenth National Magazine Award nomination since the magazine's founding in 1992. The Oxford American has been awarded four National Magazine Awards in its 25 years, most notably for General Excellence in 2016.
Zandria F. Robinson and the Oxford American are nominated alongside four other esteemed writers and publications in the Essays and Criticism category: Michael Chabon for GQ, Andrew Sullivan for New York, Sam Anderson for The New York Times Magazine, and Becca Rothfeld for The Hedgehog Review. The winners of the 2017 National Magazine Awards will be announced on Tuesday, February 7, in New York City.
---
Support our work. Subscribe to the Oxford American.