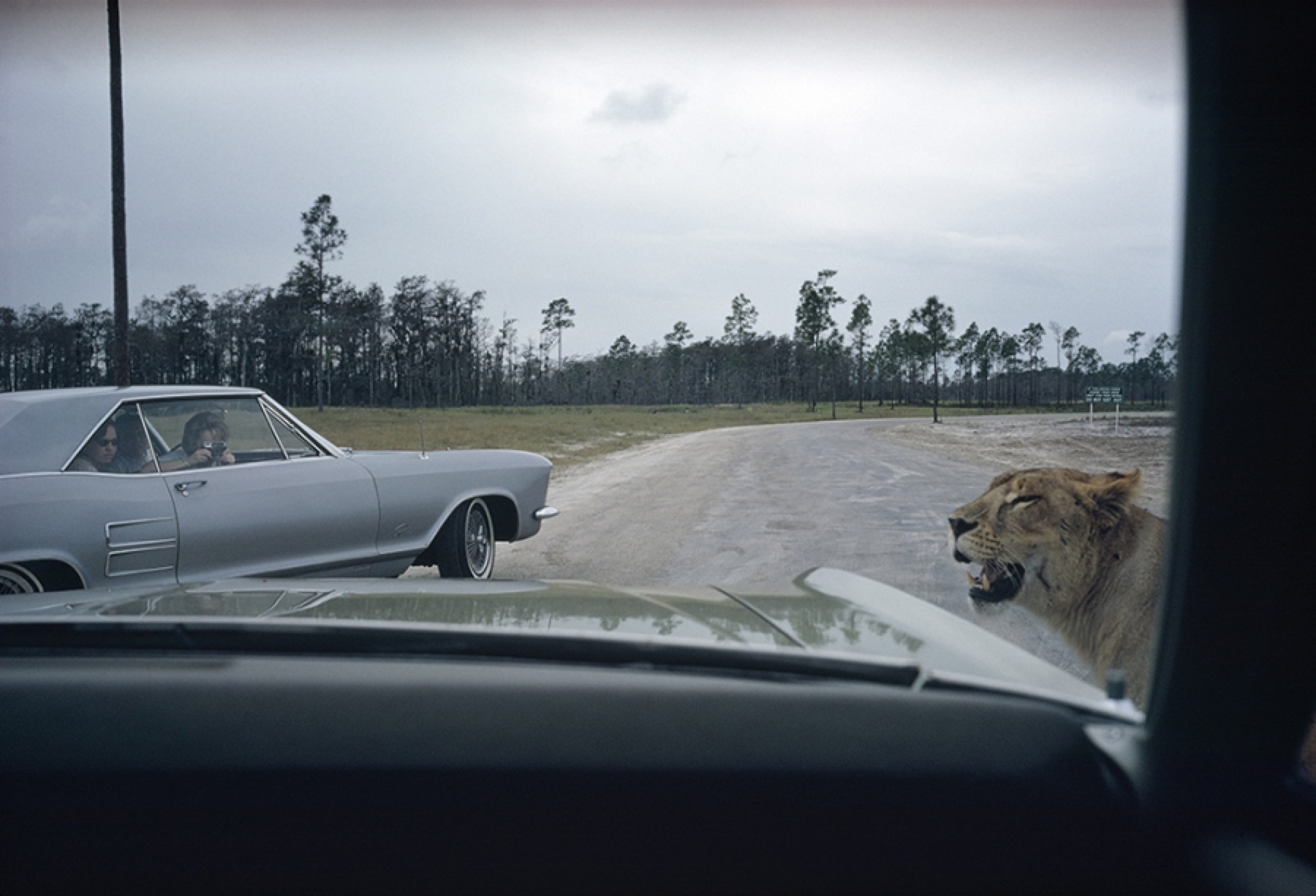 "Florida" (1970). Photograph by Joel Meyerowitz. Courtesy of the artist and Howard Greenberg Gallery, New York
HUMANITY OVER STYLE
By Oxford American
Recommendations from the editors of the Oxford American
---
Some weeks ago our boyfriend sent us a link to a photograph taken in Florida in 1970. It showcases a car's pine-green hood (perspective: passenger side), with a steel-blue 1964 two-door Buick Riviera flanking its left and—arrestingly—a mountain lion flanking its right. The feline, just its head and neck visible, seems to be in mid-yawn. Its teeth are bared, but its eyes are half-closed. You could reach out and pet her sandy head, if you wanted to get close. This photo, by Joel Meyerowitz, is one of the many iconic road trip images included in The Open Road, a photography exhibition at Crystal Bridges Museum in Northwest Arkansas, open through the end of May. This is the first large-scale photography exhibition the museum has curated, and the works represent a selection from David Campany's book of the same title, published in 2014. The book plays with the idea of the "American road trip," mythologized in American film (Hollywood or Bust, 1956) and literature (On the Road, 1957) as well as in music and, as we see, art, to reveal outward and inward journeys—these photos are the products of brilliant minds exploring this country's historically fraught landscape. The featured photographers include such stalwarts as William Eggleston, Stephen Shore, Joel Meyerowitz, Ryan McGinley, Justine Kurland, and Todd Hido (whose photograph of car headlights cresting a hill on a lonesome road at dusk opens Patsy Sims's "No Twang of Conscience Whatever," published in our Fall 2014 issue). Seeing the exhibit this spring should prep our subscribers nicely for the Oxford American's forthcoming Southern Journeys issue, which you can expect in your mailbox in June. (Not a subscriber? There's an easy fix for that.)
We're eagerly awaiting the local release of the new Jeff Nichols film, Midnight Special, which has critics all a-Twitter about the potential for the film to put him in league with Christopher Nolan and even Steven Spielberg as indie darling turned blockbuster auteur. The New Republic recently said that Nichols "seems incapable of making a bad movie, or even an uninteresting one" and that the "sci-fi thriller cements Jeff Nichols's place as one of our best young filmmakers." By local, we mean OA-basecamp Little Rock, which is proud to claim the native as one of its own. By release, we mean a special Nichols-attended screening, benefitting the Arkansas Motion Picture Institute and the Central High Tiger Foundation, happening in town before the film's wider commercial opening.
Nichols's previous three soulful, Southern-set, low-budget films (Shotgun Stories, Take Shelter, and Mud) were visually rich yet never valued style over humanity—an aesthetic often embodied in the complicated intensity of the actor Michael Shannon, who has appeared in all of Nichols's movies. (As a side note: several years ago, we saw Shannon play the Stage Manager in a New York production of Our Town, a counterintuitive piece of casting that showed us he can do anything as an actor.) To learn more about Nichols and the making of Midnight Special, we recommend this profile by Amy Wallace in Wired.
Two recent performances in Little Rock brought us closer to the Holy Spirit. It was a Thursday evening when the Fairfield Four took the stage at South on Main as part of the Oxford American Presents concert series. Their commencing declaration to take the audience to church that night felt a bit predictable, until we realized that the cliche might have been originally coined by this venerated a cappella group from Nashville, now in its tenth decade and third incarnation. Praise, thanksgiving, and God's glory fortified their harmonies, and we left lightened by their devotion. A short time after, we visited an actual church—Christ Episcopal—to see jazz violinist Regina Carter, whose latest project, Southern Comfort, is an intimate exploration of her family's roots in Alabama, informed by the folklore and field recordings from that place. Jazz clubs and concert halls may be her regular setting, but Christ Episcopal's capacious neo-gothic chapel proved a fitting auditorium for Carter's quintet, who offered their intricate and enchanting pieces from the chancel.
In the weeks since these shows, we've sought further musical salve for our animae spiritualis and found it in high concentration in the Walker Family Singers' recordings on Panola County Spirit, an album of a cappella gospel songs from Como, Mississippi, seven years in the making. It doesn't take a religious frame of mind to appreciate the peace and comfort of lines like these: "Sweet home, I got a beautiful home," the Walkers sing, "Sweet home, Lord I know."
---
For more staff recommendations, subscribe to our weekly newsletter.