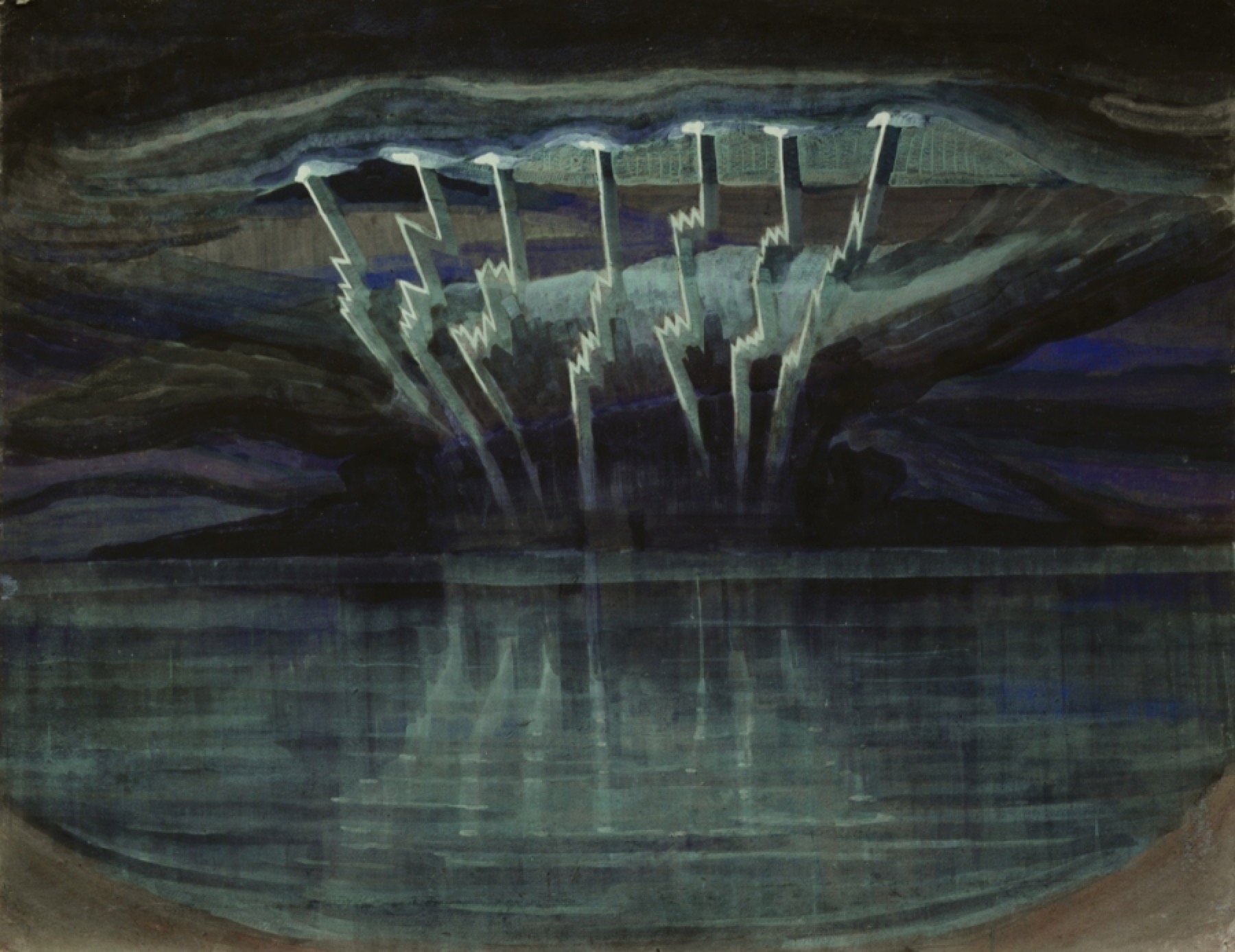 "Lightning" (1909), by Mikalojus Konstantinas Čiurlionis
IF THE BLUES ARE YOUR HUNTER
By William Boyle
The Accompaniment of Trashcans and Ashtrays
---
In late 2001, at twenty-three, I moved from New York to Texas. I'd grown up in the neighborhoods of Gravesend and Bensonhurst in Brooklyn and gone to college in the Hudson Valley at a small state school. I was living on friends' couches before the move, working at a liquor store, drinking myself into a hole. It was a sad song, one I look back on with a tangle of mixed feelings. I don't know why I was the way I was. I'd started dating the woman I'd marry five years later, Katie, the previous spring. Together, because we had friends who'd gone and liked it, we chose Austin. We got in my Volkswagen Fox with maps and mixtapes, a trunk so empty I marvel at it now. We stayed in cheap motels with bloodstains on the bed and peeling wallpaper in places like Bucksnort, Tennessee.
We arrived in Austin on the day of a tornado. The sky was green, the radio alight with panic. We got the last room at a dive motel on the edge of the city and rode it out. We ate at a diner the next morning and felt relieved to have landed in this new place with such a big, open horizon. We lived at a Red Roof Inn for a week before finding a cheap basement apartment just off Guadalupe on East Dean Keeton. A creek ran through our backyard. We sat on a stump and smoked cigarettes and drank cheap beer. Law school students lived upstairs. The Hole in the Wall, which became our favorite bar, was a five-minute walk. We haunted the public library and coffee shops and video stores, spent what little money we had left at Half-Price Books and 33 Degrees (a now-defunct record store), went to movies at the Alamo Drafthouse and the Dobie. We got jobs soon enough, starting a term of service with AmeriCorps.
I'd had an okay run in college learning-wise, but I realize now just how much of my true education happened in Austin. My habits were fixed before then—a steady diet of books, movies, and music—but something else took shape there. I felt saved, sustained, fed by the work I admired in a way I'm not sure I ever had before. It was at the library that I first checked out a couple of Townes Van Zandt CDs, Road Songs and No Deeper Blue, that I first read Carson McCullers and Patricia Highsmith and Walker Percy and Chester Himes. Vulcan Video and I Luv Video were daily stops. We saw Big Bad Love at the Dobie when it came out, and it was my introduction to Larry Brown; I went straight to the bookstore and bought his story collections and novels (a decision which led to us winding up in Oxford, Mississippi, seven years later). At 33 Degrees, I bought Daniel Johnston's Hi, How Are You cassette and, perhaps most importantly of all, Songs: Ohia's Didn't It Rain on CD right around the time of its release in early 2002.
Songs: Ohia is the name under which musician Jason Molina—Ohio-born and bred, with deep West Virginia roots—performed and released his first records. Didn't It Rain was his sixth studio album but my first exposure to him. It's an album that I folded into immediately, that buckled my blood. I'd never heard something that sounded exactly like how I felt. Like driving over a dark bridge in a downpour. Stark, haunting, a dispatch from the ravaged lands of despair. I'd struggled with depression since I was fourteen, but I'd been at my worst in college—leaning hard on booze, taking a half-hearted stab at offing myself, dreaming of a short life, never quite figuring out how to exist properly—and I was looking for a way to learn how to live, how not to ruin the good relationship I had with Katie, how not to let myself be totally rattled by melancholy and fear and regrets. Didn't It Rain gave voice to something that needed giving voice to in me. "But if the blues are your hunter," Molina sings on closer "Blue Chicago Moon," "then you will come face to face / with that darkness and desolation / and the endless depression / But you are not helpless / and you are not helpless / Try to beat it / Try to beat it." The song ends with Molina calling out over and over: "I'll help you try to beat it." He became a sort of patron saint to me, of sickness and sadness, of singing loud against the darkness. Katie loved him too, thankfully, because those marathon sessions with the album, huddled over that little boombox, might've been enough to make someone else snap.
In March, it'll be five years since Jason Molina died at thirty-nine, the age I am now. He'd been a prolific artist throughout his twenties and into his mid-thirties (dropping the Songs: Ohia moniker and recording with his new band Magnolia Electric Co., as well as under his own name and as Pyramid Electric Co.) before falling off the map and hitting a particularly bad stretch that ended with him drinking so much that his body eventually quit. In those final years, he wandered between London, where his wife had taken a job, and West Virginia, where his little sister lived. He also returned to the three main places he'd called home outside of Ohio: Chicago; Bloomington, Indiana (home of his record label, Secretly Canadian); and Indianapolis. He briefly made his way to New Orleans, where he intended to start fresh on his own, knowing no one, but wound up in the hospital. Any introduction to Molina starts with his music, but I also recommend Erin Osmon's beautiful and harrowing biography, Riding with the Ghost.
I saw him play ten times—in New York, in Philadelphia, in Memphis—and I wrote him a short fan letter about a year before he died, but I always wish I'd been better able to express how helped I felt by his words and music. Molina's music was a lifeline for me. It still is. I'm never far away from his records. Didn't It Rain marked a turning point for him, I discovered, as I went back and explored his early catalogue. Here, he perfectly distilled everything he'd been working toward—that raw energy, the mystical exhalations, a foreboding sense of yearning and loneliness—and came out on the other side with something whole, organic, hot to the touch, an amalgamation of his influences: blues, country, gospel, rock, the poetry of work and survival. His follow-up to Didn't It Rain and his last album as Songs: Ohia, The Magnolia Electric Co., is my favorite record of all-time, the one I hand sell the most at The End of All Music in Oxford, where I work part-time. In it, he brings a dark landscape to life with revelatory bolts of lightning. I love those customers who come in to the store and say, "What's your favorite record? I want to buy that." I push Molina on them. I hope he'll give them what he gave me.
Before Molina died, when he was clearly on the ropes, the artist William Schaff (who was responsible for the iconic artwork on the front and back covers of The Magnolia Electric Co. LP) made a "Molina map" for him. It depicts a wolf wrapped in roads and train tracks as the centerpiece, the moon and the North Star overhead, other "places" and callbacks from Molina's songs filling out the space. At the bottom, an unfurled banner reads: "It's a beautiful land, but filled with dark spots. When you find yourself in one remember you have friends, protectors, art and music to navigate to brighter roads." This was Schaff's call to Molina to get better, to allow others to do for him what his work had done for them, but it was never delivered because Molina was out of rehab and lost in the world. I was one of those people that he'd navigated to brighter roads, and I wish this map would've made it to him and been enough to right the ship.
Thinking about Molina always leads me back to those days in Austin, where I began to understand who I was and who I could be and what I needed to do. How I could let the art guide me instead of just being something that I consumed or was consumed by. I go back often in my memory to the day I bought Didn't It Rain. New Yorkers in Texas, so much rough stuff left behind us back home, Katie and I got off the bus after work and took a long walk to 33 Degrees and browsed. This was in March 2002. I was a novice music collector. I had Bob Dylan and Tom Waits and Nick Cave CDs, and that was about it. I wasn't reading much about music. I didn't even have a computer yet. I liked to pick things out based on artist names and titles and cover art. I don't remember what exactly about Didn't It Rain called out to me (I suspect it was the repetition of blue in the last three song titles: "Blue Factory Flame," "Two Blue Lights," "Blue Chicago Moon"), but I remember the exact circumstances of being in the shop with Katie, of feeling destined to love this album. We went home and listened. We're still listening.
H/t to artist Robyn O'Neil, whose January tweet alerted me to the Čiurlionis painting.
---
"The Accompaniment of Trashcans and Ashtrays" is a part of our weekly story series, The By and By.
Enjoy this story? Subscribe to the Oxford American.