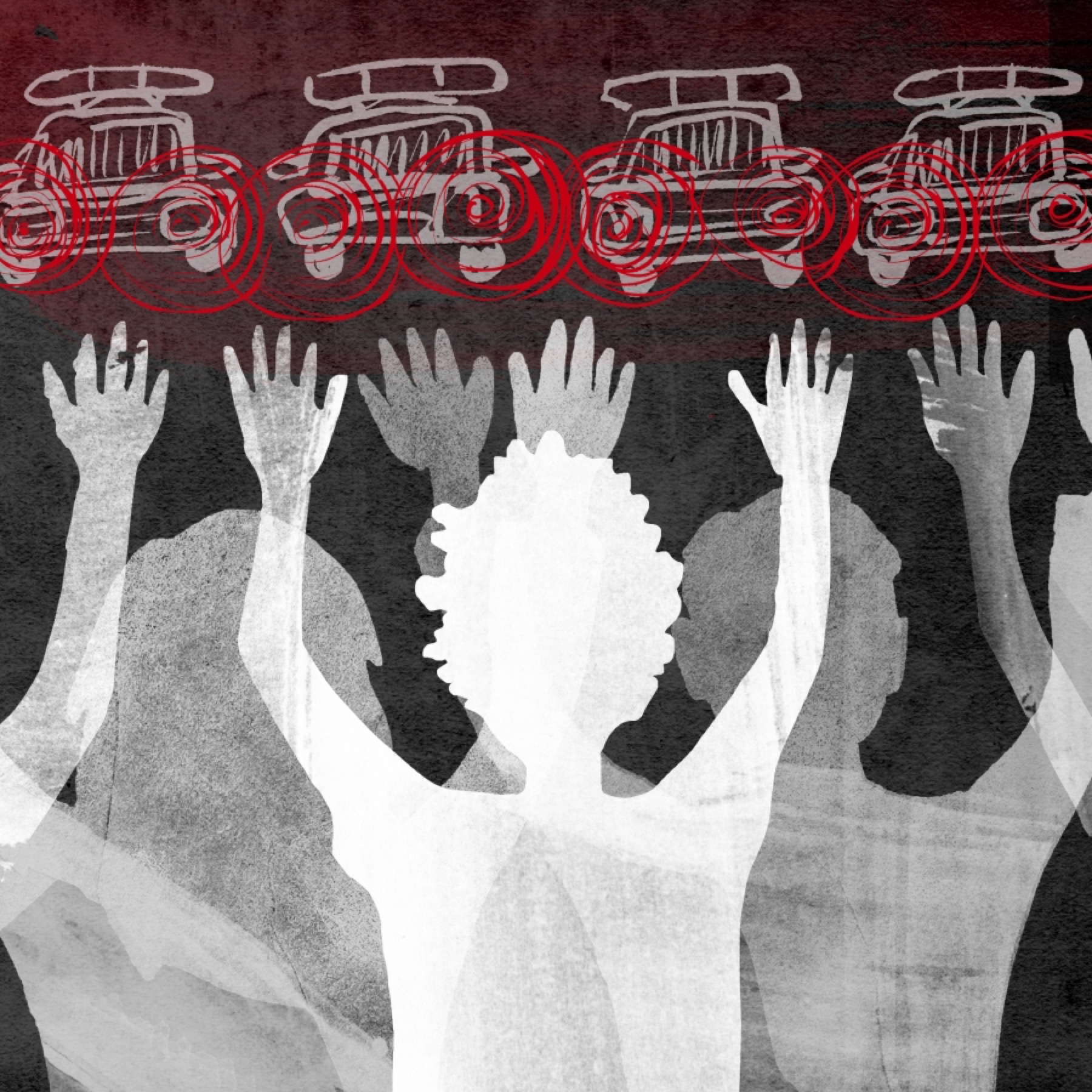 "Hands Up, Don't Shoot," by Dolly Li. Courtesy of the artist. dollyli.com
IF WE DO NOT DARE EVERYTHING
By Monica A. Hand
On the Difference Between The Fire Next Time and The Fire This Time
---
Fire
In poetry sometimes pronounced as two syllables.
Literal Use:
The physical manifestation of combustion, characterized by flames and the production of (intense) heat, light, and (typically) smoke, and caused by the ignition and burning of flammable material in the presence of oxygen; the process of burning and its manifestation considered together.
Fire has long been used and valued by humanity as a source of heat and light, and recognized as a dangerous and destructive phenomenon; it is also regarded as a divine or supernatural manifestation. (OED)
The police killed another black man today. I am furious with emotion; I am burning up inside as if with fever. The doctor tells me to try Prozak, Zoloft, Celexa or any number of other serotonin reuptake inhibitors, but no prescription can put out this fire. The doctor, she tries to promise I will feel better. But I don't want to feel better. I don't want to sedate my grief, the loss of the American dream. At sixty-three years old, living in the South, black, queer, and female, with two adult children, two grandchildren, and countless others I care about at risk, I know the dream itself is on fire.
James Baldwin's The Fire Next Time was published in 1963, when I was ten years old. I was reading Paul Lawrence Dunbar and Langston Hughes, learning about black pride, the importance of self-love. At home, I was a first-hand witness to black resiliency: my mother who raised four children alone, who refused to be destroyed by domestic abuse, racism, or poverty. There was no time or money for her college, but it would be different for her children. We would get the best primary and secondary education; what we didn't get in the classroom she taught us at home and in the library. Three short years later my hometown, Newark, New Jersey, burned for six days and nights. That summer was much like this last one—blistering hot. Citizens stormed the streets in response to police brutality, riots erupted all over the city, especially in poor neighborhoods. The projects where my cousins lived blazed in Technicolor. The corner store, where we'd go after school to buy pickled pig feet and dill pickles from a jar, filled with smoke and soot. Our neighborhood streets looked like a cross between a horror movie and a military occupation. Police were everywhere. Hundreds of fires burned all over the city. People were wounded. People died. We children weren't allowed to go outside.
I didn't find Baldwin until high school. I attended Arts High in Newark—pronounced NewArk by Amiri Baraka—who was headquartered on High Street at the opposite end of the block from my high school. My friends and I were busy emulating the teachings of the Black Power Movement; we formed our own student newspaper and staged protests at our school, demanding that our music appreciation class be expanded to include the study of jazz. We read Baldwin, and he changed us. But Baldwin's The Fire Next Time, a book I'd hoped would move us forward, has become to me a sad reminder of our standing still.
I live in Missouri now, have since 2012. I lived here when Michael Brown was killed in Ferguson, when Rekia Boyd was killed in Chicago, when Eric Garner was killed in New York, when Natasha McKenna was killed in Virginia, when Freddie Gray was killed in Baltimore, and when Alton Sterling was killed in Baton Rouge. I am finishing a Ph.D at the University of Missouri, the same university where people came together for more than a year to protest Michael Brown's death. A student with the support of many turned his hunger for justice into a hunger strike. He demanded the administration change. The football team showed their solidarity and refused to play. The president resigned.
We knew it was not safe for black boys to be out on the streets at night in Newark in the sixties. We knew they risked harassment by the police or being locked up or worse. When I lived in Philadelphia in the mid-eighties the police bombed the row houses where MOVE, a black liberation group, lived. Eleven people were killed including five children. After that incident, I decided to leave Philadelphia, and on the Greyhound to California I was accused of taking a woman's purse in a rest stop bathroom. Police stopped the bus in route and made me stand on the side of the road while they rifled through my things. When they didn't find any evidence that I had the woman's purse, they let me get back on the bus. Most black people have a story. Many end more tragically than mine. But, in the words of Fannie Lou Hammer, I am sick and tired of being sick and tired.
Jesmyn Ward's anthology The Fire This Time: A New Generation Speaks about Race, published by Scribner late last summer, is a sign that we have reached a flashpoint in black consciousness like the one that blazed during the sixties, when black intellectuals, artists, students, and community folk came together in what became the Black Power Movement. Ward's collection is more than a continuation of Baldwin. Assembling historic contributors like Edwidge Danticat, Emily Raboteau, Claudia Rankine, Wendy S. Walters, and Isabel Wilkerson, Ward creates a book that acts as a call and response to the insistent killings of black humans like Trayvon Martin, Tamir Rice, Rakia Boyd, Michael Brown, Eric Garner, Miriam Carey, Sandra Bland, and too many others.
Many of the essays in The Fire This Time are first person stories about encounters with American history. In "Lonely in America" we walk with Wendy S. Walters at the edge of town as she tries to trace the places where black people were buried, their graves (sometimes unmarked) neglected, disturbed, relocated. In "The Weight" Rachel Kaadzi Ghansah takes us through the rooms of Baldwin's home in France, now abandoned. We try to separate the past from the present from the future in Isabel Wilkerson's feedback loop. Or we converse with Carol Anderson, trying to understand white rage and why it can't heal itself. We're with Kevin Young reckoning with black people's multiplicity—"that any solidarity we have with each other is about something shared, a secret joy, a song, not about some stereotypical qualities that may be reproducible, imitable, even marketable."
The essays that stay with me long after I close the book are those that ask the question: But what do we tell our children? In 1963, James Baldwin tells his nephew that the domineering actions of white people, "what they do and cause you to endure, does not testify to your inferiority but to their inhumanity and fear." Baldwin continues, "the really terrible thing…is that I must accept them…accept them with love." In Ward's collection, Rankine writes that "the legacy of black bodies as property and subsequently three-fifths human continue to pollute the white imagination." Yes. My thirteen-year old self is still watching buildings burn in my neighborhood. And my sixty-three-year old self is tired of reading reports of another black person killed by the police. But I want to believe Baldwin. I want to believe in love.
In Emily Raboteau's essay "Know Your Rights" she writes about walking with her children across the High Bridge in New York City the Saturday after the Charleston church massacre, in which nine people were gunned down by a white man hoping to begin the next Civil War. Raboteau asks herself when she should talk to her children about protecting themselves from the police. Her son is four. Her daughter is two.
I screamed inside myself as I read her question. They are too young! How could they possibly understand? Don't scare them! Don't fill them with fear! But then I remember Emmett Till was fourteen years old. Tamir Rice: twelve. Raboteau reflects on her son's defiance about the long walk across the bridge, and she worries that "where we live, that defiance could get him killed." Her essay features a series of photographs of murals found in NYC neighborhoods that outline a person's civil rights when under detainment or arrest.
Last spring, on a trip to San Diego to visit with my son, I didn't see any black people in the neighborhood where our hotel was located. After dinner, he told me he was going to look for a sports bar. Suddenly my body was filled with panic. I feared for his safety as a black man walking in a white neighborhood. It was as if he were a little boy again walking alone to school for the first time; I wanted to walk behind him, far enough away where he couldn't see me, but close enough to come to his defense if needed.
The Fire Next Time gets its title from a traditional gospel song. God gave Noah the rainbow sign / No more water, the fire next time! About it, Baldwin writes at the end of his book:
If we...the relatively conscious whites and the relatively conscious blacks, who must, like lovers, insist on, or create the consciousness of the others—do not falter in our duty now, we may be able...to end the racial nightmare...and change the history of the world. If we do not now dare everything, the fulfillment of that prophecy, re-created from the Bible in song by a slave, is upon us...
The difference between The Fire Next Time and The Fire This Time is that there is no difference. We have faltered. In my lifetime, I am seeing the fulfillment come to pass.
---
Enjoy this review? Subscribe to the Oxford American.