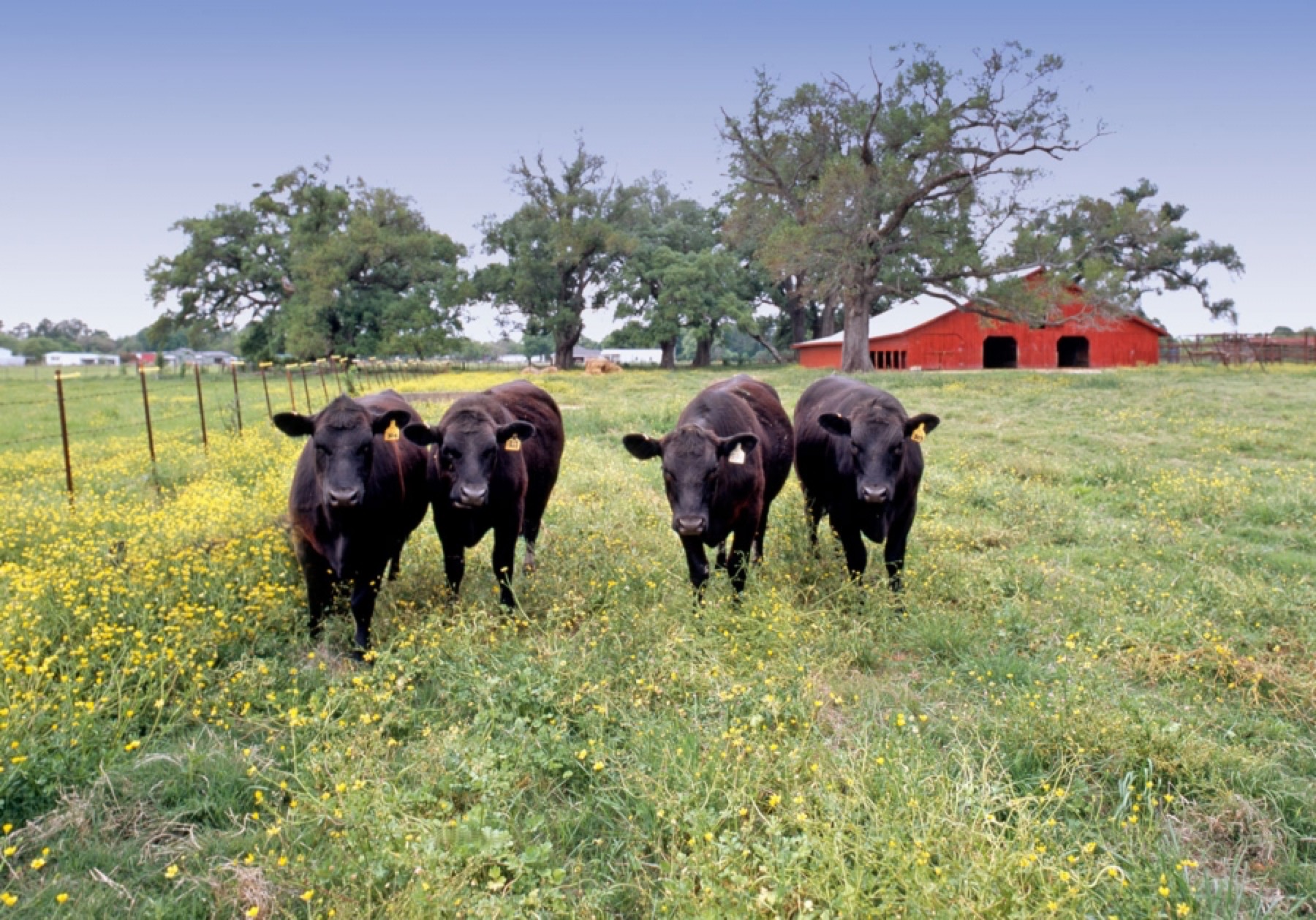 Cows in Louisiana. © Library of Congress
INTERNALIZING
By Oxford American
For this week's Notebook, we turn over the space for our editorial recommendations to our departing interns—Rachel Hoge, Alexis Hughes, and Ryan Smith.
Thanks for all your work, you three! May your future be free of transcribing!
---
When I began interning at the Oxford American in August 2015, after leaving my native Tennessee and college town in Kentucky, I considered myself an authority on the South.
Then I read an essay by Kiese Laymon.
It was "Da Art of Storytellin' (A Prequel)" published in the Oxford American's 2015 Georgia Music Issue. And though the poverty, hip-hop, and, yes, even " stank" was familiar to me as a Southerner, my own memories were entirely middle-class, entirely privileged, entirely white.
I decided to educate myself on the whole South, not just the white one.
After Laymon's appearance at the Arkansas Literary Festival in Little Rock, where he read from his 2013 essay collection, How to Slowly Kill Yourself and Others in America, I bought a copy and opened the cover, anticipating words of injustice and anger and knowledge. If I'm being honest, I hoped this book would enlist me in a war. I wanted to feel angry toward the group Laymon calls the worst of white folks, to recognize parts of myself reflected in these truths. But the book is an echo, not a scream. A conversation, not a lecture. And rather than impose my white analysis on the text, I'd rather share an excerpt so you can see yourself:
My saying yes to life meant accepting the beauty of growing up black, on parole, surrounded by a family of weird women warriors in Mississippi . . .

This isn't an essay or a woe-is-we narrative about how hard it is to be a black boy in America. This is a lame attempt at remembering the contours of slow death and life in America for one black American teenager under Central Mississippi skies. I wish I could get my Yoda on right now and sift all this into a clean sociopolitical pull-quote that shows supreme knowledge and absolute emotional transformation, but I don't want to lie.
You can order a copy of the book from Amazon or from Square Books in Oxford, where Laymon is a teacher at the University of Mississippi.

—Rachel Hoge
Over the past forty years in Arkansas, one band's presence has been simultaneously both elusive and pervasive. Self-defined as "a band of opportunity," the Greasy Greens play shows as often—or as seldom—as the twelve members' schedules allow. These somewhat rare opportunities to see the band all together are cherished by many longtime fans throughout the state, myself included, even though I have greater access than most to their talents.
Having inherited the role of bandleader from founder Patrick McKelvey, my dad, Ron Hughes, has hosted rehearsals in our "band room" for as long as I can remember, and my sister and I have been singing along to the Louie Jordan–inspired, jump swing music since the moment we could talk. Crowd favorites include "Full Moon Boogie," "Minnie the Moocher," and their own Sheila Kuonen's "Emotion" (the most "danceable song," according to my dad).
From hearing them at the 2005 Centennial Celebration of the Basin Park Hotel in Eureka Springs, Arkansas, where the band was based in its formative years, and dancing at Earth Day parties at the Little Rock Unitarian church to seeing the band play a surprise concert on the South Lawn of the White House for Bill Clinton's 53rd birthday—the former President is also a longtime fan, known for pulling the female lead singers off the stage to dance—I have had an infinite number of chances to get to know the music and members of the band, many of whom are like family to me.
However, because the band has never recorded and released music to the public, Greasy Greens lovers must keep an attentive ear out for news of the next show. With a boisterous horn section, wild vocals, and even the occasional ukulele or cowboy song, the Greasy Greens put on a show too good to be passed up. Their next planned gig is the annual Shrimp Boil Benefit for St. Francis House at St. Mark's Episcopal Church in Little Rock on September 24th.
—Alexis Hughes
During a recent interview with Oxford American contributor Matt Wolfe about his Spring 2016 piece on cattle rustling, the writer mentioned an essay by Ted Conover that examines the practice of a rural veterinarian in Iowa. Transitioning from cattle theft to convalescence, I pored over "Cattle Calls" [link may require log-in] in the October 2015 issue of Harper's. I wholeheartedly recommend it for those with an interest in the behind-the-scenes folks who play a role in getting our (disease-free) food to the table.
My girlfriend's uncle is the only vet in an Arkansas town of less than 4,000, so the long hours, influence of market instability, and injuries that Conover's subject, Zach Vosburg, pushes through rang true for me. Vosburg relishes workplace tedium I would hastily avoid, such as inserting an arm into a cow's rectum to determine the age of a fetus, some grotesquery out of a traveling magic act if you ask me. In a profession where most vets "head overwhelmingly to jobs in cities and suburbs, to work with pets," Conover captures an intimate portrait of a "vanishing breed," a man hanging onto his sense of place and duty.
The story's focus on the Franklin County vet is framed within the larger issues of CAFOs (concentrated animal-feeding operations) and the pollution and health hazards that are their inevitable by-products, as well as the ethical dilemma of not administering analgesic meds to cows before castration. Vosburg navigates these evolving social terrains as best he can, while taking calls on everything from artificial donkey stimulation ("the animal is here to lose its massive testicles") to cattle prolapses ("picture the biggest garbage bag you ever saw.")
Although Vosburg's work can appear steeped in death—the vet and his employee put down family animals and even respond to a mass sewage gas poisoning of 75 CAFO-raised pigs—the piece closes with a telling genesis: Vosburg successfully delivers a calf; he holds "God's creation in the palm of my hand." I get the sense that the vet's professional tribulations become worth the cost in moments like this.
—Ryan Smith
---
For more recommendations from the OA, subscribe to our weekly newsletter.