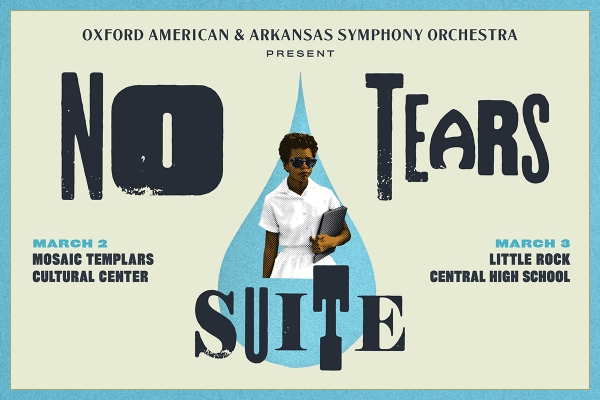 No Tears Suite: Central High Concert [jazz Series]
SUNDAY, MAR. 3, 2019 | CENTRAL HIGH SCHOOL AUDITORIUM [1500 S. Park Street, Little Rock]
3:00 PM—The Oxford American: A Magazine of the South, in collaboration with Arkansas Symphony Orchestra, is proud to present the world premiere of the No Tears Suite with new symphonic arrangements written by GRAMMY-nominated jazz bassist and composer Rufus Reid. A special addition to Oxford American's 2018–19 Concert Series and inspired by Melba Patillo Beals's Memoir Warriors Don't Cry about the 1957 Little Rock Central High School desegregation crisis, the No Tears Suite honors the sacrifices and ongoing work of all those who strive to build a more just and equal society. The concert will take place on Sunday, March 3 at 3:00 PM at the Central High School Auditorium. This extraordinary performance is free and open to the public. It is made possible by presenting sponsor Stella Boyle Smith Trust.
Admission to the 3:00 PM Sunday, March 3 performance at the Central High School Auditorium is free, but we ask that you RVSP online at ArkansasSymphony.org/no-tears-central. To make a reservation for a group of 11 or more people, please call the ASO Box Office at 501-666-1761, ext. 1.
In September 2017, Oxford American premiered a 60-minute jazz composition entitled No Tears Suite, written by Little Rock jazz pianist Chris Parker and vocalist Kelley Hurt. The duo created the work in honor of unity on the 60th anniversary of the Little Rock Central High School desegregation crisis. In this reprisal, Parker and Hurt will again be joined by five exceptional jazz artists, including GRAMMY-winning jazz drummer Brian Blade, who played in the original 2017 ensemble, in addition to fifteen members of the Arkansas Symphony Orchestra who will premiere the new, expanded symphonic arrangements of the No Tears Suite written by GRAMMY-nominated arranger, composer and bassist Rufus Reid.
"The Oxford American provides platforms for artists whose work illuminates a deeper understanding of the South's complexity. We're honored to collaborate with the Arkansas Symphony Orchestra in creating this music and these events because they foster continued conversations between communities as we all work toward a more cohesive society," said Ryan Harris, Oxford American Executive Director. "This weekend will create a safe space for people to come together in mutual appreciation of each other and the role the arts can play in bridging our cultural divides. We're extremely grateful for Chris Parker and Kelley Hurt's multi-year commitment to this project."
The jazz ensemble accompanying Parker and Hurt will once again feature GRAMMY-winning drummer, Brian Blade, in addition to Rufus Reid (bass), Bobby LaVell (tenor saxophone), Marc Franklin (trumpet) and Chad Fowler (baritone and alto saxophone). Arkansas Symphony Orchestra's Geoffrey Robson will conduct the group.
"The Arkansas Symphony Orchestra as an organization is excited to collaborate with Oxford American and, perhaps more importantly, our world-class classical musicians are excited to collaborate with these world-class jazz musicians to create music that demonstrates what is possible with community unity," said Christina Littlejohn, Arkansas Symphony Orchestra Chief Executive Officer. "This project is an example of Little Rock's own Silk Road. The historic Silk Roads were a network of trade routes across land and sea along which people of many different cultures, religions and languages met, exchanged ideas and influenced each other. Jazz and classical musicians working together in Little Rock's historical venues of the Mosaic Templars and Central High School to create music around our past and present could be a catalyst for a richer, more robust future."
Additional partners on the project include National Park Service, University of Central Arkansas College of Fine Arts & Communication, Central High National Historic Site, Kay Kelley Arnold, Mid-America Arts Alliance, National Endowment for the Arts, Arkansas Arts Council, Clinton School of Public Service, and Mosaic Templars Cultural Center.
This project is generously funded by the Stella Boyle Smith Trust, Mid-America Arts Alliance, the National Endowment for the Arts and the state arts agencies of Arkansas, Kansas, Missouri, Nebraska, Oklahoma and Texas.