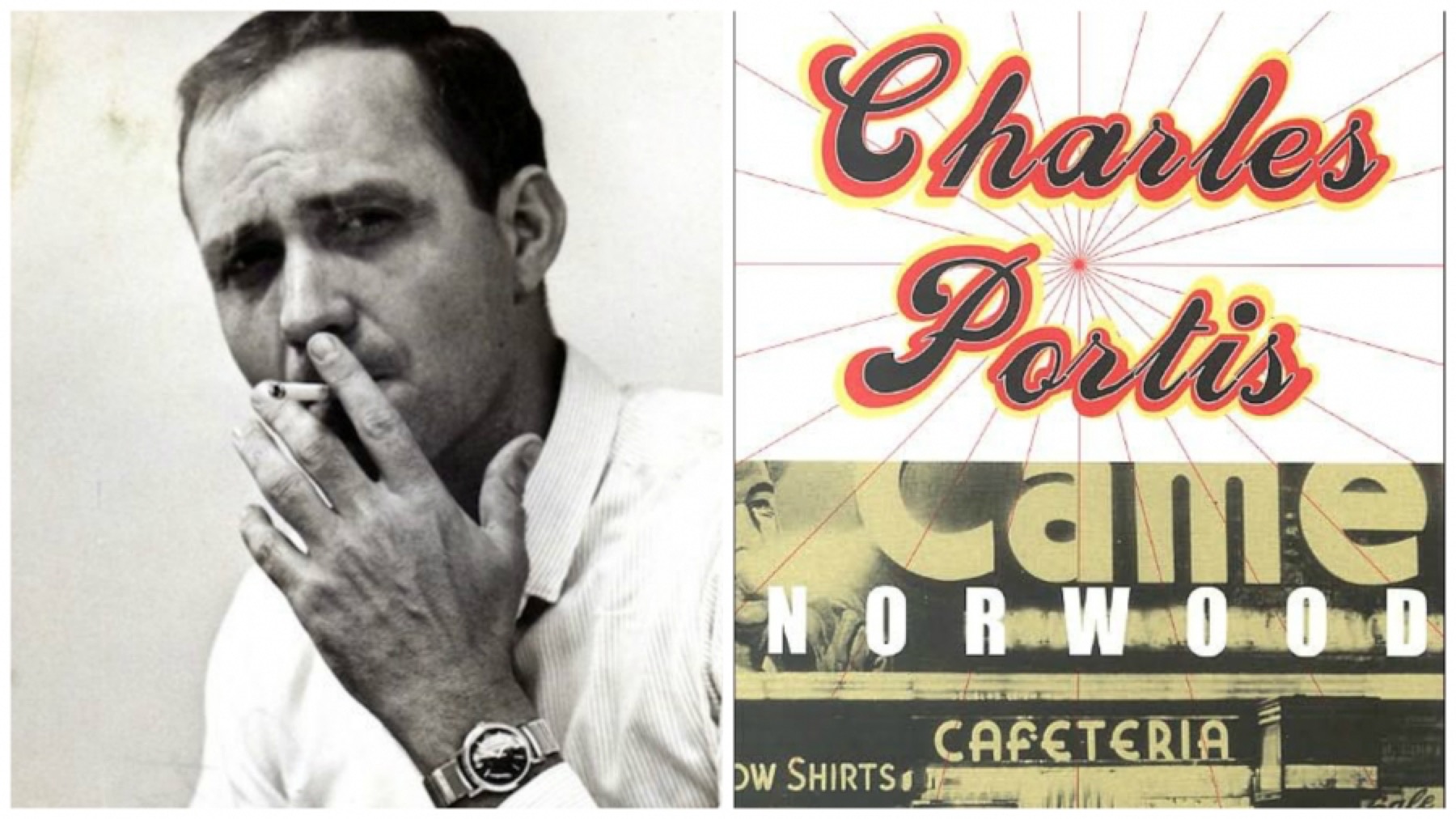 NORWOOD AT FIFTY
By Oxford American
In the New York Times Book Review on June 9, best-selling author Mary Roach answered the standard question in the "By the Book" interview about the last book that made her laugh by citing a fifty-year-old novel, Charles Portis's Norwood. She was hardly the first person in that column to answer that way. Actor Bill Hader also mentioned the book. And actor and comedian Bob Odenkirk name-checked Portis as his favorite comic writer. And oh yes, novelist and memoirist Anne Lamott listed him too. For longtime readers, new fans, and especially writers who try to write funny stuff and know how hard it is, Portis's work is peerless. So we here at the Oxford American decided to honor the beginning of his career with an event celebrating the fiftieth anniversary of the publication of Norwood, the book that began all those people singing to Portis their rendition of Lefty Frizzell's "I Love You a Thousand Ways."
That song makes an appearance in the novel, which depicts the road trip of Norwood Pratt, a Marine and would-be country singer from Ralph, Texas, who travels to New York City and back to try and collect a debt from an old service buddy, Joe William Reese. Along the way Norwood meets a travel writer who never goes anywhere, "the world's smallest perfect man," and Joann the Wonder Hen. When it was published on July 29, 1966 (after having been serialized in the Saturday Evening Post), the first printing sold out by the end of August and the New York Times called it "delightfully original." As Roach and others attest, it continues to delight a half-century later.
Portis, who grew up in Hamburg, Arkansas, and has lived in Little Rock for more than four decades, has been a longtime contributor to the Oxford American, sometimes personally handing over a manuscript, typed on his trusty manual Olivetti-Underwood, to then-editor Marc Smirnoff. The magazine honored him with an award for Lifetime Achievement in Southern Literature in 2010, and his two original pieces for the magazine include "Motel Life, Lower Reaches" and "The Wind Bloweth Where It Listeth." In addition, the OA has published an excerpt from his one play, "Delray's New Moon"; premiered a film adaptation of his short story "I Don't Talk Service No More" along with an interview with the New York filmmaker Katrina Whelan; and posted a tribute by OA senior editor Jay Jennings, editor of the collection Escape Velocity: A Charles Portis Miscellany, on the occasion of Portis's receiving the Porter Prize at the Arkansas Governor's Mansion.
On the bill for the evening's "Norwood at 50" festivities, held at South on Main in Little Rock on Sunday, July 31, will be Norwood's most vocal and eloquent supporter, humorist Roy Blount Jr.; comic memoirist and bow-tie fancier Harrison Scott Key (The World's Largest Man); singer-songwriter Tift Merritt (Bramble Rose), who may do a little Kitty Wells; the OA's Jennings; and sound-effects master Fred Newman (A Prairie Home Companion), through whom we may finally hear what it sounds like when a fox terrier plays "Springtime in the Rockies" on a harmonica.
The Sunday main event is preceded by a special, limited-seat Saturday-night dinner at Little Rock's historic Capital Hotel, featuring cocktails and wine; Norwood-inspired food and music; and attendance by Blount, Key, and Jennings.
All in all, the weekend will be a hilarious and fun-filled tribute to the man New Yorker writer Ian Frazier calls "America's greatest living writer" and to all things Norwood. As Joe William Reece tells Norwood, "We might bust a watermelon later, you can't tell."
---
For more recommendations, subscribe to our weekly newsletter. For information about the Sunday "Norwood at 50" event, go here, and for information about the Saturday Southern supper, go here. Tickets go on sale June 20.