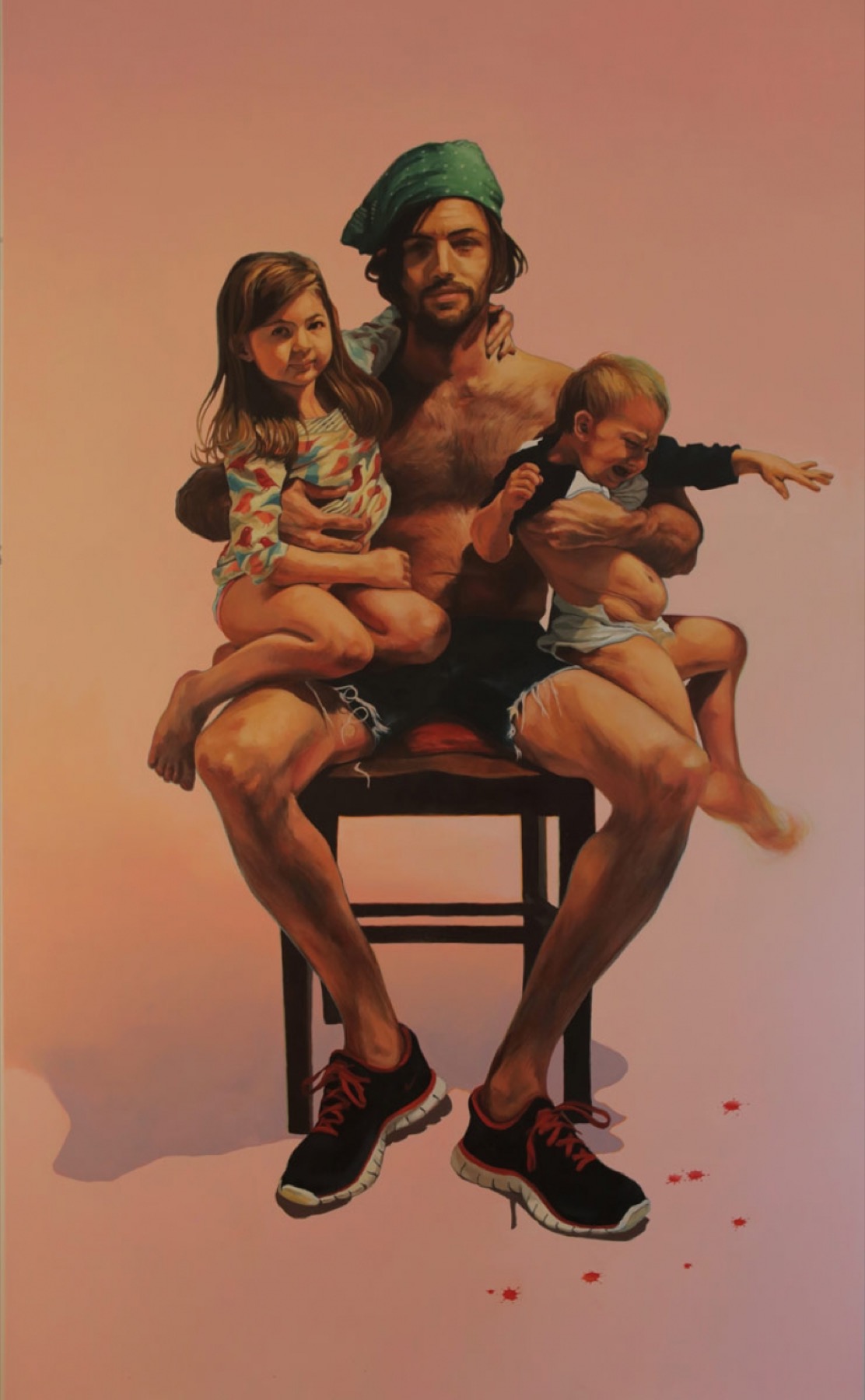 "Fatherhood" (2013), by Scott Avett; oil on canvas, 106" x 65". Courtesy of the artist, © 2019 Scott Avett. Photograph by Lydia Bittner-Baird
ONLY LOVE TO SHARE
By David Menconi
Fifteen years ago, Scott Avett was mulling various career choices. Avett had graduated from East Carolina University with a Bachelor of Fine Arts degree several years earlier and he was still painting. He also had a band with his younger brother Seth, the Avett Brothers, who were playing clubs while showing signs of growing into something special.
All the same, things with the band were hand-to-mouth enough that life was a struggle, and Avett had other options. With an acceptance letter from the University of Florida in hand, Avett delivered an ultimatum to the band's manager Dolph Ramseur: He was going to go to graduate school unless Ramseur got the band onto the bill at MerleFest, the annual folk festival in the Avetts' home state of North Carolina.
Ramseur started working the phone and at the last minute word came that the Avett Brothers were on the bill—unpaid. "But Scott hadn't said anything about getting paid," Ramseur recalled with a laugh some years later.
So, the Avett Brothers played MerleFest in 2004, seven times over the course of the weekend on different stages, emerging as the talk of that year's festival. They kept going as a band and grew into the festival headliners they are today.
All the same, Scott never stopped painting, big works and small, his influences ranging from the 17th century Italian artist Caravaggio to the contemporary American painter Wayne Thiebaud. Some of that art appeared on album covers, whether for the Avett Brothers themselves, as on their 2009 commercial breakthrough I and Love and You, or for other acts, such as Brandi Carlile's Grammy-winning 2018 album By the Way, I Forgive You. But most of it just wound up lining the walls of Avett's studio and home in Concord, North Carolina, the products of a private obsession.
It is private no more, however. More than forty pieces going back two decades make up Scott Avett: INVISIBLE, his first museum show which is on display at Raleigh's North Carolina Museum of Art through February 2, 2020. Among the pieces in the show is that I and Love and You album-cover painting, "Julianne in Vain," painted in the shadowy dark-toned style of the old Dutch masters. That one is actually displayed separately from the rest of INVISIBLE, set up alongside a similarly styled 1620s-vintage painting by the Flemish painter Gerard Seghers.
INVISIBLE opened with a bash at the museum featuring music by the Avett Brothers as well as their unlikely kindred spirit Loudon Wainwright III, another artist whose songs are steeped in the joys, traumas and tragicomedy of family. That dynamic and its interplay in Scott Avett's life and music is very much on display throughout INVISIBLE, which is dominated by portraits of the artist's own wife and kids.
"Before I had children, I would hire models and it got to feeling like there was an emptiness to that exchange," Avett said in an interview before the opening. "It was so academic, it almost felt like an extension of classes I'd had in figurative painting and drawing. Excelling in the craft has always been so secondary to digging into my relationship with life. As subject matter, my kids are so relevant and huge that it's inspiring."
While Avett is far better-known as a musician than a painter—the Avett Brothers' new album Closer Than Together just debuted at #28 on the Billboard 200 chart—he does not think of either pursuit as being secondary. Pretty much the same amount of time and effort goes into both.
"Music and painting can both be next to impossible at any given time, but music is actually much harder for me," he said. "The reality is that songs flow all the time, but they're so difficult to finish. I have thousands and thousands of fragments, some great ideas, but who gives a shit? Good ideas are a dime a dozen, and the hardest thing is to follow through and make it happen. The worst thing that ever happened to me was the voice memo, which has killed so many songs."
Nevertheless, Avett's voice memos actually have a place in INVISIBLE. One of the show's displays consists of speakers surrounding a couch, where you can sit and listen to some of those recordings on a half-hour loop. His kids pop up here, too, which means that they are heard as well as seen.
It's an intriguing glimpse into an artist's process as well as his resulting work. "I tend to be very skeptical of my own ideas," Scott said. "But at the same time, songs like 'No Hard Feelings' and 'Ain't No Man' started out as something I recorded, forgot about and later found in my voice memos. It's just so much fun, making stuff."
---
Scott Avett: INVISIBLE is on display October 12, 2019–February 2, 2020 at the North Carolina Museum of Art
---
 Enjoy this story?  Subscribe to the Oxford American.