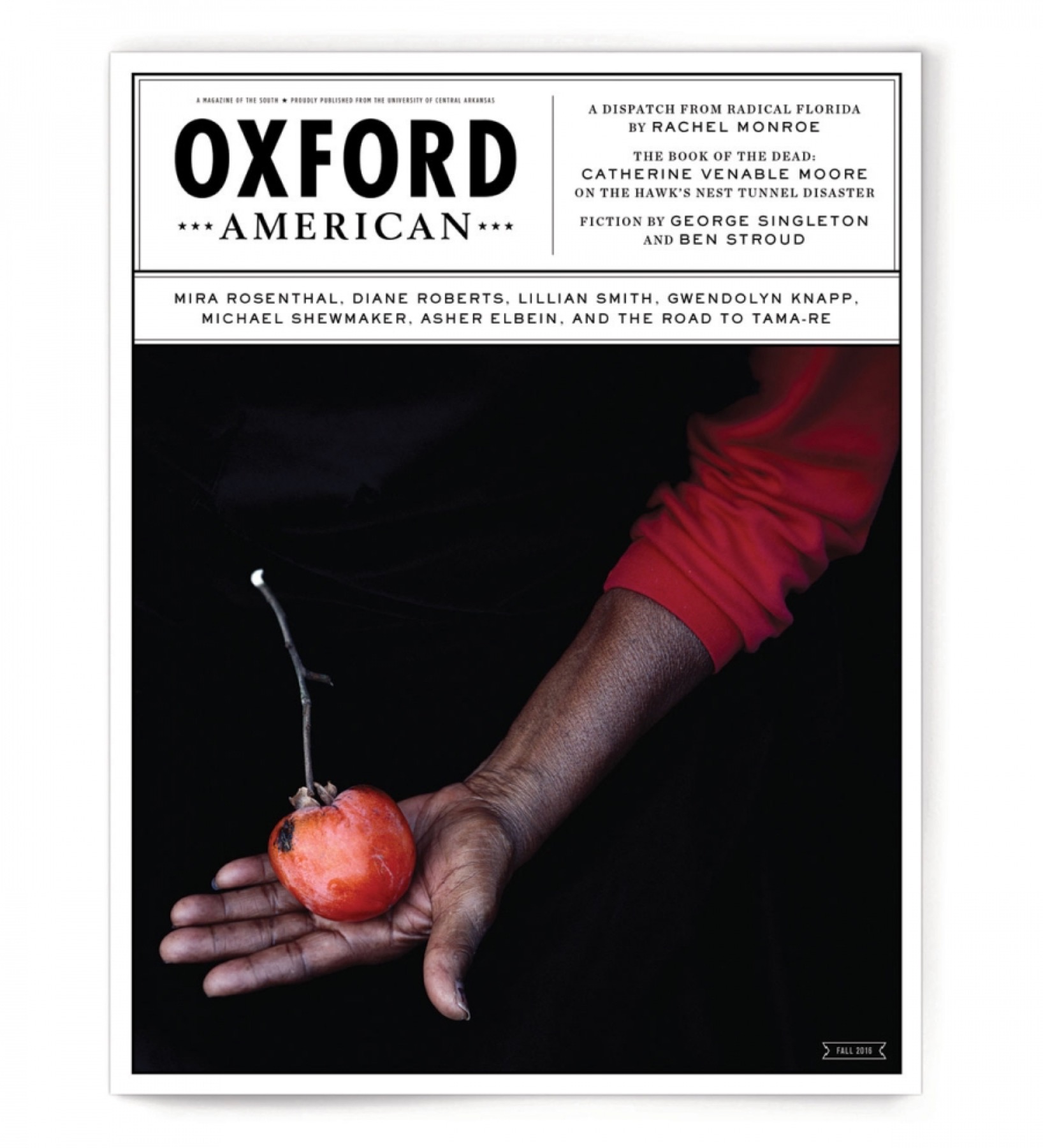 The cover photo is "Fay & Persimmon" by Ben Davis
OUR FALL 2016 ISSUE
By Oxford American
Introducing our Fall 2016 issue
---
In the Oxford American's 94th issue, Rachel Monroe, a 2016 Livingston Award finalist, reports on the radical activist community of tiny Lake Worth, Florida. In West Virginia, Catherine Venable Moore investigates the worst industrial disaster in U.S. history (with wet-plate photographs by Lisa Elmaleh).
The issue also includes Asher Elbein's chronicle of the rise and fall of a black cult in rural Georgia; fiction by George Singleton, Stephanie Soileau, and Ben Stroud; a critical appreciation of Lillian Smith by Diane Roberts; a graphic essay by Kristen Radtke; poetry by Mira Rosenthal, Erika Meitner, David Kirby, and Michael Shewmaker; and much more.
The cover image is "Fay & Persimmon" by Ben Davis, from the series After Jordan.
---
"In my daydream version of myself, I'm badder and bolder. I risk arrest, have a complicated, asymmetrical haircut, and make rich people uncomfortable. There is, after all, a lot that's wrong with the world, and plenty of things that could use some smashing, or at least a little shaking up."
—Rachel Monroe, "Monkeywrench"
---
"My dad got me into plumeria. He's an old surfer with a dozen trees in Satellite Beach, Florida, including a light pink bloom that he keeps calling Surfqueeny after my first AOL screen name. The Plumeria Society of America would identify it as a NOID—pronounced like the Domino's mascot of yore and simply meaning "no ID," origin unknown."
—Gwendolyn Knapp, "Plum Crazy"
---
"I grew up in the southwestern frontier near North Augusta, on a ragged, two-hundred-acre family farm where we raised our own beef, grew our own vegetables, and drew our water out of cool, sweet springs. From heaven—or from a high-flying hawk's viewpoint—I imagine that the plowed fields, pastures, and humble houses looked like a hole punched into the expanse of green. That gap in the wildness was our Home Place."
—J. Drew Lanham, "A Good Name"
---
"Recovery is a process of reconstitution—of worldly possessions, of wits. It is never complete. Not today, in the aftermath of June's floods, and not in 1930. Eight decades on, West Virginia hasn't recovered from Hawk's Nest. How could it?—when so much of what was lost still hasn't been named."
—Catherine Venable Moore, "The Book of the Dead"
---
"Lillian Smith got me to see that I would always belong to the South, that it would never leave me, no matter how many thousands of miles away I traveled. Her work showed that there was a way to live in the South and push back against the paradigm, to become part of the resistance . . ."
—Diane Roberts, "Stay and Resist"
---
"My Dear Master Liszt!
I have become a slave owner. Yes, like you I believe in the freedom of all men—your Hungarians, the Poles, the Rumanians!—and in the role we artists must play—light-bringers, revealers of passion, sympathizers with the oppressed! But I have become a slave owner. It is a stain, a mark of rot. How many stains have I come to bear in these last weeks? They are countless.
I beg you, my dear Master Liszt, read this letter."
—Ben Stroud, "My Dear Master Liszt"
---
The Fall 2016 issue is on newsstands nationwide on September 13. Subscriber copies are on the way now.