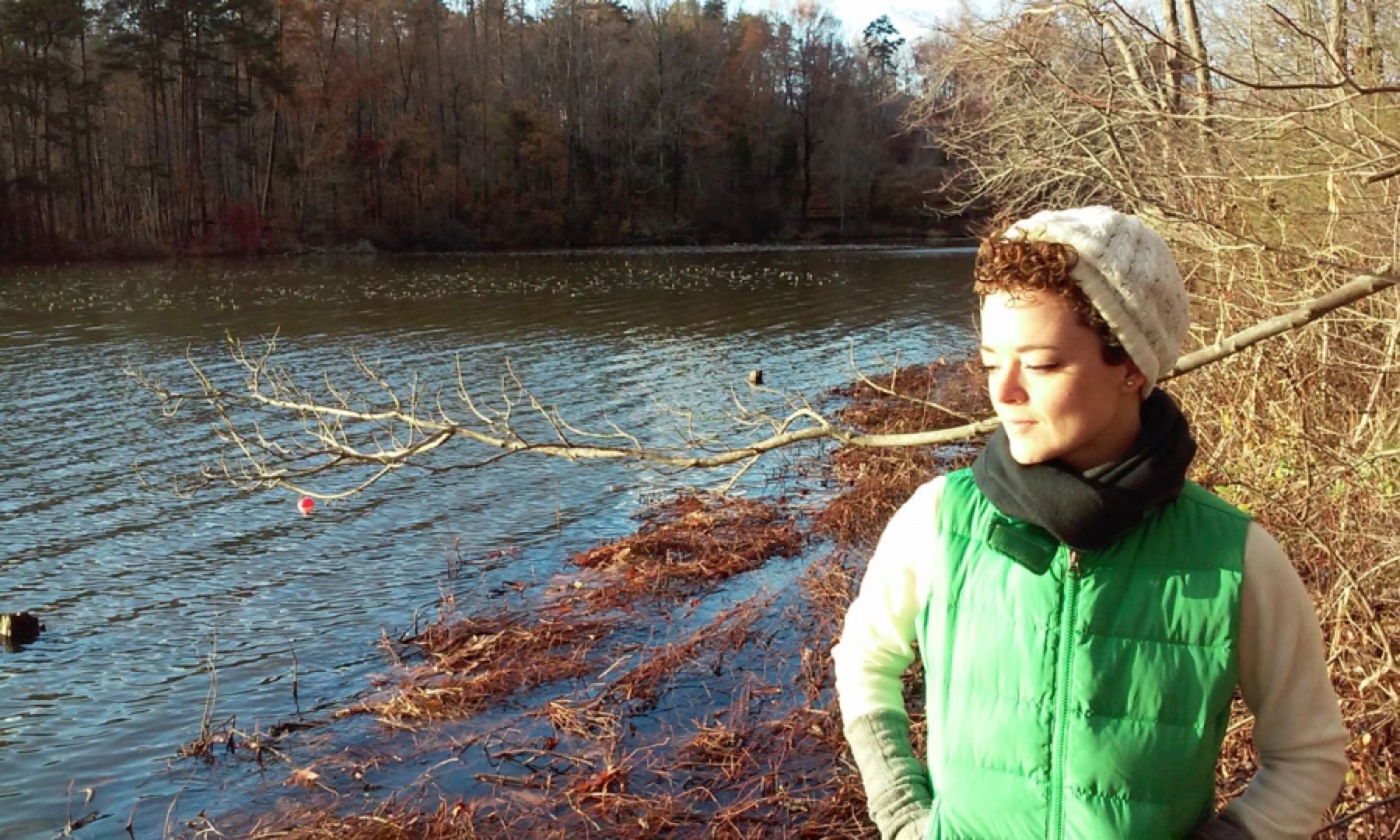 SINGING FROM THE DEEP WOODS
By Win Bassett
Ansel Elkins, whose manuscript Blue Yodel won the 2014 Yale Series of Younger Poets competition last March, recently gave her first reading from that book at a Master's Tea at Silliman College at Yale. I stumbled in late to find a packed room and became entranced by this fiery young poet whose delivery sounded like songs from home. I also took note of the juxtaposition—this Alabama-born woman and her poems of antlers, Old Testament prophets, and Southern topographies reading in a fragile, elegant room of fine china brimming with hot tea. I felt a similar displacement two years ago when I arrived at Yale from Virginia in a pair of ropers.
After reading several poems, including "Tornado" (which originally appeared in this magazine), Elkins answered questions from the listeners in the room. People often call her writing "Southern gothic because they don't know what else to call it," she said in response to one woman who asked Elkins to describe her work. "It groups everything that is strange into one group, and I always bristle." Elkins then listed for the audience her many influences, including Margaret Walker, a fellow native daughter of Alabama who won the 1942 Yale Younger prize for her collection For My People.
She also told stories of her childhood in the rural South, like the time her father took her to a Hardee's in town. Elkins, able to read at a young age, informed him that they couldn't go inside because the door stated: no shirt, no shoes, no service. "We were just feral," Elkins laughed. The anecdote recalls Walker's "Delta":
I am a child of the valley.
Mud and muck and misery of lowlands
are on thin tracks of my feet.
Damp draughts of mist and fog hovering over valleys
are on my feverish breath.
. . .

I listen to crooning of familiar lullabies;
the honky-tonks are open and the blues are ringing
far.
The night came to an end as Elkins sang a few notes of Jimmie Rogers's "Blue Yodel No. 1 (T for Texas)." We met later in the evening at a bar across the street to talk more about her Alabama upbringing, her writing inspirations, and the impact of her parents on her work.
---
After living with Blue Yodel for a few weeks now, I'm struck by how the poems seem to talk with each other. In "Blues for the Death of the Sun," for example, an apocalypse is near. "The sky has taken away the light / Is it punishment? the newspapers ask. We thought God was dead." In the next poem, "Goat Man," a bearded prophet "nails his hand-painted sign to a live oak / by the roadside: god is not dead."
With each connection, I felt as if I inhabited a small Southern town where everyone knows everyone and where everyone is related. How did your experience growing up in Talladega County, Alabama, influence the characters in your poems and their relationships?
Talladega County is really big, and within that one county our family interacted with a wide variety of people from vastly different cultures. I spent my earliest years on the campus of Talladega College, where my mother taught English, and so my playmates were the children of other faculty members. Growing up on a historically black college campus was an incredibly rich and wonderful experience—I grew up going to hear the Talladega College Choir and seeing the incredible Hale Woodruff murals whenever I walked into the library.
Later on, my mother bought a little A-frame cottage with a wood-burning stove on three acres in Munford. Though in the same county, it was vastly different. For starters, we lived down the road from Tyson's Chicken Farm, which stank to high heaven on hot, muggy days when the smell drifted up to Chinnabee Lane. We grew up poor, though we never knew it. All our friends were poor. But we had a wealth of experiences and lived near Cheaha Mountain, which is perhaps the most beautiful place on earth I know.
Carl Phillips, who selected this collection to win the 2014 Yale Series of Young Poets competition, writes at length about the second poem, "Goat Man," in his foreword. The poem is one of my favorites in the book:
Like a bearded prophet out of the Old Testament
he travels through our county roads on foot
with his iron-wheeled wagon drawn by a herd
of thirty goats, the solitary music of trembling
tinware, beaten pails and kettles.
I discovered in the Anniston Star that Goat Man was a real person. What is your relationship to him, and what compelled you to memorialize him in this way?
Charles McCartney was the legendary Goat Man. Though I never met him, I grew up hearing my father tell stories about him. Hanging on the wall of my living room I have a gorgeous print of one of my father's photos of Goat Man in the old school bus where he lived in Georgia. I began the poem almost as a gift to my father: after hearing him talk so often and so fondly of this eccentric man, I wanted to pay tribute to this legend in my own way. The poem became a synthesis of all I'd ever heard and read about Goat Man over the years.
My father and his colleague at the Anniston Star, writer Murphy Evans, collaborated on a photo and oral history collection in which my father said of Goat Man: "I can remember in the Fifties when Goatman would come by, up near Arab, Ala. The first time I ever saw him we were picking cotton in the fields near Arab and he was coming down the road. You could hear him coming a mile away with all the bells and all the pots and pans rattling. People would come by and say, 'Goatman's coming! Goatman's coming!' We'd all rush to the end of the cotton row to watch Goatman go by."
Your father was a photographer for that newspaper for twenty-seven years and came to love that part of Alabama and its people. Rick Bragg, who also worked at the Anniston Star, has told the story of when he last saw your father. Before Bragg left the state for a Florida newspaper, they drove together through the gorgeous Alabama landscape of ridgelines, fields, and pines. Bragg wrote,
He did not talk in poetry, like I said.
But he kind of did, then.
"Aint nothin' in Florida, son, like that."
"I guess not," I said.
"Ain't nothin', nowhere, he said, "like that."
How does "that," this Alabama landscape, find its way into these poems?
The Alabama landscape is so completely saturated in my soul that it's hard to gain perspective of just how much it's in these poems. Because the land is so rooted in my work, trying to answer that question would be like trying to unearth barehanded one of those old shacks that's been swallowed whole by kudzu. I could never know myself without these red clay hills, without the native music of saying the names of places like Talladega, Tuscaloosa, Tallapoosa. There's such an intimate knowledge I feel with this landscape where I grew up, it feels like it's not outside me but a part of me.
You've said previously, "I want my poems to reach people who aren't poets—people who work at gas stations and Wal-Mart, everyday people." Are these the people your father shot for the newspaper in Alabama? How will Blue Yodel reach them?
I'd love if Blue Yodel were sold at Cracker Barrel gift shops across Alabama, though I really doubt Yale University Press would go for that! My people are those working people that I want to reach. This book is for and about them, so its publication is shared by all of us because they've each contributed their love and belief in me over the years. I come from a proud family and have kin everywhere from Huntsville to LaFayette, from Arab to Opelika and everywhere in between, and they're each in this book in some way. But on a practical level, I hope to come back home and give some readings.
Your father was the son of Alabama sharecroppers, and your mother is half-Puerto Rican. You've previously acknowledged, "I want to play with—and embrace—the status of the outsider, the other, the person who defies categories and lives on the peripheries." In some sense, this is you—a woman of Puerto Rican descent growing up in rural Alabama.
I think of your poems "Adventures of the Double-Headed Girl" ("We are indeed a strange people") and "Autobiography of Eve" ("I blazed a footpath, the first / radical road out of that old kingdom / toward a new unknown."). In what ways does this outsider status factor into your book?
I was raised by a single mother in the woods. We were isolated. But I lived mostly in my imagination. My mother was unlike any of the other mothers I knew—she's fiercely independent, ridiculously well read, and is the most passionately alive person I've ever known. We were like gypsies and moved all the time, but the house on Chinnabee Lane, deep in the woods, will always be home to me.
You've said that you prefer to work in the middle of the night. This makes me think of your poem "Hour of the Wolf" and its epigraph of "3 a.m." One line reads, "God made dawn / for redemption." How does writing at the wolf hour and the redemptive dawn foster your imagination and vision?
Being awake and writing at 3:00 a.m. isn't something I choose, it's something I'm compelled to do because of insomnia, which I first started experiencing in the wake of my father's death. I was real depressed during the day and so I slept a lot, but then I'd be wide-awake and restless at night. Rather than lie awake and think about death and time and nothingness, I decided I should try and get out some of that energy by writing. And so I did a lot of writing in these still, quiet hours. No lawn mowers, no leaf blowers, no hot-rod cars gunning through our neighborhood. It was just me, with my lamp on, with a notebook open, trying to give form and music to my constant wrestling with the idea of death.
"Across the blackened hills I hear a peacock holler his blue yodel." You take the title of your book from this line in your poem "Blues for the Death of the Sun." The term originally comes from Jimmie Rodgers, who wrote and recorded his Blue Yodel songs in the late 1920s and early 1930s. The songs became famous for, according to music historian W. H. Bass, "making black music acceptable to white audiences." How does the history of this term relate to your poetry collection?
I grew up listening to blues and country music. My husband, Revell Carr, is an ethnomusicologist and told me that Jimmie Rodgers's Blue Yodel was also influenced by Hawaiian music of the 1910s and '20s. The Hawaiians had that kind of falsetto yodel and slide guitar as well, so my point is that the Blue Yodel is not just a black and white thing in the South, it's an expression of yearning and deep melancholy that crosses many different cultures across the globe. I see it as this basic primal howl of being human. Jimmie Rodgers is also a storyteller, and that's what I love about him and all those other old country-blues singers. Though I first encountered the Blue Yodel in Jimmie Rodgers, the raw feeling encompasses so much more than one singer.
---
Ansel Elkins's debut collection of poetry, Blue Yodel, was selected by Carl Phillips as the winner of the 2014 Yale Series of Younger Poets competition. Her poems have appeared in AGNI, The Believer, Best New Poets 2011, Ecotone, Guernica, Gulf Coast, the North American Review, the Southern Review, and others. She is a recipient of a National Endowment for the Arts Fellowship, a North Carolina Arts Council Fellowship, an American Antiquarian Society Fellowship, and the "Discovery"/Boston Review Poetry Prize. Born in rural Alabama, she now lives in North Carolina.