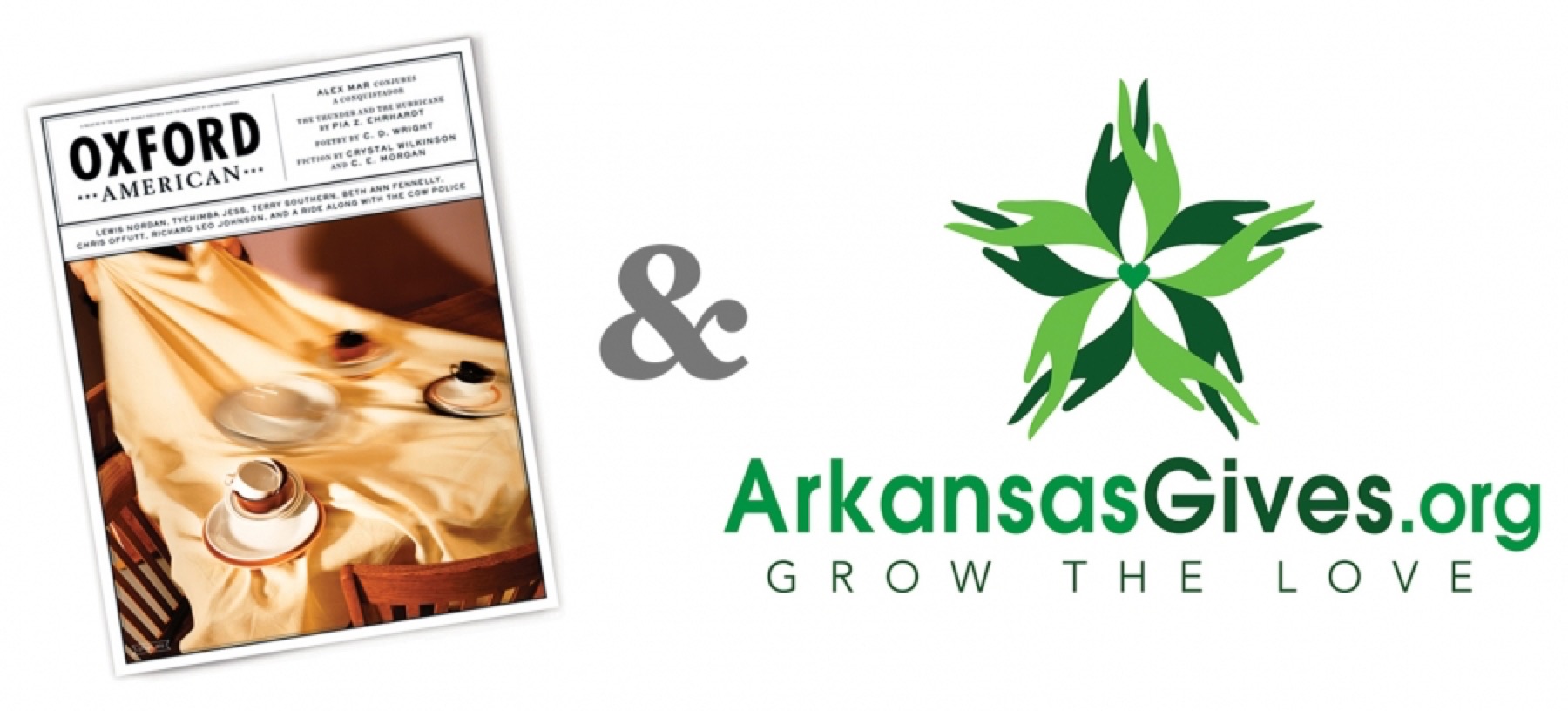 Save the date! Donate to the Oxford American through ArkansasGives on April 7
SUPPORT THE OXFORD AMERICAN
By Oxford American
On April 7, 2016, the Oxford American will participate in ArkansasGives, a twelve-hour online giving event hosted by the Arkansas Community Foundation. We hope that our readers—all you believers—will save the date and support the Oxford American.
---
What is ArkansasGives?
ArkansasGives is an annual, twelve-hour online giving event hosted by the Arkansas Community Foundation. As a special giving incentive, each donation made through ArkansasGives will be boosted with additional "bonus dollars"—the more you give on April 7, the more bonus dollars the OA will receive.
Why support the Oxford American?
The Oxford American is a 501(c)(3) nonprofit organization. We simply could not do what we do—publish the very best writing, art, and music about the American South—without support from our readers. Every year, individual donations like yours help us pay writers and artists as well as print the beautifully designed print magazine.
Your donation on ArkansasGives Day will enable us to continue to publish and promote the best creative work from the region.
I'm in—what next?
First, save the date. ArkansasGives launches at 8 A.M. on April 7. Sign up here to ensure that you receive an email reminder the day of the campaign.
On April 7, go to ArkansasGives.org between 8 A.M. and 8 P.M. to pledge your donation in support of the Oxford American. The minimum donation amount is $25 (though you can give as much as you wish). Your entire donation will support the magazine—and it will qualify us to take part in the nonprofit pool, increasing your support.
Wait! I don't live in Arkansas. Can I still donate?
Absolutely. Oxford American readers from all over the world can still pledge on April 7. Every dollar, no matter where it comes from, will help support the OA.
Thank you!
---