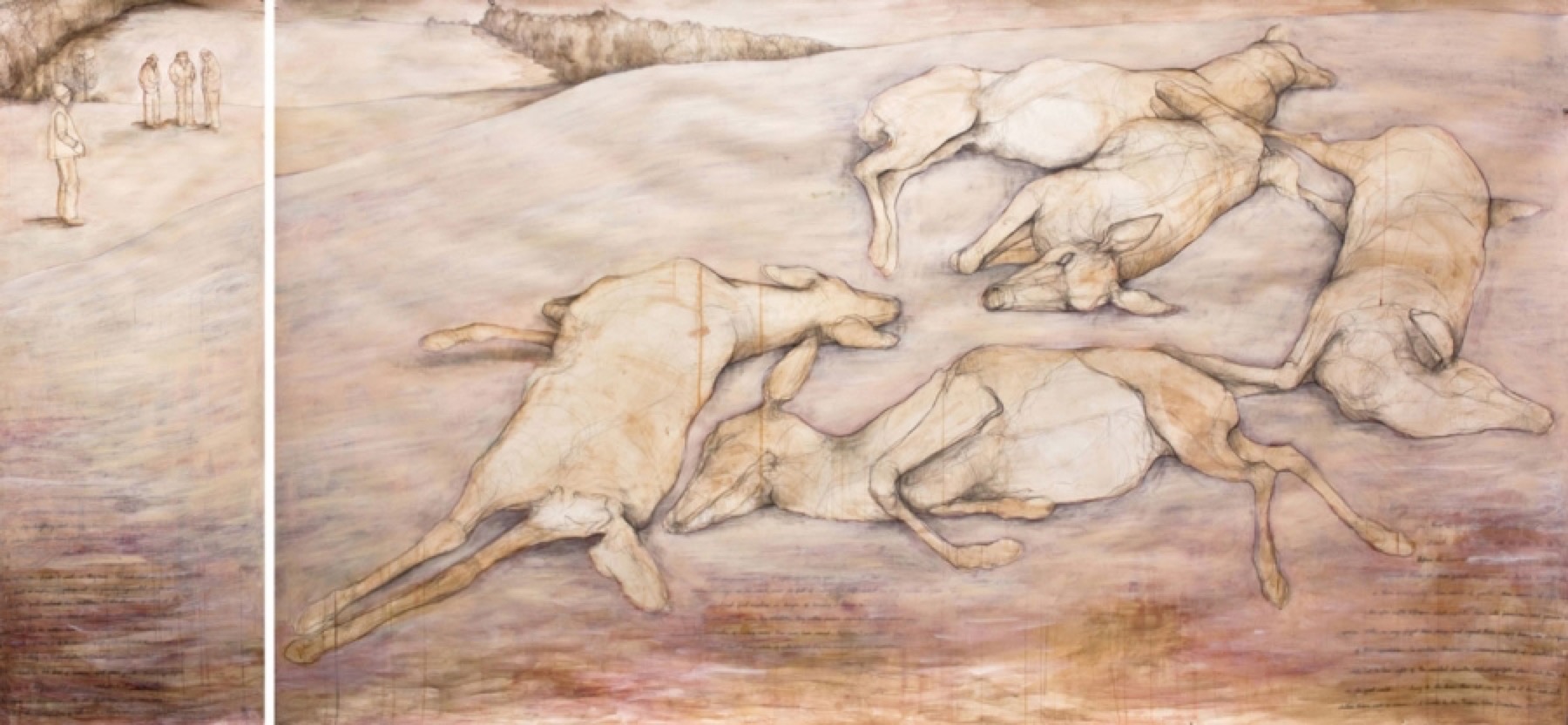 "After the Hunt," by Carly Drew. All images courtesy DRAWL gallery, Little Rock
THE GUN SHOW
By Maxwell George
"Mr. Speaker, where is the heart of this body? Where is our soul?" Rep. John Lewis of Georgia asked the House on Tuesday. "We cannot continue to stick our heads in the sand and ignore the reality of mass gun violence in our nation." The Democrats sat down, the Republicans adjourned. We the people are left, again, with an entrenched divide over the Second Amendment, sadly now routine in American governance. Irrespective of this debate, for many citizens, the heart and the soul is located near the trigger finger.
Inevitably, guns have figured into the Oxford American time and again. In recent years: for our Fall 2013 issue, Patrick Wensink attended the Knob Creek Machine Gun Shoot—"the Woodstock of Weaponry"—in Knob Creek, Kentucky, where he sensed "an excitable tension in the air that feels more like those few seconds before a Kentucky Wildcats tipoff than an afternoon at the gun range." In a short memoir, "Mr. Blue," Mark Lane flipped the "childhood hunting trip with Dad" genre around, analyzing the time he accidentally shot one of his father's hunting club comrades. Marcus Wicker conveyed the incessant fear felt by the black American pedestrian in a poem he dedicated to Trayvon Martin, "Silencer to the Heart While Jogging Through the Park": Surely, I don't have to tell you there's a gun // semi-automatic & lodged in the black cherry thicket, but I do / have to tell you about the semi-automatic jail cell clanging // open, not for me, because that's just sound world-making. / I'll say it like this: I don't jog in the park with my blindsides // shaded anymore.
This spring, the Oxford American served as media sponsor for an interesting project at DRAWL, a new art gallery in Little Rock. "The Gun Show" was a regional, multi-discipline art competition and exhibition that posed the open-ended question to contributors from Southern states: "What does the visual presence of guns suggest to you?" DRAWL's young gallerist, the artist Guy Bell, hoped to receive submissions that would speak to the firearm debate from all sides (or not at all). When the show debuted last month, I was impressed to see his vision realized.
In a portrait by Mississippi photographer (and longtime OA contributor) Maude Clay, of William Eggleston, the nattily dressed artist stands in front of an iron staircase in soft natural light, examining the chamber of his shotgun. Across the room hung Brian Hopper's stained-glass piece "Charleston," its ocean sunset panes of tranquil blue-, green-, and gold-swirled glass ruptured by a shattered framing with nine bullet holes. The Tennessee-based Hopper was awarded second prize in the competition, which was judged by Chad Alligood, curator of the Crystal Bridges Museum of American Art in Bentonville, Arkansas. First place went to South Carolina artist Carly Drew for her watercolor, graphite, and acrylic diptych, "After the Hunt." It depicts a circle of slain does laid out on a hillside. In the background, a group of hunters presumably talk through the morning's proceedings. One man stands alone in reflection.
"I've heard from many viewers that they did not expect the exhibition to be so broad in opinion and medium," Bell wrote me recently. "People remark on the relevance of the subject matter. Most importantly, I think THE GUN SHOW has been successful in facilitating a positive and thought-provoking experience. Art does not ask one to forgo their preconceptions, but to consider a range of opinions without anger or judgment." The exhibition closed on June 18, and Bell noted that the Orlando shooting gave the show a somber and engaging context in its final week.
Another piece on display was Adam Kirby's "Fired Clay," a series of sculptures the artist made by shooting blocks of wet clay with various calibered firearms. "Since clay has memory, it captures this aggressive action through the ballistics of the bullet," Kirby's accompanying statement read. "Shooting a hole through something might be interpreted as violent or deadly, but in the context of my work, I am using the gun to create rather than destroy." The blocks are totally mangled, bearing gaping chasms. It is art, and it can make you angry—and afraid. You look at a block of clay with a massive hole through it, the edges peeled back from the impact, like a stone dropped into water, and you think about a human head receiving one of these bullets, a human heart.
I am reminded of a passage from C. E. Morgan's short story "My Friend, Nothing Is In Vain," published in the Oxford American in 2014:
I'm terrified of guns and the reason I know this is because every time I go shooting with one of my buddies, I have a nightmare. This last time I dreamed I was driving around with Ryan's shotgun leaning on the passenger seat of my truck, snout up in the air. I was speeding down those mountain roads, the ones that wind and swerve, so the shotgun was slipping side to side like a windshield wiper on the seat beside me. When I reached my destination, I hopped out in a hurry and flung the shotgun up to my shoulder. Just for shits and giggles, I pulled the trigger, and—don't you know—it shot.

Oh, I woke up in such a trembling sweat. I'd been driving around with that thing loaded. I was about to cry just thinking about it, so I called Ryan right away, even though it was the middle of the night, and he said, "Kiddo, that was just a dream. It wasn't real," and I said, "Yeah, I know you're right." But we were lying through our chattering teeth. Do you know what I mean?
---
For more from the Oxford American, subscribe to our weekly newsletter.