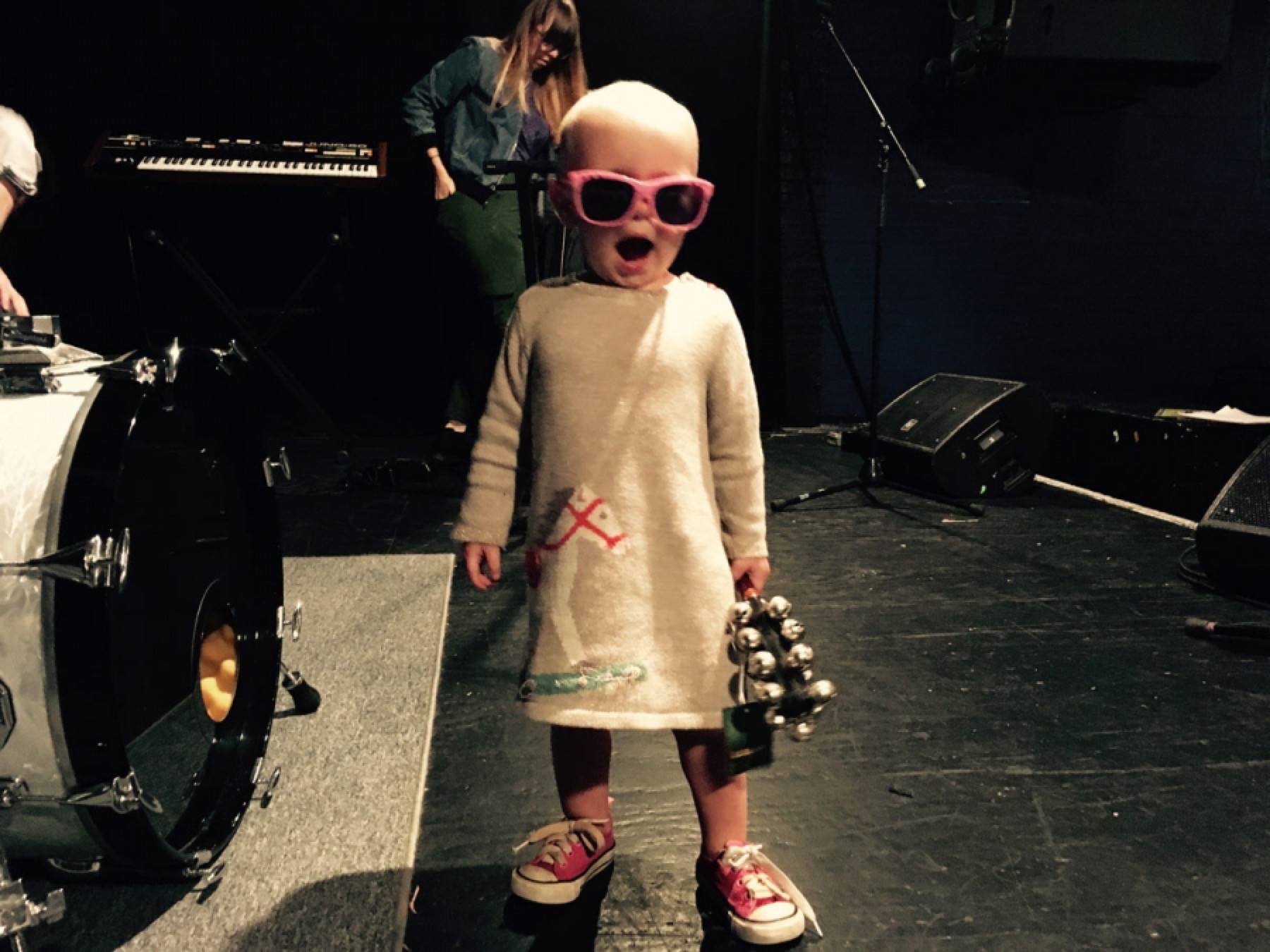 Photos courtesy of Tift Merritt
THE HOBBYIST
By Tift Merritt
Amps & Raisins
---
When I was in college, I went to a workshop with a visiting writer of some renown who was willing to critique student work.
"You have a decision to make," he told me. He had the deepest voice, like salt forming at the bottom of the ocean. "You can be a poet or you can be a mother."
I left not dissuaded; I wasn't even angry. I was twenty-two and suspected as much. I had always wondered whether my dedication to writing would make me dislike motherhood. But I didn't let anyone tell me who to be, and motherhood was the last thing on my mind anyway. I probably went for pizza afterwards.
When I was pregnant at forty-one, the poet's words rose up again, more potent as memory. What if I resented being a mother? What if I didn't take to it? What if I really was just a writer? I didn't have enough time on my hands as it was. I woke up sweating and out of breath in the middle of the night with his words in my head, my belly bowled out beside me like a new appendage. How would I pay for healthcare? How would I pay for college? There was a good chance my work and I would both buckle under the weight of it all.
To my great surprise, motherhood fills my life with more poetry and music than I could have ever imagined on my own. Jean widens my capacity—to work, to see, to anything. It is as if I finally found the love that art reaches for, imagines possible. Jean putters around my feet throwing anything in reach on the floor; I wonder about the poet's family life. How could he have given me such bad advice? Maybe the answer is that he never had the privilege of being a mother crack his heart wide open like it had mine.
Of course, very little in my life has turned out how I planned, and motherhood is only one of a number of things that did not feel the way I thought it would. Once, in the make-up room at the Late Show With David Letterman before my first television appearance, I had my hair done with Donald Trump. I tried not to look at him because his hair was so strange, and I did not want to make him uncomfortable. From down the hall, Bill Cosby shouted, "Where's the singer?" looking for me. Cosby held my hand and gave me a beautiful pep talk about how fantastic I would be on TV that night, assuring me I deserved to be there. Everyone in the dressing room clapped, even Trump. Melania stood expressionless in the hallway outside my dressing room, where Cosby had sent his catering to my band. Everything was in front of me.
Tonight, some fifteen years later, I'm in Milwaukee. Neither Bill Cosby nor Donald Trump will be in attendance. Not that many people will be in attendance; not even a hundred. Definitely not a thousand. I'm at Shank Hall, a gig some musicians dub Skank Hall. Definitely not a theater with a tour manager and a merch guy and a sound engineer. But I've been around enough to know that you could do a lot worse than Shank Hall. I load in my gear, set out my albums for sale on a card table. It's time for soundcheck, and the opener, Weatherman, are already making noise on stage. My manager carries a suitcase and is in tow as emotional support because she is kind.
Jean has on pink kid sunglasses and has managed to climb on stage, riveted by the drummer setting up the kick drum. Bam bam, bam bam bam. She thinks the cymbals are hysterical as they ssszzzzl sszzzl. I lure her down with tortilla chips requested in my rider. In the dressing room, she settles into a not-really-that-scary backstage armchair next to a bucket of beer. Jean loves ice, and when she realizes the beers are on ice, she pulls out pieces for me to bite in half for her. She whines and points, insisting.
"What do you say?" I answer to the high-pitched whine, the high-waving hand. "PL—EASE."
"Peas."
"What?"
"Peeeeeeeeeeeeeeeeeeeeas." She rocks up and down, begging.
I bite the ice into sixteen-month-old-appropriate pieces and hand them out with each successful PEAS. It was once my absolute nightmare to haul a kid covered in raisins and crumbs from club to club and change diapers in cuss-word-covered rooms, but here I am laughing as my daughter learns her very first manners from the beer cooler in this rock dressing room.
As show time approaches, I put on make-up and Jean joins in. She applies blush to a corkscrew, hummus to each carrot on the vegetable tray. The carrots are then lined in rows across the floor. (None are eaten.) She draws in the big notebook we now share, circling blue on a list of things to do, turning pages, crossing out numbers resolutely. When Weatherman goes on, Jean plays a game of running toward the music and lets me catch her just before she escapes from backstage. Over and over again. The colored light across her face enthralls her. She stares into the noise.
"Be a scientist, Jean," I say. "Don't ever think about being cool." The spotlight turns her few wisps of white hair incandescent. If I could just show her how much being cool doesn't matter.
A few minutes before intermission, I fasten Jean in the stroller and push her down the exit stairs into a dark, cold parking lot out behind the club. Cigarette butts litter the asphalt.
"I'm going to go sing now, okay?" I tell her. She looks back blankly. She knows this routine. My manager takes over pushing the stroller; I slip back inside, worried about the space between streetlights and what kind of mother sends a baby into the cold night. I write a set list with Jean's crayon. When I receive a text that she has fallen asleep in three blocks, I give thanks to the benevolent angels of the Shank Hall back streets.
In a last attempt to make my hair do something interesting, in this rare moment alone, I accidentally catch a real look in the mirror. I haven't looked at myself cogently for a long time. Dirty hair, dry skin, new gray. A half-house crowd awaiting me. Still not selling enough to grow. Dragging a child around to un-childlike places on behalf of a dream that perhaps I should have woken from years before. Medium successful, financially responsible for a child, at a loss for time. I see the reflection of someone who might be watching her career go from center stage to hobby. My greatest, greatest fear: to be a hobbyist, an artist on the side. I've prided myself on being a working artist for my entire adult life, as if it were the very backbone holding me upright. But the artist hustle written on my face isn't working. More mascara, slowly applied, doesn't make much difference. My dream is passing me by. It doesn't feel the way I expected. It hurts some, but plenty of people have survived this kind of heartbreak. Rock & roll means a little less than everything. I paint my lips a careful red and try to ignore the mess in my mind and the mess in my suitcase—the baby Tylenol, the kid's books, the miniature dirty laundry, the digital thermometer I still, thankfully, have not had to learn how to use. Slowly, carefully, I blot the lipstick and the corners of my mouth. It's a small gesture, but I am still the woman I set out to be.
Into the five blue spot lights, into the thin Midwestern crowd and a smattering of cabaret tables, I take the stage alone. The neck of the guitar settles its weight into my hands. I move the tuning pegs with the ease I move parts of my own body. Maybe this is my last Shank Hall. Maybe the night before was my last Chicago headline.
Whatever my failures, the music comes easily on that little stage. The sound carries itself, my voice on its back. For a long time, I thought I'd one day get a bus, eat right on the road, show up rested to a good crowd with a hot band. Now, as usual, I am on the road tired and sweaty. My mind wanders, but the rhythm keeps itself constant in my body as I play. I recognize myself in the dimly lit eyes of the audience—trying to align myself with beauty, mid-prayer for meaning. I give what I have to give without expectation that it will come to anything but the good feeling of giving. I do not promise myself that with one more record, one more tour, everything will make sense at last. Maybe I am a hobbyist, but I am freed from worrying about what comes next. The song I sing is just a song. It doesn't have to amount to anything at all, or pay the bills, or the salaries, or the tour deficit. I disappear into that song, to some place where social media could never find me, where no FM DJ would look, where all this week's forgotten disasters, bad news, and online sales numbers do not go. I am just a song. Nothing more. I am just a tiny little melody.
While I am not looking, as the air moves through me as I sing, I forgive myself for clutching my dream so tightly. How arrogant of me to think my path certain. I could never have let go with grace before Jean, never even think out loud that I might let go. I picture thirty nights of this ahead, and past tours: hard travel, bad nutrition, hours of singing "The Wheels on the Bus" to calm Jean until the next playground, of setting up my merch to sell only $70 worth, of giving the best of me to a small crowd I will never know, of getting home having lost money. I've made myself some false promises about what it would add up to. I've had some good cries in secret in hotel showers. But I've poured myself into what I love. Dreams are just dreams.
Jean sleeps the night drive after the show. In the morning, in a park, we will watch four strangers play doubles tennis. We will run to our hotel in the rain after midnight in Halifax. From the desk in a hotel window, we will count dogs passing in the street and throw cheese crackers on the floor. We will have a pillow fight in Vancouver. We will leave baby shoes in San Francisco and learn what a cow says in an outdoor bathtub in Marfa, Texas. We will fake call everyone we know from a bedside phone in Austin. We will take a whole hour sharing a bag of pretzels on an airplane. We will sleep with our heads on the same pillow wherever we go. And then we will go home. And it will have been the best time, no matter what dreams we have had, or who we thought we were supposed to be. Will Jean remember these times? Will Jean remember her mother, that messy, flawed woman doing her best to make her way in the world, celebrating her small victories like a good night with a band, or carrying two guitars, a suitcase, a stroller, a car seat and a daughter by herself? Will she remember that her mother made her deadlines and held her word and sometimes failed? I don't know.
But I will remember. I never dreamt I'd write such a poem.
---
"Amps & Raisins" is a part of our weekly story series, The By and By.
Enjoy this story? Subscribe to the Oxford American.