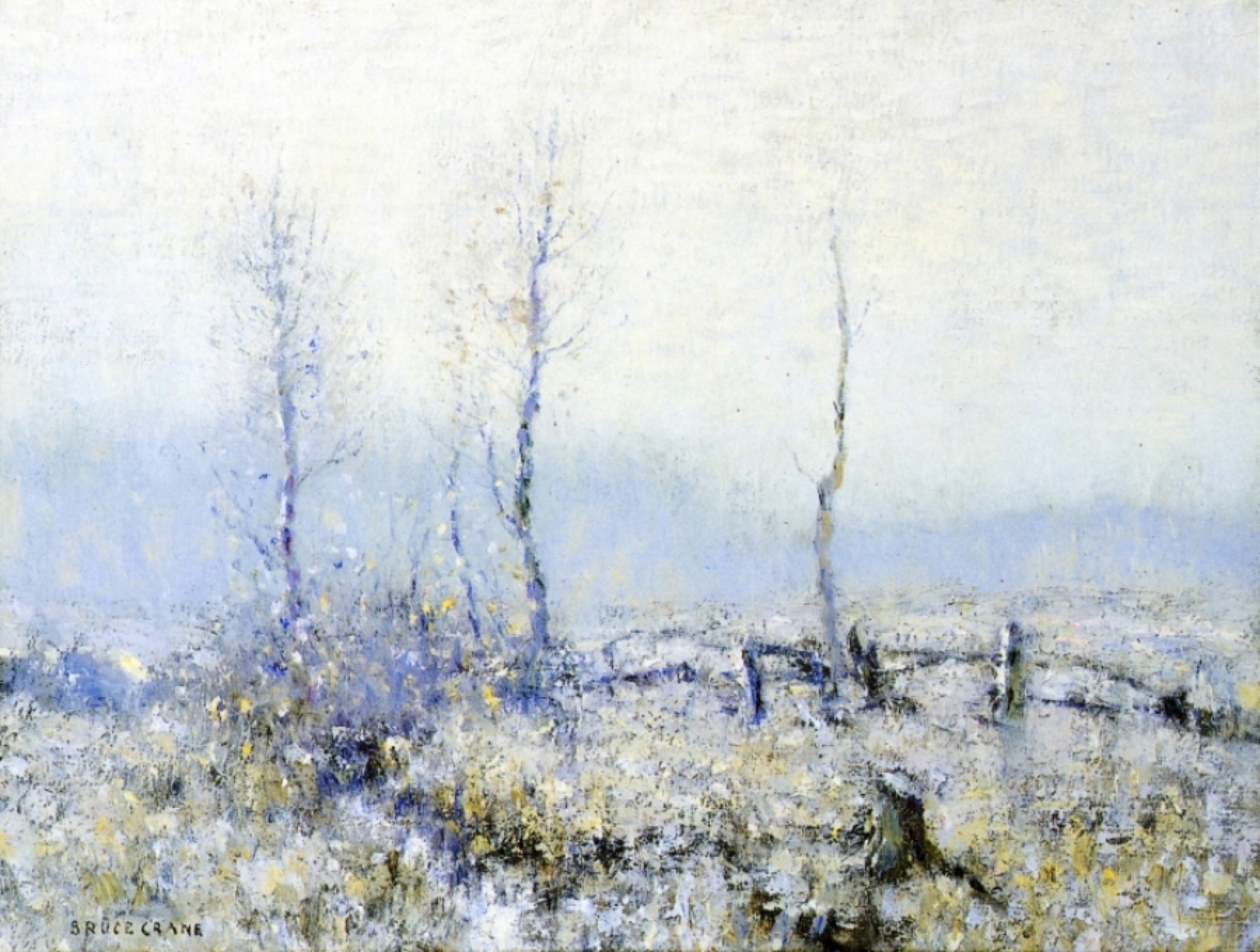 © Bruce Crane, "Winter Morning"
UP NEAR THE SKY
By Oxford American
End-of-week recommendations from the editors of the Oxford American
---
Today we have the great pleasure of enjoying an improvised office holiday—this blessed day that only occurs a few times a year in the South, when cities shut down at threat of even a half-inch of wintry mix and the roads expel all but the crazy or Northern-bred, until the weather turns warm and melts it all away. Yes, it's a snow day. In honor of this gift, we've fixed a cup of hot chocolate, wrapped ourselves in layers of blankets, and wedged into our thick armchair to begin thinking retrospectively about our lives. Today's event reminds us a little of Sheila Heti's recent and perfect account of a "sick day." "Sick in bed," Heti writes, "is a time to let all the thoughts of the last few months, all your experiences and memories, float up in your head, up near the ceiling." And though we aren't "wobbling with fever," we're taking advantage of this time in the same way—afforded one day with the great freedom to read, not read, think, not think. We might, if we're inclined, consider the VIDA count, pick through the biography of our favorite Arthur Russell (his Love Is Overtaking Me crooning in the background). Enjoy this snow day as well, dear readers—return to that book you haven't finished, put on the record you wore out last summer driving down I-35 S, and muse.
We're not often praised for our prescience, but we admit we're feeling pretty smug about our decision last October, one week into the National Basketball Association season, to look into the NBA's approved secondary ticket market and see when the Golden State Warriors and Stephen Curry would be making their only 2016 visit to Memphis (April 9). We'd already determined that he was that rare player we needed to see live, so we searched for premium seats at the FedEx Forum that would be comfortable for a ninety-four-year-old (Dad) and pulled the trigger. That investment in Curry looks like the only one of the New Year that's gained in value. And though he was the league's MVP last season, no one really expected him to get even better—so much better that the New York Times is asking ballet dancers to weigh in on his body control, and perennial "best player on the planet" LeBron James is looking like a bull in a china shop in comparison. Of course, we're a sucker for narrative, too. If Curry had been designated, as Michael Jordan and James were, a teen savior of the league, instead of an unprepossessing shooting guard from little Davidson, we might not be as interested. Dad was around almost at the invention of basketball and is not easily impressed, but watching a game on television recently, he saw Curry take a pass then instantly launch a deadeye three-pointer from an improbable distance on the court. "He didn't hold it long," Dad remarked, and his muted admiration made us glad that we'll be taking him to witness both Curry-in-the-flesh and a possible run at the all-time NBA win record for the Warriors, in their third-to-last game of the season. The Warriors are also on a Southern swing in late February (through Atlanta, Orlando, Miami, and Oklahoma City) and Texas in mid-March (Dallas, San Antonio).
Last week, our friends at Light in the Attic records announced that for Record Store Day this year they've pressed one thousand copies of an opulent Heartworn Highways 40th Anniversary box set, closing the book on the best reissue of 2016 conversation, so far as we're concerned. James Szalapski's mid-seventies music documentary about the outlaw country scene in Nashville and Texas—featuring intimate performances by Townes Van Zandt, Guy Clark, Rodney Crowell, Steve Earle, and others of their ilk—is something of an ur-artifact for the Oxford American, forecasting the sincere and artful examination of Southern culture this magazine is dedicated to. The bounty includes the film's first DVD release since 2003, along with the soundtrack on "whiskey"-colored vinyl, a poster, and an illustrated book with a comprehensive, long essay by the brilliant Sam Sweet—all appropriately packaged in a wooden box that will look just right beside our copy of Goodbye, Babylon. If you're not familiar with Heartworn Highways, look no further than the OA's latest music issue CD, which includes an alternate version of Larry Jon Wilson's swamp-country classic "Ohoopee River Bottomland" taken from the film's opening scene. We'll see you in line on April 16.
---
For more staff recommendations, subscribe to our weekly newsletter.