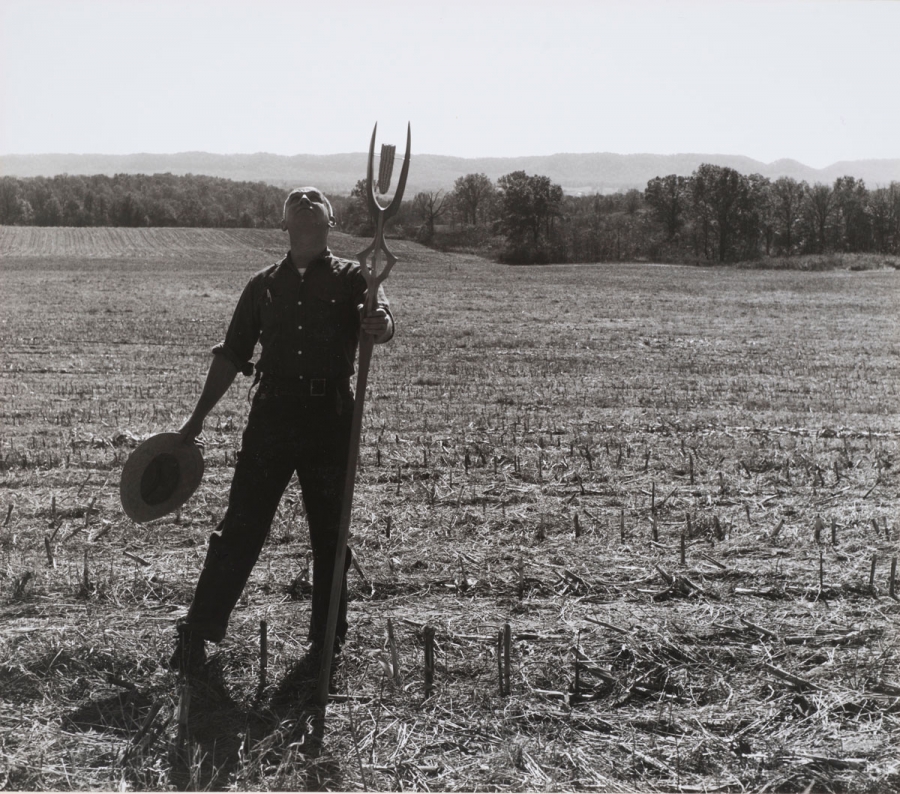 Wildly Strange
Central Kentucky in the 1960s was a gathering place for unusual talent. Guy Davenport wrote, painted, and taught in Lexington with his friend the photographer Ralph Eugene Meatyard just down the road. Wendell Berry was around, too, teaching creative writing at the University of Kentucky, until he moved up to Henry County to farm. Thomas Merton lived in a country monastery to the southeast.
In his essay "Tom and Gene," Davenport described visiting Merton at the Abbey of Gethsemani with Meatyard and the North Carolina poet Jonathan Williams in 1967:
I had begun urging [Gene] to photograph literary figures. . . . It was therefore as a portraitist that he was along. I was there because Tom had read my poem Flowers and Leaves. . . . This frosty January has become magic in my memory. Merton met us at the lodge. He was dressed in dungarees, sweater, and hooded jacket. He looked like a cross between Picasso and Jean Genet.
Later, Merton wrote that he had been visited by "three kings from Lexington"—but Meatyard made the strongest impression. "The photographer," Merton noted in his journal, "does marvelous arresting visionary things, most haunting and suggestive, mythical photography I ever saw. I felt that here was someone really going somewhere . . . I hope Gene Meatyard—and Guy—will come back."
When he wasn't taking the measure of light and shadow through the lens of a camera, Meatyard made his living as an optician and small-business owner. In 1968, he exhibited calligraphies by Merton—with whom he had become close—at his shop, Eyeglasses of Kentucky, and then bought all eight of the works to help finance his friend's trip to Asia. Four months later, in Bangkok, Merton stepped out of his bath and was electrocuted by a standing fan. Four years after that, Meatyard was dead, too, from lung cancer.
Last year, the Harry Ransom Center, which keeps Guy Davenport's papers, discovered a small collection of Meatyard photographs among the writer's manuscripts and letters. On Saturday, the Blanton Museum of Art in Austin opened the exhibition Wildly Strange: The Photographs of Ralph Eugene Meatyard.
The show pays homage to the inevitability of influence and collaboration, and evokes the magnetism, or pressure, that must have existed in the air of Central Kentucky at the time. Was it there already, or did the artists—transplants and returnees—bring it? The characters are familiar, but somehow it's surprising to find them all here together: there's Hugh Kenner smoking and laughing, Louis Zukofsky in profile, Thomas Merton and Guy Davenport joking around with Jonathan Williams's thyrsus, all alongside Meatyard's "Romances"—photographs of his wife and children and the Kentucky woods and abandoned farmhouses that evoke a region familiar and weird, young and deteriorating.
The show will run until June 21, and includes a total of thirty-five prints drawn from the Ransom Center's photography collection and from the archives of Meatyard's friends. Here, we present seven of the images (re)discovered among the drafts, letters, paintings, books, and ephemera Guy Davenport left behind. I imagine he would have wanted them to be found.
---