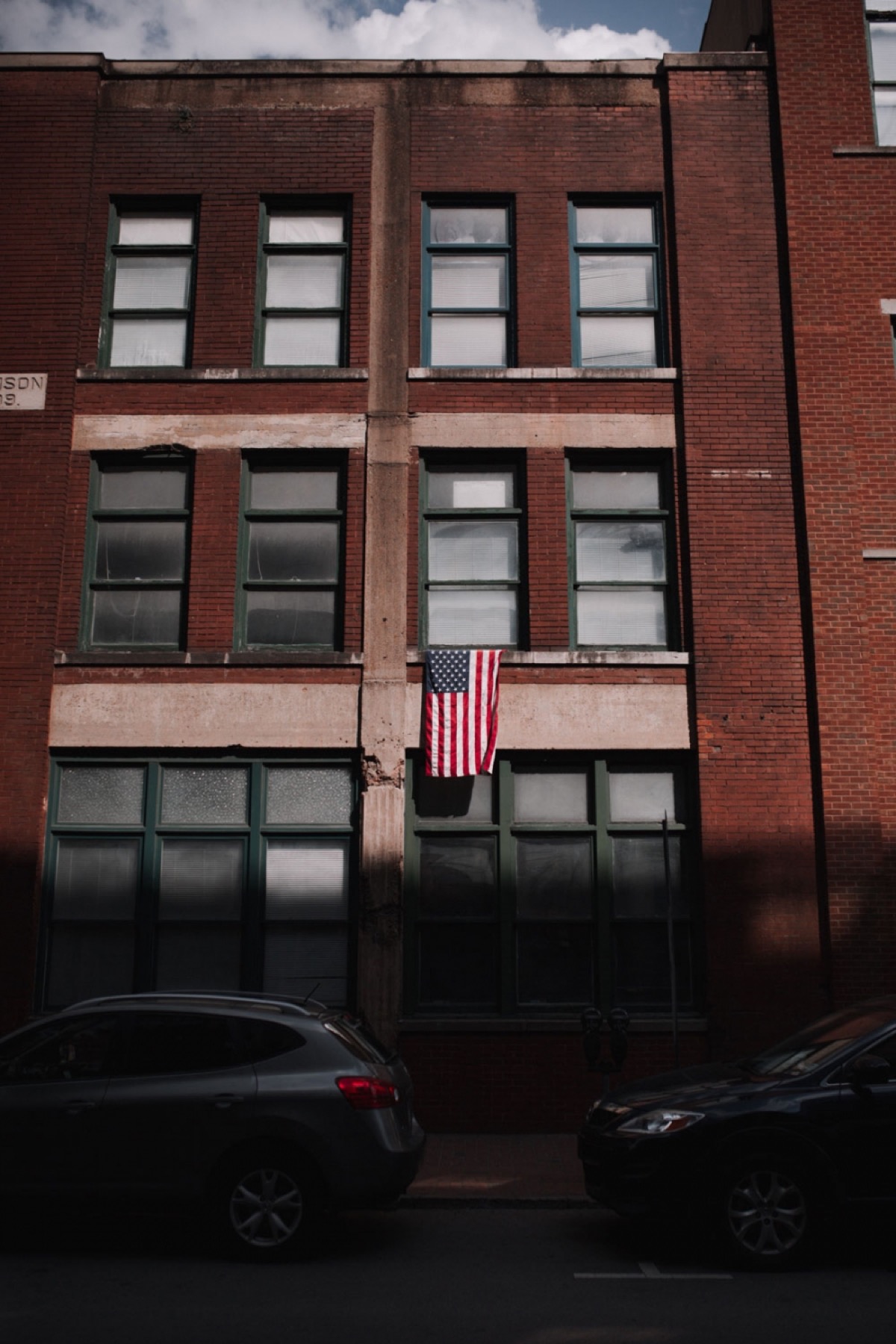 Nashville, Tennessee. Photo by Andrew Neel on Unsplash
YOU HOLD ON TO WHAT YOU NEED
By Odie Lindsey
Mary Gauthier and the art of writing war
---
Nashville is in many ways a military town. It binds the Fort Campbell weekenders who mob the honky tonks of Lower Broad to the God-and-Country bros who sing anthems for those soldiers. It is also a Southern military town, replete with statues of Sam Davis and the Women of the Confederacy, and a wild, sculpted disgrace of Nathan Forrest beside I-65 (with another on display inside the State Capitol, lest we forget).
Yet the most relevant piece of war culture out of Music City may be a verse about a Waffle House, as sung by a nonveteran lesbian. "Bullet Holes in the Sky," a song off of Mary Gauthier's tenth album, Rifles and Rosary Beads, out today, accomplishes that rare feat of sidestepping the cliché war story by stripping it bare and updating its scope:
It's the 11th of November down in Nashville, Tennessee
Free breakfast at the Waffle House if I show them my ID
Cowritten with Navy veteran Jamie Trent, the song is one of thousands that have been composed as part of the SongwritingWith:Soldiers project, a nonprofit workshop that pairs established tunesmiths with veterans who can't find their voice. Rifles and Rosary Beads consists of ten representative songs Gauthier penned with workshop participants over the last five years.
Key to "Bullet Holes in the Sky" is that it swaps the exceptional, in this case Veterans Day pomp, for the everyday: Waffle House, Nashville, 11 November. Such grounding echoes Hemingway's Frederic Henry, who in A Farewell to Arms ditches "obscene" war words, "such as honor, glory, and courage" for the only things he believes hold actual, postwar substance: road maps, place names, dates.
Truth. Or, as Gauthier labels it, "emotional truth." For her, stark reckoning with memory is a mandate of songwriting. She is also a writer of prose, and taken altogether her catalog of unflinching literary works has earned Grammy nods and media accolades; she is equally at home on the Opry, book festival, or NPR. Yet critical to this new record is Gauthier's ability to step back, and serve as guide. As empath, witness. "There is no deeper work that I have ever done," she tells me in a South Nashville café in December. "It is the best thing I get to do."
At the heart of Gauthier's communion with the SW:S vets are questions about identity: who you are, who you were, and who people think you're supposed to be. Her relationship to such questions began before she could ask them. She describes to me how she was abandoned at birth, "surrendered at Saint Vincent's Women and Infant's Asylum" in New Orleans. From there, she was adopted into a family which brought its own share of complications, an intro to domestic combat. At the age when many kids still played Battleship, Gauthier was throttling drugs and stolen cars in Thibodeaux, Louisiana. By the time her peers were of recruitment age, she was in a halfway house in Salina, Kansas (where, coincidentally, she once tried to enlist, unsuccessfully). "From about twelve to twenty-seven I was in harm's way," she says. "As a young female addict, I lived many lifetimes in those years. Songwriting helped me to unravel what had happened to me. I got to be the storyteller instead of the story."
She's a queer Opry star and recovering heroin addict turned postwar Virgil. A surrogate of sorts for the new war narrative. "I have done this process on myself for twenty-odd years and ten records, so I know where we're trying to get." Gauthier's cowriting with veterans isn't about slogan or ritual. In fact, SW:S workshops build on a rebuke of such objectives—as can also apply to her own, resistance-minded convictions. "We don't do politics, and we don't do judgment. I just want the story."
Her partners on the project echo this conviction. Jamie Trent's friendship with Gauthier was a year old before the two ever wrote together. "She was so un-opposing," he notes of their interaction. "I was never concerned that she wasn't a veteran." Joe Costello, the coauthor of the album's title track, writes that a key to his experience was that "no one was evaluating me."
The SW:S process also centers on empathy, and the ability to nurture a horizontal relationship. "A therapist can't cry with their client," Gauthier says. "But a songwriter can sure as hell cry with their cowriter." It happened during every session. Costello was at the point of suicide before finding a foothold in therapy, then creative process. He describes that at his workshop with Mary, "I was crying midway through the songwriting session, suddenly so relieved because I felt a civilian was understanding me, actively listening."
Witnessing. Tears. Without politics or judgment. The songs on Rifles and Rosary Beads resist the traditional war narrative through perspective, too. "I get no basic training / I get no purple heart," states the narrator of "War after the War," a song Gauthier and Beth Nielsen Chapman co-wrote with six SW:S participants. (Alongside Chapman and Gauthier, other dream team faculty include Darrel Scott, Radney Foster, Ashley Cleveland, and Marshall Crenshaw.) The catch here is that the speaker, like the songwriters, never even deployed, let alone put on a uniform. Rather, the story is told by the wife of a sick soldier. The woman whose community tells her how lucky she is that her partner came home—no matter his volatile state. Instead of a free breakfast at Waffle House, she gets "eggshells on the floor," and is co-consumed by postwar trauma.
Other songs feature the female troop's perspective. "Iraq" details one of the most known-yet-ignored atrocities of postmodern war, Military Sexual Trauma, and reflects the co-writer's abuse and harassment by her fellow troops. In "Brothers," a lactating mom goes from nursing her infant, to a combat deployment: "I wiped my face, changed my soaking bra / Told my body not to feel at all." Though the tune describes a soldier's struggle in theater, it was inspired by a stateside Facebook exchange. When one of the co-writers, a female Army veteran, saw that a comrade had posted "For My Brothers" next to a flag emoji on Veterans Day, she was devastated. Or, as Gauthier puts it, "She was saying, 'I'd die for you, motherfucker. You need to get your language straight.'"
Language. Image. Our own, collective vision of a vet. "I think we all struggle with the stereotype of a soldier being a straight white man," Mary says. Thanks be, the spectrum of cowriters at SW:S reflects a more realistic makeup of our military: white and not, male and female, from base husband to immigrant enlisted. "I work with a gay couple, female. An EOD [explosive ordinance disposal] soldier who is married to a woman, with a baby." Gauthier pauses, both hands holding her tea mug. "The stereotype needs to be blown up, because it's not true."
Truth, again, being a constant theme—and perhaps this record's great link to war lit. There's a reason why Tim O'Brien (the fiction titan, not the bluegrass god) starts off "How to Tell a True War Story" with a three-syllable, standalone sentence—"This is true"—before launching into a thematically- and structurally-fraught attempt to discern memory from fact. That same pursuit of recovery can explain why Robert Olen Butler's Pulitzer-winning A Good Scent from A Strange Mountain deciphers his Vietnam experience care of the Louisiana coastline, or why Dickey's Deliverance may be his best war writing, though its battles are waged in suburban Atlanta and backwoods Georgia. Combat is everywhere, whether the uniform is on or off.
With respect to my fellow combat vets, it isn't fair to imply that all war stories are about anguish. (My grandad told a howler about hitchhiking after WWII, and my dad tells of a Thanksgiving turkey snafu in Vietnam.) Nor are all servicepersons necessarily shattered. Yet for so many, trauma is murky, open-ended. Hell, it might not even be the right term to use. In his book Making War at Fort Hood, anthropologist Kenneth MacLeish advances the idea that while trauma implies an event that remains in the past, vulnerability describes an ongoing condition, a "lived affect" of war. This sustain is echoed in "I Got Your Six," in which a veteran engages both the battlefield past (the number 6 being behind you on the clock face), and the perpetual threat of the future. "Six o'clock is always behind you," the song states, the use of "you" speaking to both the soldier's own, perpetual blind spot, and the need to cover someone else's.
"If you're the story, there's a sense of being the victim," Gauthier says. She often reminds folks of the 7,400 veterans who kill themselves every year. Yet she believes that "If you're the storyteller, you're empowered." Epitomizing this claim is one of her cowriters, Sgt. Joshua Geartz, who went from attempting suicide to fundraising for fellow troops. Specifically, the man rode his wheelchair over 422 miles of highway (as in, "For 22," which is the number of servicepersons who kill themselves every day).
The album is a concurrence of war-making, peace-making, and the fight for the in-between. Channeling the variegated reality of the war experience—holding up the image of "Rifles and rosary beads" alongside "Vicodin morphine dreams," for instance—is what makes the record so legit, because it forces us to reconcile what we want to hear with what these soldiers want to say. While some folks rage at athletes who kneel during the anthem, Gauthier sees partisan patriotism as no more than "a bad song." Instead, she and her cowriters seek empathy, agency, recovery.
"Some of these veterans, because of what they did at war, feel unlovable now," she says. "And it's a terrifying thing for them to say 'I need you to love me and I don't even know if I love me. I hate me for what I did.'" In this way, the album brings reflection on one type of service, exactly as it provides another: confession and complication, cover fire for forgiveness.
---
 Enjoy this story?  Subscribe to the Oxford American.