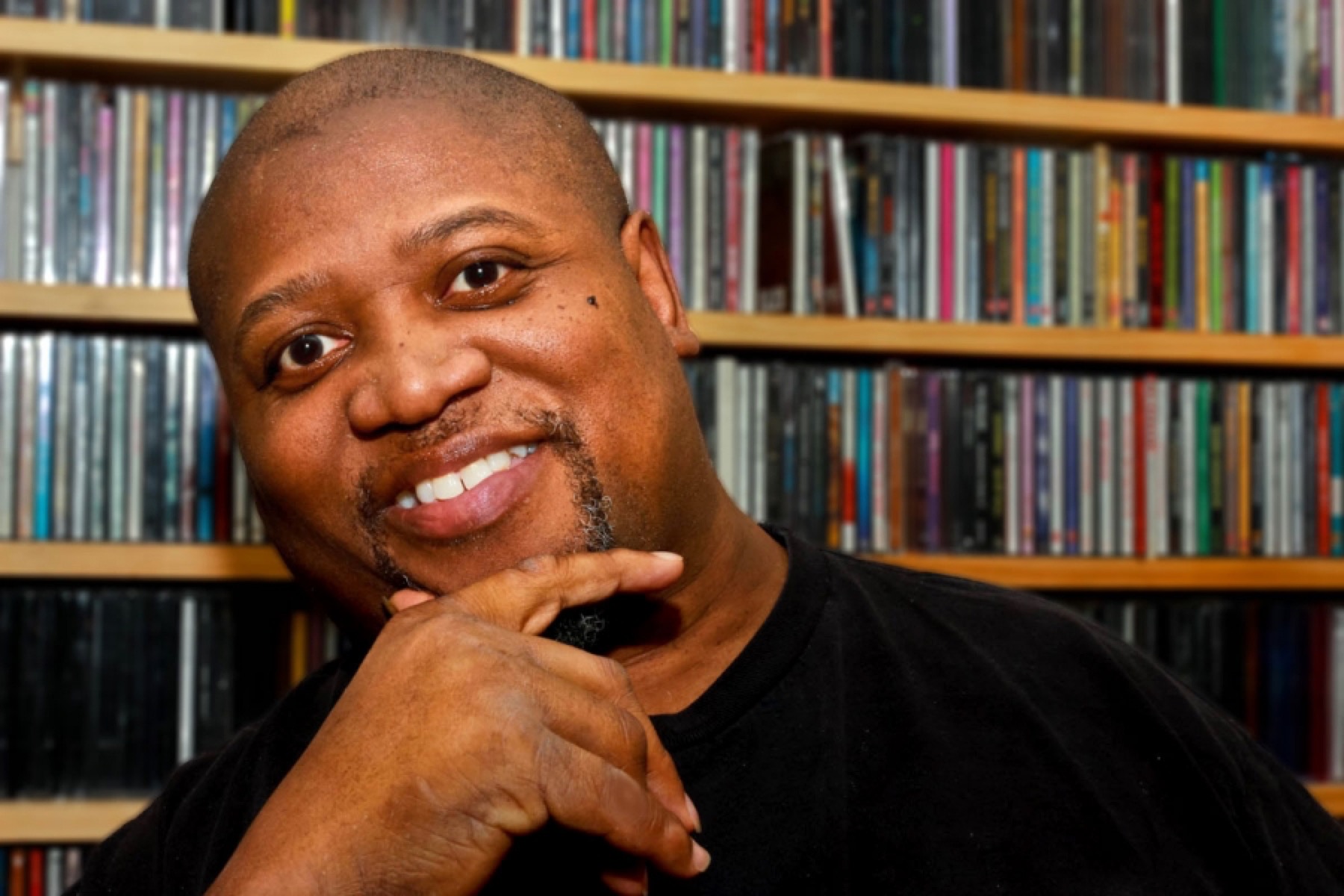 Charlie Braxton
YOUR TRUTH, YOUR WAY
By Kiese Laymon
On writing about OutKast
As I write in "Da Art of Storytellin' (A Prequel)," Goodie Mob's album Soul Food pushed me to understand the imaginative will one needs to collectively reckon, and OutKast's ATLiens pushed me to innovate. But the truth is, I had no intention of making a life out of writing until I read an article on OutKast by a writer from my hometown of Jackson, Mississippi.
The writer's name was Charlie Braxton.
As much as I revered Margaret Walker Alexander, Toni Cade Bambara, Richard Wright, CeeLo, André, and Big Boi, Charlie Braxton was my literary superhero. I wanted to be him. Charlie wrote about OutKast for eight different publications. He's written for every major hip-hop magazine in the country, interviewed everyone from Scarface to Big K.R.I.T. to Master P. Charlie is easily the most thoughtful writer and thinker on the importance of the South in American music. When the Oxford American asked me to write about OutKast for their Georgia Music issue, I knew I needed to talk with Charlie before crafting a word.
---
First of all, thank you for talking OutKast with me. Do you remember the first piece you wrote about OutKast? I read it when I was up at Oberlin College. I still wasn't sure I could become a writer, but reading what you wrote, and the way you wrote it, in a national magazine, made me know I could do this work.
I wrote my first article about OutKast in Beat Down magazine. We talked about how they were chronicling their alienation from mainstream society, our alienation from the mainstream, as black Southerners. Think about it, Kiese. When they beat out Wu-Tang Clan and others at the Source Awards, and got booed, it was over, man. They went back to the dungeon intent on showing people who we were and what we were capable of. They went against everything for that album. L. A. Reid wanted another "Player's Ball." Like Public Enemy's It Takes a Nation of Millions, there will never be another ATLiens. Those boys were digging deep into themselves for that album. And they felt disrespected. It's Afrofuturism for sure, but it's also soul music.
What makes OutKast so different from any other group to come out of Georgia or the South?
That's easy. OutKast is unique among their peers regardless of region because their music embodies the essence of great black music before them, i.e. blues, jazz, soul, and funk. But unlike their peers who were content to take a record and sample or interpolate it, OutKast would capture the spirit of a song by recontextualizing the song and placing certain elements of a tune within their very own composition.
What's an example of that?
Okay, a perfect example of this would be how OutKast took the melody and the vocal arrangement from the chorus of Parliament's song "Children of Production" and used it for the hook to "Southernplayalisticadillacmuzik." But note that the only thing that they borrow is the melody, not the bass line, the horns, drums, or anything else. This is done in the spirit of funk bands who were known to take elements of other songs and incorporate them into their own tunes. Also, André wasn't trying to sound funky. He was physically embodying funk. There's a difference. Look at him. Look at Parliament-Funkadelic. He became funk.
Oh, I see. Do you hear any Georgia-specific sound in their albums?
As far as specific sounds, like the type of whiny keyboards or handclaps that you might find is nineties West Coast music? No. There are no specific sounds that I can hear in their production and say, "that's a typical Georgia record." What makes their music Georgia-specific is the fact that they incorporate organic elements of soul music into their music. When you hear songs like "In Due Time," "Growing Old," or "Crumblin' Erb" you are moved in much the same way you are when listening to Sam Cooke's "A Change is Gonna Come" or Marvin Gaye's "Inner City Blues." And as you well know, the progenitors of soul music, Ray Charles and James Brown, called Georgia home.
Damn Charlie. Damn. Okay, Here's a hard one: Is André the greatest rapper alive?
I can't answer that objectively because I am totally partial to OutKast as a whole. To me, it's a matter of the sum being greater than the parts. Separately, is Dre one of the best emcees in the game? No question, he is better than any of his peers. But I believe he is at his lyrical best when he's rhyming next to Big Boi. You see what I'm saying? There is a chemistry that the two of them have that brings out the best in each other.
What was the closest thing you ever heard to ATLiens?
I've never heard a record come close to ATLiens. It is a once in a lifetime record, Kiese. I've heard plenty of records that have been strongly influenced by ATLiens, as well as Southernplayalistic. Big K.R.I.T.'s Cadallactica and Kendrick Lamar's recent record come to mind. Honestly, man, I would strongly caution artists who are influenced by OutKast not to spend too much time trying to reproduce a sound or style of a specific 'Kast record. Notice how each OutKast record sounds different from the last one. Once they make their musical statement, they move on. If you want to be like 'Kast, you've got to be innovative by being the best you can be.
What do you think about people who say Kendrick is channeling André?
I really don't like the term "channeling" and I will tell you why. To me, the term implies that the person one is "channeling" is dead. Last time I checked Dre was very much alive. To answer your question, though, I have no doubt that Kendrick is influenced by Dre. You can hear it in his phrasing and the way he speeds up the pitch on his vocals. Even the introspective way he talks about life seems to be influenced by Dre.
Charlie, I don't know that you'll ever know what this conversation means to me, man. You, ATLiens, Toni Cade, Margaret Walker, and Soul Food are why I write what I write, brother.
Kiese, you won't believe this, but I read your book of essays and was so inspired.
Stop trippin'.
I'm serious, man. I wrote a poem about it after I finished it.
My Mama would love this conversation. What do you remember about my Mama when you were at Jackson State?
Your mother had a reputation for being a fierce, no-nonsense teacher. She taught a couple of friends of mine who would always talk about her classes, so in my free time I would crash her classes a lot. I mean a whole lot. I particularly remember her class on political theory, where she and I would get into spirited debates. I was young, bull-headed, and wanted to change the world yesterday. I hadn't done nearly the amount of reading your mother had. As you can guess, she would win every single time. Your mom forced me to rethink and refine so many ideals about politics. Those intellectual exchanges helped shape my political outlook and I am eternally grateful for her taking time to challenge me intellectually instead of kicking me out of her classes.
What advice do you have for young writers, artists, emcees coming from Georgia and Mississippi?
That's a great question, Kiese. Aside from telling them to master their respective crafts, I would tell them to know that by virtue of being born and raised in the South, which is the bedrock of American culture, you are heir to a great legacy of artists, musicians, writers, and emcees who have shaped global culture. That legacy empowers you to be bold and tell your story—your truth, your way. All you have to do is embrace it.
I'm thankful, Charlie Braxton.
---
Read "Da Art of Storytellin' (A Prequel)" by Kiese Laymon