Keeper of the Images
By Jasmine Sanders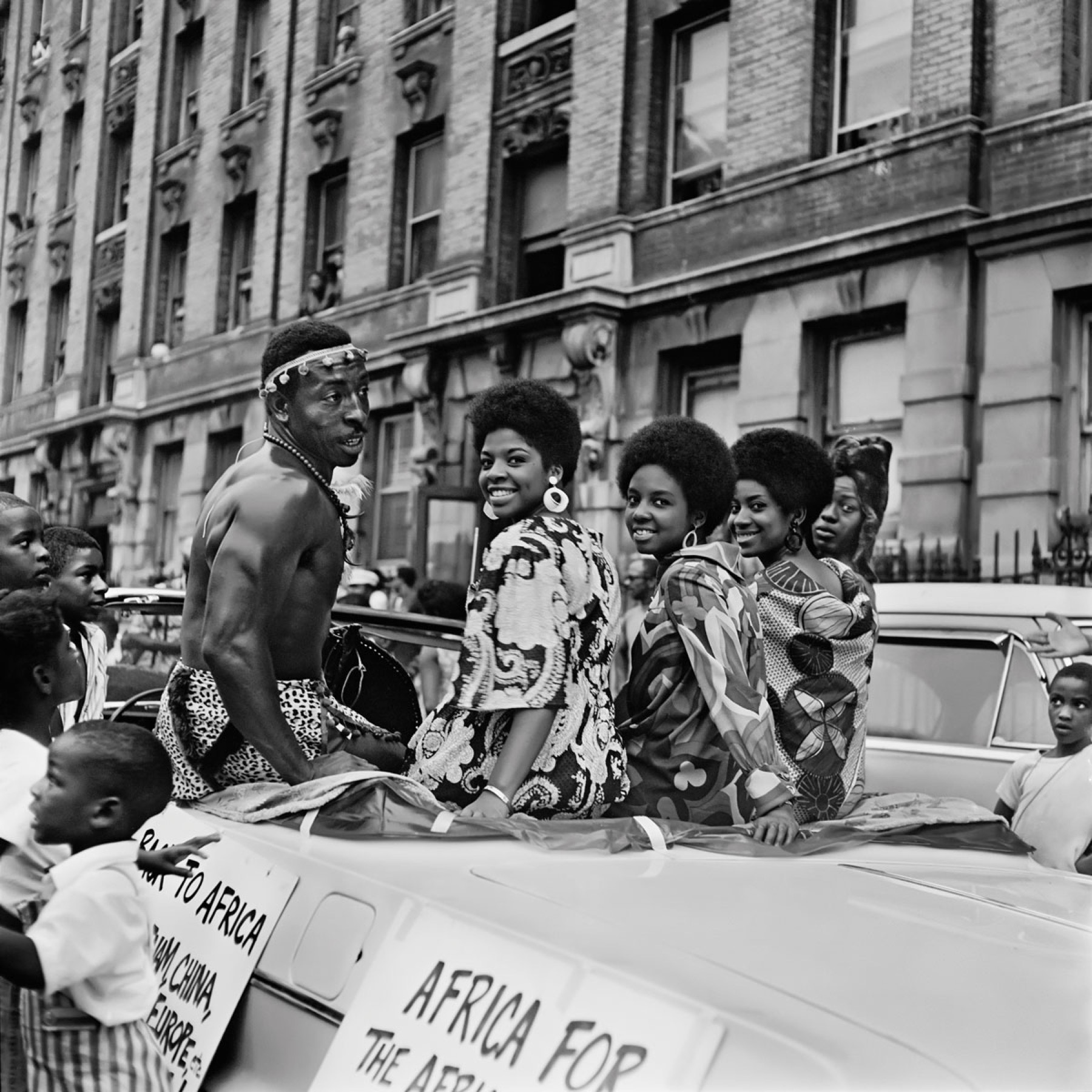 Grandassa Models at Marcus Garvey Day Parade, Harlem, c. 1965.
To see an accompanying portfolio of images by Kwame Brathwaite from the Up South Music Issue, click here.
A 1968 image taken by the photographer Kwame Brathwaite features his wife Sikolo, captured in profile against an apricot background. At a glance, she bears resemblance to Cicely Tyson, who had appeared on stage, freshly mown and undeniable, in Jean Genet's 1961 stage production of The Blacks. Resting atop Sikolo's own close-cut natural is a bright headpiece fashioned by Carolee Prince and worn with commingled grandeur and airiness which suggests that the cascade of pink, white, and red beading might have sprung from her very head. The side view showily centers those features historically reviled—her rounded nostrils, the full fullness of her mouth, her deep brown skin—paired with the era's cosmetic vogues. Thin, crescent brows, eyeliner wings sharp. The portrait is tight but not claustrophobic, forsaking the cold, invading lens of the ethnographer, photojournalist, or policeman, with their queasy intentions and methods, for an alternative mode of intimacy. This ability to impart unto the viewer a deeper, more profound sense of knowing figures both anonymous and globally renowned eventually earned Brathwaite the unofficial title "Keeper of the Images." When black was finally decreed beautiful, Brathwaite not only amplified the notion, but offered attesting pictorial evidence.
According to his son and archivist, Kwame Jr., the elder Brathwaite's oeuvre is goliath beyond numeration, comprising thousands of images chronicling decades of black social life. Brathwaite began photo taking in the 1950s, often inside jazz clubs like the Bronx's Club 845, where his initial involvement consisted of drawing talent and organizing shows. Hasselblad camera in hand, he soon began recording the likes of Dizzy Gillespie, Duke Ellington, Thelonious Monk, and Sarah Vaughan, the jazzmen and -women who engineered the era's sonics just as Brathwaite did visually. The aesthetics of jazz—its exploratory improvisation and texturality—thrum through his work. His snap of Miles Davis is at a measured, intuitive distance, in mercurial black and white. Davis's eyes are sealed shut as the bassist Paul Chambers looks on, brows lurched upward in reverent alertness, the synergic relation between bassist and trumpeter akin to that which exists between photographer and subject, and subject and viewer. This interplay is also redolent of black Christian traditions of testimony and worship: Discernable in Marvin Gaye's uprisen arms and his contorted, dewy face, and in the angle of Nina Simone's sharply arched leg, the halo of stage light just missing her jeweled head, is the posture of a testifier. Stevie Wonder, in a camel-colored dashiki at the zenith of his classics period, tosses his head toward heaven, the similarly brown audience unidentifiable but appropriately enthralled congregants. The mix of semi-posed shots and candids calls to mind the stylized photo galleries of black homes, a mix of altar and interior decor.
Brathwaite's parents were Barbadian immigrants, among the hundreds of thousands of Afro-Caribbean migrants to the U.S. in the twentieth century—largely concentrated in the Northeast—who reconfigured the cultures, politics, and labor forces of global metropolises. His parents settled in what Brathwaite refers to as "the People's Republic of Brooklyn." When he was an adolescent, the burgeoning influences of Garveyism, black nationalism, and other liberationist ideologies enlivened the air of Brathwaite's native Brooklyn, suffusing him with the imperatives of the nascent black revolution and its associative imagery. In 1955, he encountered Emmett Till's mangled body, published in Jet magazine, casket open at Till's mother's request. This further solidified Brathwaite's racial consciousness as well as his budding artistic ethos. His entire output can be understood as a response to the photo of the massacred boy and its varied, innumerable corollaries. Lynchings, covered in newspapers and eternalized via postcard aide-mémoire, reminded the black populace of their lowly station below the Mason-Dixon. Later, television footage of police savagery, fire hoses, and lunging canines in Northern cities asserted that theirs was a violence without refuge. Brathwaite was attempting to leverage a sort of countering visual lexicon, replicating the political utility of the aforementioned, brutal imagery, but toward a different end. He and his brother founded the African Jazz-Art Society & Studios (AJASS), an arts coalition focused on Pan-African teachings, in Manhattan one year later. A troupe of black women who came to be known as the Grandassa Models, Sikolo among its participants, showcased the splendor of afro-textured hair, darker skin, and West African–inspired dress.
Which isn't to imply that it was a movement without critique or outright refutation of its particular romances and dignified ethno-chauvinisms. Though the metrics had changed, the demands and standards of beauty, especially pertaining to black women, remained stringent and entrenched: The body curvy but by no means fat, the attire denoting vague relations to some distant, Nubian aristocracy, the perfectly spherical 'fro. Michele Wallace, writing of the era's circumscriptions: "On the cultural level everything had to be rehauled. Black poems, plays, paintings, novels, hairstyles, and apparel were springing up like weeds in Central Park. Brothers, with softly beating drums in the background, were talking about beautiful black Queens of the Nile and beautiful full lips and black skin and big asses."
Yet the prettiness and allure of the images remain. The Brathwaite photos I find most endearing are those of black collectivity and sociality, the multitudinous affects and postures within the cityscape, which would only be subjected to increasing censure in the decades to come. These showcase most effectively Brathwaite's lofty, dignifying endeavor, his attempt to utilize his lens, as the Bajan poet and scholar Kamau Brathwaite wrote of Paule Marshall: "...not to say 'it is so,' but to say, as the conjuror says, this is how it could/should be."