Rambling Home
The living tradition of an Irish ballad
By Brían Mac Gloinn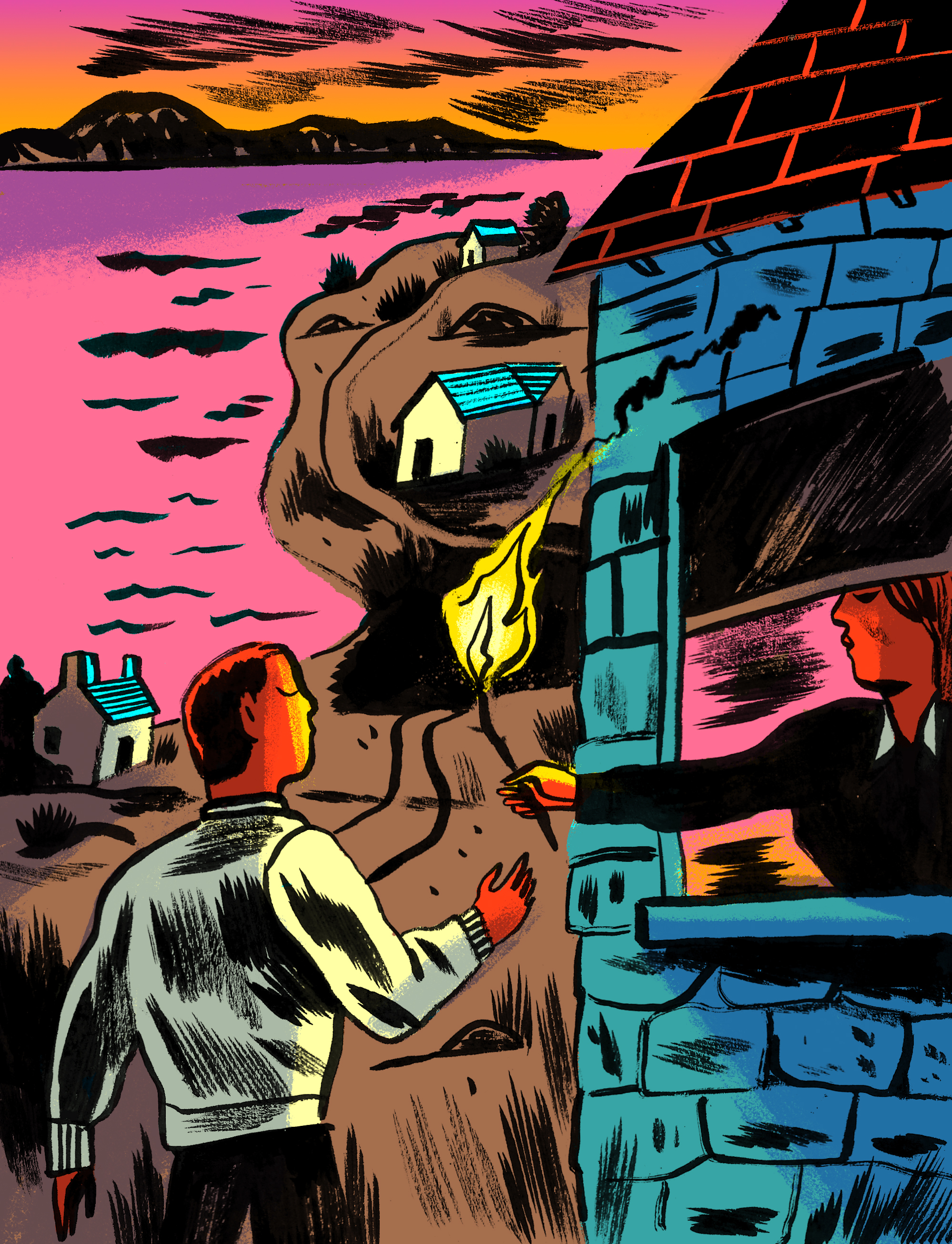 Illustration by Mike Reddy
It was a Sunday night, December 2018, in Early's Bar on Arranmore Island—Árainn Mhór in Irish—off the coast of Donegal in the northwest of Ireland, where my mother and family are from. Jerry Early accompanied his dad Andrew on the guitar in a universal country-folk style as they sang a broad mix of music: anything from Frankie Laine to Hank Williams and Johnny Cash to traditional Irish songs known from the greats of the 1960s and '70s. We sat with our backs to the blazing fire while the whole room's attention centered on Andrew and his son. It was, and still is, an inclusive, unpretentious space, where people of all ages are part of the music. Every so often a few people might jump up to waltz, jive, or two-step around the bar. My dad knows the keys of everyone's songs and has his harmonicas laid out on the table. This is not what people think of when they hear "Irish singing tradition," but it is the living tradition.
Andrew Early was a dear family friend and in his late eighties at the time. That night, he sang one of his favorites—a song called "No One to Welcome Me Home." At the time, I was deep-diving for old traditional songs, but this didn't sound like one to me. The waltz rhythm, the three-chord I-IV-V progression, the syncopated delivery of the lyrics, the chorus, the image of the lonesome rambler far away from home, along with Andrew's style and singing in that setting, all sounded a bit American and country. I loved how Andrew sang it, but with my tradition blinders on, it passed straight by me. It was only when Andrew told me that he had learned the song directly from Róise Rua that my ears perked up.
Róise Bean Mhic Grianna was the best-known traditional singer to come from Árainn Mhór. She was known locally as Róise Rua—red-haired Róise—and Róise na nAmhrán—Róise of the songs. Andrew was her friend and was in the room when she was recorded by Radio Éireann and the National Folklore Commission in 1953.
Not too many islanders of Róise's generation could read or write, so the culture was oral: stories, songs, and music were the main entertainment, and this all took place in people's homes. A teach airneáil was the name in Irish for a house session—a rambling home. Andrew spent many evenings in Róise's house when he was a boy, listening to her singing and telling stories. He told me that Róise also sang a lot of English-language songs, but very few of these were recorded. "No One to Welcome Me Home" was overlooked back then, in the exact same way that I hadn't taken notice of it in Early's Bar, and only Andrew had kept it safe in the store of his memory.
It could have been an old ballad from the oral tradition or it might have been a modern American country song Róise picked up in the 1930s somewhere. I tried searching archives and online, but just found myself flooded with another song recorded by the Blue Sky Boys and Hank Williams, and one reference to the song I knew, but sung to a different melody. The country roads were so numerous, I decided to take a different route in my search for the song.
"My son you have gone to a strange foreign land,
And you're leaving your old folk alone.
And when you return to the land of your birth
There'll be no one to welcome you home."
"Did you get that now?"
This has just been sung to me across a packed room. A single resounding voice fills the bar—a large square room filled with singers and listeners on low stools, attending to one of their most cherished local singers. Teapots, mugs, pint glasses, and empty sandwich plates litter the tables. Bright sunlight beams through the windows, reflecting off the shining rain-drenched fields, roads, and heathery hills outside.
Annie Hirrell is a woman in her eighties with short white curls and thick-rimmed glasses. We're in the North Pole Bar, on the Inishowen peninsula in Donegal, at the very northern tip of Ireland. Inishowen is home to a strong oral tradition of unaccompanied singing, and I've just been involved in a significant exchange.
It's March 2019, and I'm here for the annual singing festival, where singers and enthusiasts from around Ireland, the UK, and farther afield gather to sing and listen to unaccompanied singing for three days and nights. This community is naturally non-hierarchical—there are no stars, famous "artists," or egos here. All are referred to simply as "singers," and everyone sings a song at some point while everyone else listens. Bars like the North Pole are packed with young and old, and a rare space is held for these songs where they don't have to compete with other music or noisy crowds. You'll hear people sing songs that have been in their families and communities for generations. The crowd often joins in on the last lines of verses. Enthusiasts, students, academics, living legends, tradition bearers, mischief makers; landscape gardeners, truck drivers, school teachers, farmers, van-dwellers, and filmmakers; singers of every kind are part of the crowd here. If you're looking for information on any old ballad, this is a very good place to start.
A few moments earlier I'd mentioned "No One to Welcome Me Home" to a friend of mine, Brian Doyle, a musician who lives locally and also works for the Irish Traditional Music Archive (ITMA). I was curious if he'd ever heard it or knew anyone who sang it. Not only did Brian know the song, but he told me that Annie, the local singer who knew it, was sitting in the next room. Brian quickly passed on my request to Annie and the room fell to a hush when her name was called.
"There's a wee boy here who wants to hear me sing 'No One to Welcome Me Home'—where are you?"
Having found me, she started singing in her low, warbling, broad Donegal accent. Annie has extra verses and I only have one shot at catching this: a tearful mother waves goodbye to her son as he sails away from "the Queenstown dock." She gives him a locket with a photograph inside. He wanders alone in the twilight of foreign streets, dreaming of his family he left behind in their cottage "at the foot of the hill" and then the familiar heartbreaking chorus repeats:
"No one to welcome me home, far away,
Far away o'er the dark raging foam.
Fatherless, motherless, sadly I'll roam,
I'll have no one to welcome me home."
When Irish people of Róise and Andrew's generations emigrated to America, they landed in a strange new country, with a new culture and language. But the songs and tunes they had brought with them were still as valuable as they had been at home, and they could slot them into new rhythms and melodies quite easily. They could bridge the gap across the Atlantic and return home, if only for a moment. "No One to Welcome Me Home" was as true a song as could be sung for a lot of those people. And as they dreamt of the homes they'd left behind, they also re-imagined them.
A similar process was taking place back in Ireland. Old ways were being left behind in favor of a promising, empowering, new Ireland of free education, electricity, televisions, radio, cars, and dance halls. Irish people were trying to get ahead: moving toward a new language, culture, and identity. They too were gone to a strange foreign land, without moving anywhere.
The old unaccompanied songs of the teach airneáil felt less relevant—but new American folk music being sent home to Ireland could bridge the gap. Adding a guitar and a harmonica to their old local songs, alongside new songs featuring places like West Virginia and New Orleans, people could feel part of a bigger, newer world. Country-folk music fit right in with the emerging modern Irish identity, and created new routes for people's imaginations and dreams, outwards from Ireland and across the sea.
All of this can still be seen happening in Ireland. In Connemara, an Irish-speaking region in west Galway, and a place well known for its sean-nós singing tradition (a very old form of unaccompanied, ornate, Irish-language singing), a distinct version of countrified folk music is popular—Gaelcheol tíre, or Irish-language country music. The songs are ultra-local, sung about local events by local people in a local dialect of Irish, recorded and broadcast all on local radio or record labels; yet stylistically they draw heavily on American country and folk music. I asked Dr. Síle Denvir, a musician and singer from the area and Gaelcheol tíre scholar, why she thought these songs resonate so deeply with people in Connemara: "They're so honest, so simple and so direct. I think people really want to just hear stories, tell stories, dance, be in a community—have fun, and sometimes sean-nós has been given a lot to carry. There's a lot on the shoulders of the tradition itself and people feel that heaviness."
Similarly, on Árainn Mhór today, it's quite rare to hear an old song sung unaccompanied out in the pub, but accompanied on guitar and sung alongside a country sing-along, they make sense and feel lighter. Some newly written songs in a country-folk ballad style have made their way into sessions on the island too.
"A lot of it is to do with belonging, and I think that's a lot of what country music is in its essence… So it just fits into whatever genetic memory we have of a teach airneáil," says Dr. Denvir. "It's part of that whole pub scene but it's echoing, in a way, what would have happened in the homes in a real nutshell."
Generations of Irish people had borne the trauma of the famine, of violent colonial rule, of the war of independence and then a bitterly divisive civil war. In the mid-twentieth century, in America and in Ireland, many took on a new culture, language, and identity that would free them from the weight of the previous hundred years: When they used country music to re-imagine their homes, they were re-imagining themselves, too.
Andrew would often tell me about his visits to Róise Rua's house, and how he wished he had paid her more attention, but he and his friends were young and distracted. When they would get up to leave, Róise would ask Andrew to stay and sing a few songs just to him before he'd go. Unlike the recording session, this was her space, and she could choose which songs to give this young boy. When it was finally time to go, it would be dark and there was no electricity or streetlights on the roads at the time. Róise would take an ember from the fire on a fork and hold it into the wind outside the front door until it caught alight, before handing it to Andrew to light his way home.
Songs were valuable social currency back then. With them you could hold the attention of a whole room, maybe even catch the eye of someone special or make a good first impression. You couldn't sing a song someone else was known for if they were present either, so you had to have your own songs. To be given a song was a precious gift.
I had known Andrew since I was a small boy. As I grew older, we grew closer and connected through singing. It took me awhile to realize, after he had sung "No One to Welcome Me Home" and some other songs to me a few times, that he was giving me these songs, too.
Through my search for this song, I've discovered field recordings of singers on Árainn Mhór, in Clare and in Cork, all with different melodies. I've found ballad sheets, printed music, and references to the song from the 1860s. I've found field recordings from the U.S. too, such as Elmer George in East Calais, Vermont, in 1939, who learned the song from a wandering lumberjack, and sang it unaccompanied. And I found a version of it backed up on guitar, sung as a country song, from a man named Melvin Rogers in Ava, Missouri, from 1975. Remarkably, again thanks to Brian Doyle of the ITMA, I also heard a recording of a young man from my home county of Carlow singing the song in a German P.O.W. camp in 1917. I can only imagine what dreams he held of his home in that setting.
In Early's and the North Pole, potent moments of transmission opened my eyes and ears to the broader boundaries of what tradition can mean. The feeling is almost electric; a presentness; an emotional charge that special exchanges of music and song create. In the same way that the contours of land give the river its flow, I think it's this emotional charge that keeps songs moving through our shared traditions. The line between one tradition and another is sometimes almost impossible to define, in the same way that it's hard to define the difference between two oceans when they're all just the one body of water.