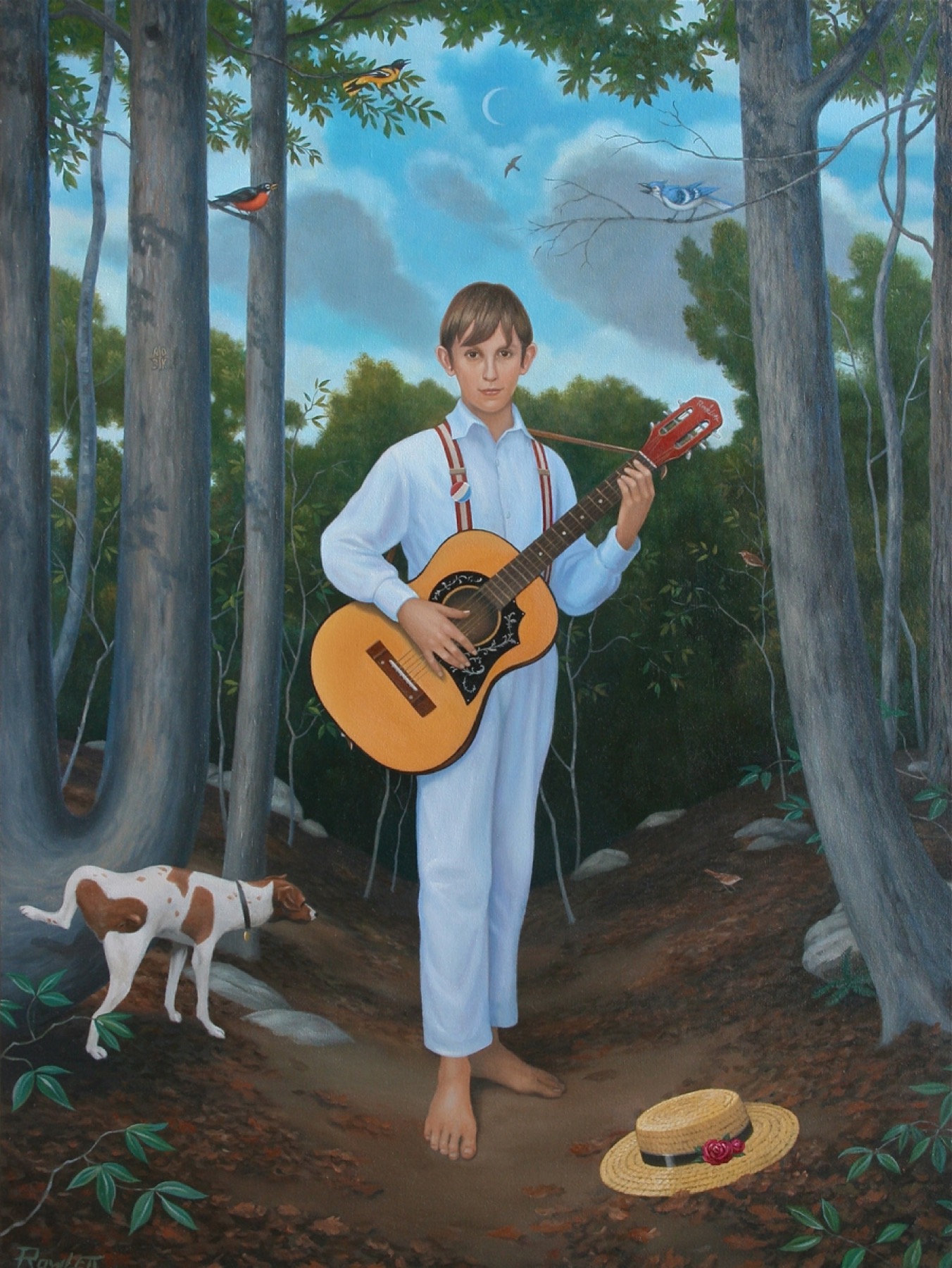 "The Guitar Player" (2015), by Terry Rowlett. From the collection of Blair and Betsy Dorminey. Courtesy of the artist
Why Athens?
By David Barbe
Rock music fans know the basics: the B-52's begat Pylon, Pylon begat R.E.M., etc. But that hardly explains why there is a famous music scene here, of all places. What is it about Athens? Well, for starters, Athens is a college town. Every fall there is an influx of bright, creative, young people on the verge of discovery. And of course there are economic considerations, namely cheap rent, cheap beer, and affordable practice spaces. The less money one needs, the less time spent at work, the more time one has to start a band, throw a house party, or hop in a van and go on tour.
Today, the fact remains that people from other places most associate the music of Athens with R.E.M. To Athenians, the influence of R.E.M.'s music is equal to the impact of their attitude about it and the way they went about their business.

"We're not the best rock & roll band in America." That's what drummer Bill Berry said when that title was bestowed upon R.E.M. on the cover of Rolling Stone in December 1987. Instead, Berry gave that distinction to Pylon, who by then had been disbanded for a few years. This was not the only time a member of R.E.M. sidestepped accolade, choosing instead to share the spotlight with a lesser-known hometown band.
R.E.M.'s public support of the Athens music scene is well known, but they were also supportive in private ways. Local bands were able to score coveted opening slots on their shows, and the band members kept newer (read: poorer) musicians supplied with barely used bass strings and drumsticks. They established a practice of reaching out (or down, or back, depending on your point of view) and paying it forward—propping up their contemporaries. In turn, as the recipients of their generosity developed their own careers, they continued the trend. Drive-By Truckers, Futurebirds, and of Montreal give local bands high-profile opening slots. Widespread Panic covers songs by Bloodkin and Vic Chesnutt. Hell, they even wrote a song called "Love Tractor."
Perhaps of greater importance than opening slots, press mentions, and free drumsticks is this: R.E.M. treated people well—employees, crew, venue owners, radio deejays, writers, opening bands, local charities, everybody. They weren't too big for their britches. This was true when they were a rising force in small clubs and on college radio, and it remained true when they became international superstars. R.E.M.'s kindness permeated the culture here. Turns out it's a lot more enjoyable to make friends than enemies.

I arrived in 1981 as a seventeen-year-old college freshman, and although I knew about the B-52's, who were already sort of stars by then, I was in the dark about the real underground scene. The nudge for me was in UGA's student newspaper, the Red & Black. One day, I saw a picture of a local band, Little Tigers, and a mention of their show that night. I recognized the bassist as a former bandmate from my adolescent years in Atlanta, so I decided to check it out.
Walking into the 40 Watt Club was like entering a new world. It was a packed room of maybe a hundred people (did it hold that many?) dancing, moving as one pulsating throng. Everybody was having a good time and seemed to know everybody else. Even better, it seemed like nobody on the outside had any idea this thing existed.

Occasionally, I run into people who were here thirty years ago (or twenty, or ten) and then left for a more sensible adult pursuit. Inevitably, they ask me if the Athens music scene of today is anywhere near as good as it was in their own halcyon college years. I've always given the same response: "It's even better." This answer is often met with disbelief. "It can't be." "Impossible." "It was so special then." It was special then, no doubt about it. Nonetheless, it keeps on growing.
In 2015, the music scene in Athens is a far different animal from 1981, when there were a couple of clubs and a handful of art-school bands. Today there are hundreds of local musicians encompassing rock, hip-hop, country, jazz, EDM, post-punk, jam, reggae, pop, metal, whatever. There are myriad live music venues. There are professional recording studios (and a zillion home versions). There are record labels, managers, booking agents, publicists, concert promoters, bloggers, and graphic designers. There is greater synergy with the University of Georgia and the music community. The Willson Center for Humanities and Arts promotes a downtown music festival. Every year of its decade of existence, the UGA Music Business Program, where I work, has set new records for student applications.
The music scene is bigger and, yes, it is different, but a creative movement cannot remain stagnant if it is to remain vital. You have to keep on moving. In spite of all of this growth, transformation, and official business, there are some things that remain the same, or at least feel born of a similar spirit. There is still a strong DIY ethic. There are still house parties, and loads of new bands. Just as in the mid-1980s we added Bar-B-Q Killers, the La-Di-Da's, Eat America, Porn Orchard, and Time Toy, in the mid-2010s we now have New Madrid, Muuy Biien, Shade, the Hernies, Grand Vapids, and Ruby the RabbitFoot, to name just a few.

The battle between art and commerce is an old one. Maybe the music scene in Athens thrives because the relationship between the two is more about coexistence than competition. Maybe it really is the cheap rent and cheap beer. Maybe it's just luck.
Maybe it's just a thing that is.
---
An introduction to "Athenx x Athens", a special selection from our Georgia Music Issue, Winter 2015. "Athens x Athens" includes Patterson Hood's tribute to Vic Chesnutt, Art Rosenbaum on the North Georgia vernacular traditions, Dave Schools of Widespread Panic, Andrew Rieger of Elf Power, and many more.  
---
Enjoy this story? Subscribe to the Oxford American.