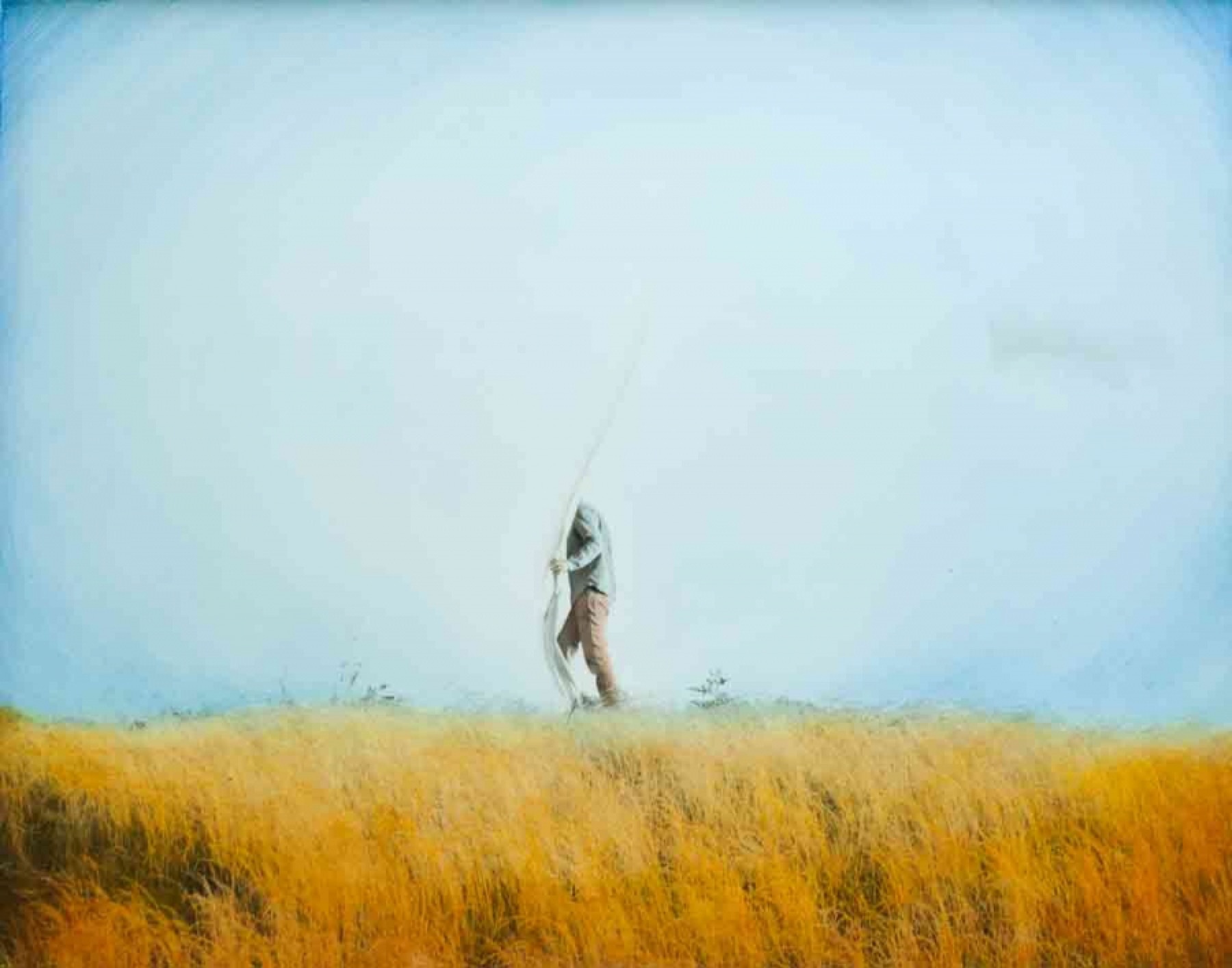 "A Look Within," silver gelatin photograph with oil paint by Josh Verduzco
Travels Through Space and Time
By Oxford American
SOUTHERN JOURNEYS
The journey in all its forms—going to, running from, wandering about, flying over, migrating, dispersing, coming back, moving on—is an ideal climate for narrative. Relocation requires contact with the unknown, which inspires reflection and necessitates change—in oneself, in how one sees the world. This is the alchemy of exposure. If "travel writing" is a discrete genre, it is also an instruction to go someplace, engage, and report back: Travel, writing.
Traveling by train, car, ferry, foot, memory, and imagination, the eight writers in this section take that command. Here is an expedition to a "space where the strange collides with the beautiful" and one to outer space. Here is an exploration of "places that have no names, places that lie between one place and another" and one of a place "wild and terrible, thrilling and unbearably dull." Here is a voyage "to the end, the end of the road, the end of the story."
Here are eight studies of humanity on the move, both fiction and nonfiction. They take us from a well-traveled Louisiana highway to a remote coastal island in Georgia, from nineteenth-century Arkansas to a recent long train ride on the Sunset Limited and the Crescent. The moods vary widely: summery and light, lyrical and meditative, somber. 
"Their leaving was a song." So begins Daniel Black's story of the courageous Swint family as they prepare for a difficult departure. In some journeys, the hardest part is deciding to go; with others, the prelude is forgotten in the first steps. Yuval Taylor relates how a serendipitous meeting in Alabama between friends Langston Hughes and Zora Neale Hurston led to a weeks-long drive across the South. Years later, in his memoir, Hughes reminisced about their spontaneous road trip. "I knew it would be fun traveling with her," he writes. "It was."
---
The highway that led my grandfather into the mountains

by Lavinia Jones Wright 
SPINNING IN SPACE
A cross spider adapts to microgravity
by Elena Passarello 
El Paso to Lynchburg by train
by Holly Haworth 
BLOODY HIGHWAY 90
Homage to a Louisiana back road
by Rien Fertel 
Leaving Arkansas for good

a story by Daniel Black 
RAVAGED BEAUTY
Cumberland Island, wild but changing
by Megan Mayhew Bergman 
The westward plight of the Apalachee
by Justin Nobel
IN THE COMPANY OF GOOD THINGS
Tailing Zora Neale Hurston and Langston Hughes across the South
by Yuval Taylor
---
Order your copy of the Summer 2016 issue.