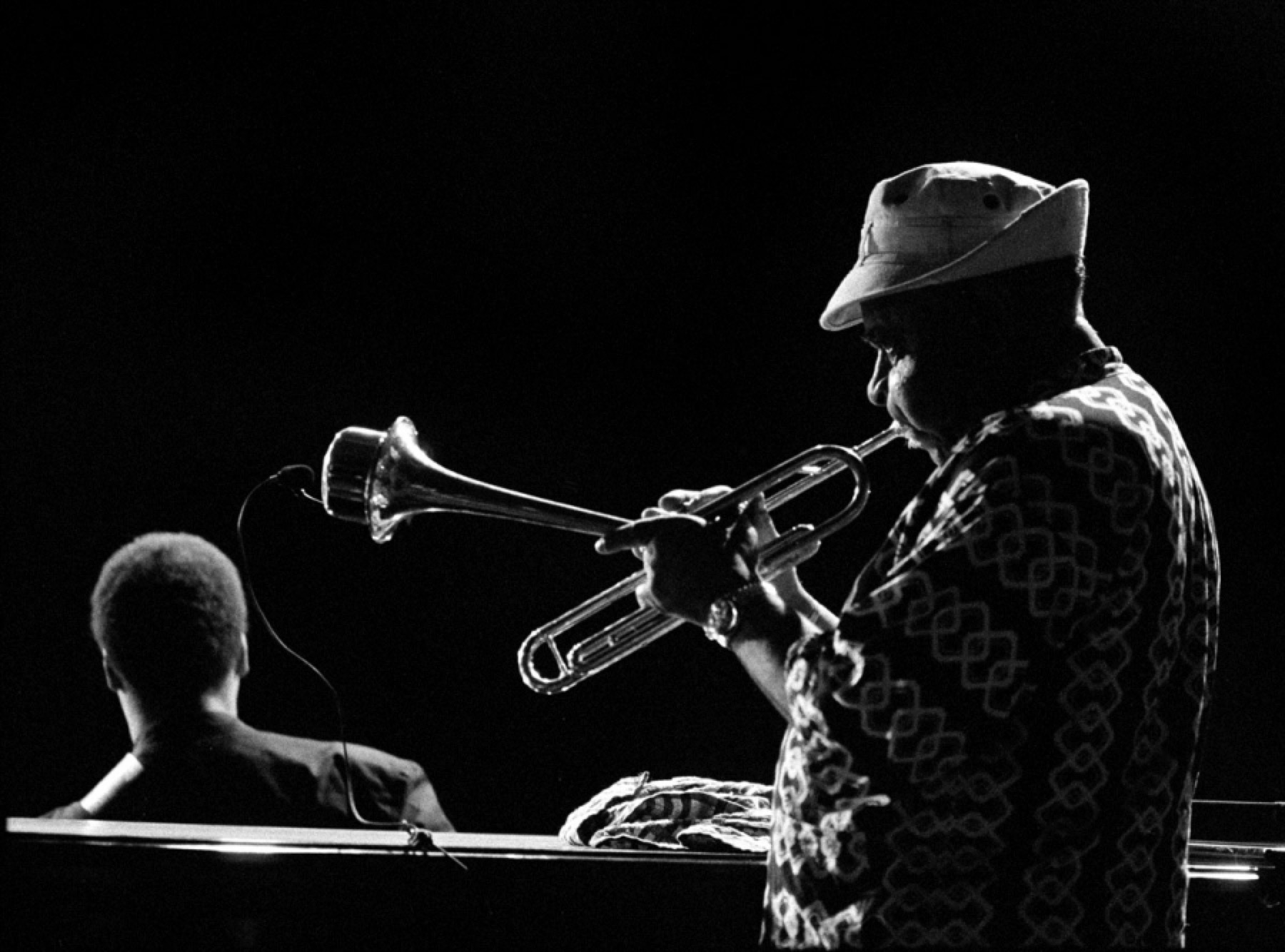 Photo of Dizzy Gillespie by Les McCann. Courtesy of The Abrahams Company / Les McCann Archive
Let's Gather
By Harmony Holiday
In Lexington, Kentucky, in the Jim Crow South of the 1940s and '50s, Les McCann's approach to life as a teenager was proof that no amount of discrimination could undermine black culture, a culture propelled by collective improvisation as expressed through music. Before becoming a groundbreaking pianist and singer, the young Les improvised his way into full expression of his artistic genius, starting with a job at his local concert venue, the Lyric Theatre. He would meet touring bands like Duke Ellington's when they arrived in town and help them carry their equipment for tips. Then, night after night, he'd listen to them play. While segregationists worried about building fences and reinforcing walls, institutions like the Lyric were functioning as gateways to the new black consciousness, a consciousness that understood its value and refused to let that value be undermined by injustice. It isn't the struggle for civil rights that dominates Les's memory of that time, but rather the music, and the musicians, artists, and common folk who came together in his hometown to say no with their very beings, by living rich and probing daily lives, and by holding on to the dignity of privacy—by doing what James Baldwin called giving them their problem back.
In this era, upward mobility—or the simple ability to get out of town—often required becoming an apparatus of the state, so when Les left Lexington in the early fifties, intending to join the Navy jazz band, he was part of a tradition of jazzmen who enlisted in order to play. Black men enlisting (or being drafted) at this time is a perverse notion to me, since they were subsequently trained to defend a country that was fighting to maintain their systemic oppression, but the jazz bands that formed are redemptive in that context—a miracle wherein the war effort helped foster some of the most loving music the country has ever known and enabled, in one way or another, the musical explorations of everyone from Hampton Hawes to John Coltrane (with whom Les shares a birthday) to McCann himself. From Lexington to the Navy to Los Angeles to Hollywood, Les's journey to the frontier of soul jazz music is as modest as it is harrowing. And he documented his experiences not only in his compositions at the piano, but also in gorgeous photographs he began taking early on, to bring home when he visited his mother, to show her what life was like on tour.
Les had a stroke a few years back that has left him mostly homebound, but he's still proving that playing the right notes can give life a healing dimension into which no trouble can truly intervene. He still paints, takes photographs, boxes every Tuesday, lights a way. We spoke by phone in early October. As a kid, he told me, he would watch his father go out to the front porch every night with a bourbon and pipe to sketch. He just drew the same tree over and over. That's the steadfast humility that Les exudes, a maybe-hereditary commitment to seeing the spectacular in the mundane and embodying it, even when it aches or seems to resist capture. In speaking to Les you can immediately feel that he refuses to let his talents alienate him or override his love for people and honest human interaction, which is likely why he can move us, and see us so clearly.
When he heard my name over the line he joked, Haaa-mony, so do your folks eat a lot of grits? He's the first person I've come across who instantly understood that in Southern vernacular English "hominy" and "harmony" are all but interchangeable. My dad, who was also a soul singer, also from the South, used to call me both. Music is food over here. Members, don't git weary.
---
I'd love to hear about the Kentucky music scene as you experienced it growing up in Lexington and working at the Lyric Theatre.
I just wanted to be there—the shows that came there! Oh, God, they were great. I saw more than half the people I [later] got to know in the business before I was in it—Louis Jordan, Louis Armstrong. A lot of the guys I met then were just sidemen in other people's bands before they went solo. I used to have a book that I would get everybody to sign. The first person I think I met was Stanley Turrentine. He was with somebody's band. When we met again later, I made a record with him.
I'd find out who was coming to town that week. And I knew where they stayed, 'cause back then they all stayed in one hotel. So I'd meet the bus, load their bags, bring 'em up, and they'd all tip me. Right next to the hotel was a guy who carved faces out of coconut shells. I think that was one of my first wake-ups to art, my first exposure to making something out of another thing.
And did you do any painting then?
No, when I was in school, I was mostly focused on music. But my father, he had a book he would sketch in after work. Every day after work he'd come home, have his dinner, and sit out on the front porch and draw. What I got out of that was: what a peaceful, quiet place to be. Nobody bothered him. He had a smile on his face that I'll never forget. He just drew the same tree every day.
You've written a number of songs about Lexington, including "Dunbar High School Marching Band." How was high school in your hometown?
All through high school the band teacher and I were very good friends. He received tickets to all the bands and brought me to concerts. I was in perfect heaven. I never said no to anything. And my mother was a fake opera singer. She'd listen to the opera every Sunday while she cleaned house and wooooo, oh my God, it was great! Everybody was into something. Right across the street from our house was the Elk's Club, so every Friday, Saturday, and Sunday night you'd hear a beautiful organ trio playing.
Did you meet any local musicians during that time?
Lionel Hampton's band came to my school. He's from Kentucky, too, from Louisville. I'd meet guys—sidemen—and find out they were from Kentucky.
And when you left Lexington, where'd you go first?
I had a beautiful English teacher in high school, Ms. Algetha Smith. She told the class, first day, "If you ever want to be somebody in this world, get out of this town." That's the one thing I remember learning in school. When I was seventeen, I told my mother I wanted to get out of town and I joined the United States Navy. I wanted to go to the Navy School of Music. In high school, whenever instruments were passed out by the school district, my school got whatever was left, whatever the other schools did not want. So I played an instrument called sousaphone, big horn in the back of the band. I played it all through my last two years of school, only to find out when I joined the Navy it was an instrument no one else used. (Now you see 'em in every marching band.) So they sent me off to Cincinnati to take a test. They brought out a tuba, and I said, "Wait a minute, this is not what I play." They said, "This is all we use." So I said, "Please do not send me back to Lexington."
After boot camp—with the Navy's air division in Great Lakes, near Chicago—I went to California. On the first day, my commanding officer was telling us all the things she wanted us to do: "And you, you over there. I heard you playing piano, are you a musician?"
"Not yet, I would like to be."
"I want you to practice every day. And be ready in case I want you to do anything."
She was my commanding officer, so I took her orders. Kathy Brieger. She and I are friends to this day.
Was there a music scene?
I was in the Bay Area near San Francisco, where every night there were at least five nightclubs going off. I found myself making friends with people. Some were in the Navy; some were people I met at the clubs. After that I was stationed in another California town, at Moffett Field. I was a fireman, and I'd get one or two days off in a row. So I had lots of extra time to go hear music. I'd go to a club in San Francisco called the Blackhawk. I met Miles Davis.
Then in my last year in the Navy I started reading about music schools in Los Angeles. So I came to Los Angeles to go to jazz school. It was not a very good school, but I was meeting all these great guys, guys who could play. That's where I formed my first band, a quintet. We started getting jobs right away. But I realized that school wasn't for me, so I left and went to LA City College. That's when everything came together. I was meeting all sorts of people from different cultures. My years at LA City College were the opening of my whole career.
I was on the swim team. And I had an English teacher who said I needed to improve my enunciation, because I had the Kentucky twang to my speech. No one could understand me.
And were you singing by then?
I never sang till later on. That didn't come until after I got a recording contract. I was in the studio preparing guys for the recording and the producer came in: "What was that you were just doing?" I said, "What you mean?" "You were singing. I thought it sounded great—let's record that." I wasn't ready for that, but we did, and that started my vocal career.
How'd you land your first recording contract?
I was living in Hollywood playing in clubs around, and I got word that Miles Davis was going to be at Club Renaissance, right up on Sunset Boulevard. When I got there, there was a jam session. The big names had already played, so I started playing, and when I got offstage, Miles came over to me: "How come you didn't play when I was up there?" I couldn't even speak. He was my favorite of all musicians. He said, "Man, I like the way you play—very soulful."
Then a few days later I got a call from Cannonball [Adderley]. He said, "I heard from Miles that you really know how to play. I'd love to have you in my band." I said, "Thank you, but I have my own band." I wasn't ready yet. But the beauty of it was, while all this was happening in the same club, a guy came over: "Who do you record for?" I said, "No one." "My name is Nick Venet. I represent a company called Pacific Jazz"—World Pacific at the time. He signed me on the spot, had a contract in his pocket. So I signed it, waited to hear from him, and a couple weeks later got a call from him saying he was fired for signing me. They didn't want that kind of music—that "church music," they called it. They didn't have a name for it—they named it "soul jazz" after me. I met with the president of the company; he said he didn't like me, he didn't like what I do. So I said, "Do you want to terminate the contract?" He said, "No, we'll keep the contract." So I made a record, and it was the number-one record this company ever had. It was called The Truth.
I knew that the arms of something good were around me. I learned back then that one of the best things about me was being able to work with someone else and make a meaningful record. Lou Rawls, Roberta Flack, Stanley Turrentine.
You discovered Roberta Flack, right?
I was in Washington, D.C., and the club I was playing at called, said, "I need you to come Monday night and hear this woman." I thought I'd heard greatness, but this was above greatness.
I recorded her myself. I sent it to Atlantic. They said no. I sent it to Columbia. They said no. I wanted her on my label, which was Atlantic at the time, but they said, "We already have Aretha Franklin." I said, "That ain't got nothing to do with Aretha Franklin." And when they heard her, they were blown away. They hadn't listened. When they did, Atlantic signed her.
Were you into photography by this time?
I traveled so many places and my mother always wanted to know how it was, what it was like. So I started making photographic essays to show her. I started taking my camera everywhere, only as a means of documenting what we were doing. Then people started seeing my photographs and wanting to use them.
Invitation to Openness is the title of your 1972 album and the book of photographs you published a couple years ago. Where did "Invitation to Openness" come from, as an idea?
I had a dream about this music. I said, "Forget about having a trio—let's just be totally spontaneous." When I told the label what I wanted to do next, they were like, "What? Are you kidding me?" But my producer was in my corner. It was probably one of the best things I did in my life, because I had a dream, I did it, and it came out perfectly, exactly as I had imagined it. I told my A&R guy I needed fifteen musicians. He said, "How about Yusef Lateef?" I said, "Yes!" I called that era of my career "the God Years."
I know people always ask you about the song "Compared to What," but with the state of the world today, we could use its insight. How did that recording come together?
There was a place on Cahuenga Boulevard owned by a gangster who loved my music. And he was friends with Eugene McDaniels. He asked if I ever wanted to play with him, and when I heard him, I hired him in my band— one of the best singers I've ever heard. And I found out he was also a writer. We stayed in touch for years after that, and he would always send me songs. I can't tell you how many songs he sent me, but that one stuck with me . . . and that's the biggest record I've ever made.
And do people recognize that it's a protest song?
I don't know why they're not playing it now. Bump the Trump. When I first recorded it, they refused to play it on the radio because it had the word "abortion" in it. The radio station was fined ten thousand dollars by the FCC for playing it. Abortion was a dirty word then.
The record was very popular in France. Over there, Ray Charles told me I was the toughest act to follow. You couldn't get me off stage after I sang that song. The crowd would be cheering for encores.
I wish America would get that excited about honest music.
There were many people for whom the song was their theme. They would play it on the way to their march, play it on the way to their protest.
My number-one saying to people I knew back then was: "You have to get out the house every once in a while." There's a lot of greatness you don't hear about on the radio.
---
"It Never Stopped in My Home Town" by Les McCann is included on the Kentucky Music Issue CD.
---
Enjoy this interview? Subscribe to the Oxford American.