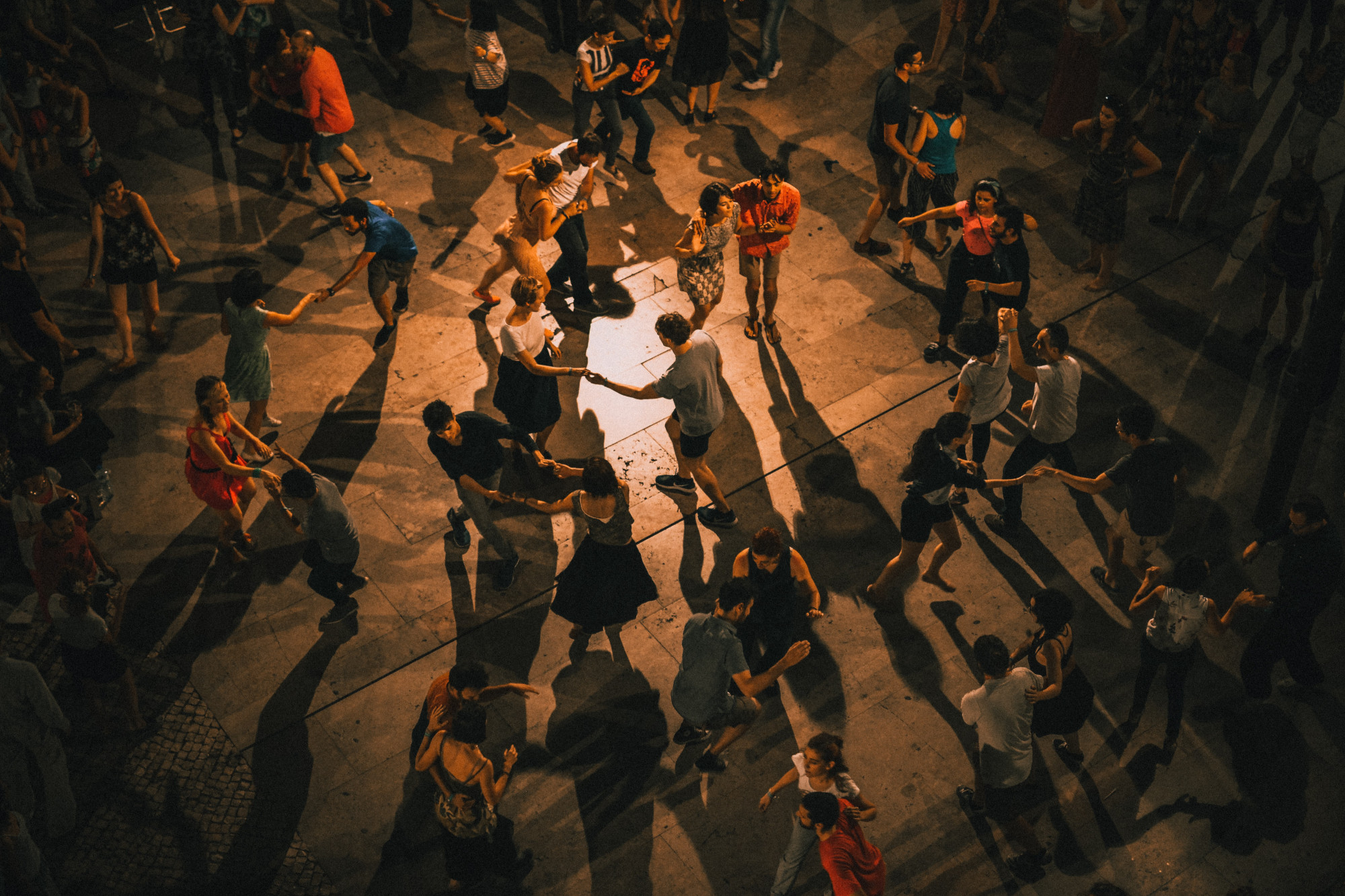 "Dancing in the shadow," photo by Ardian Lumi via Unsplash
A Night at Hillbilly's
By Nadine Hubbs
This exclusive feature is a part of the OA's Country Roots: Web Edition, an online extension of our annual music issue. Pre-order the Country Roots Music Issue and companion CD here.
It's 10 PM on a Wednesday in McAllen, a border city of 140,000 in the Rio Grande Valley, a majority-Hispanophone region that straddles southern Texas and northern Tamaulipas, Mexico. At Hillbilly's, a large dance club on Highway 336, the parking lot begins to fill. Inside, some 250 people gather to socialize, sip on longnecks, and dance to the music evoked by the club's name—country music. Known as hillbilly music from the genre's commercial beginnings in the early 1920s, it became country and western following the 1940s rise of western swing led by Bob Wills and His Texas Playboys. Outside Hillbilly's on this late July night the temperatures are withering, but triple-digit heat doesn't keep people from turning out. Most wear denim and cowboy boots, and they know their country music. The two-stepping and line dancing are skillful. Many patrons sing along with the song lyrics.
Wednesday is college night, and the crowd skews twenty-something. Except for a scattering of those present, attendees are Mexican American. The DJ spins country dance favorites mostly from the past decade, occasionally reaching back for an older classic. One of several country line dances played on this night is Dwight Yoakam's cover (#12 on the country charts, 1999) of "Crazy Little Thing Called Love," Queen's rockabilly homage. Dancers pack the floor shoulder to shoulder and perform unison steps to tracks like Alan Jackson's "Good Time" (#1, 2008) and Keith Urban's "Put You in a Song" (#2, 2010). Another line dance, "Country Looks Good on You" (2014), is a local favorite by the South Texas artist Gabe Garcia, 2008 first runner-up on NBC's Nashville Star and the reality show's first Latino contestant. Luke Bryan's "Country Girl (Shake It for Me)" (#4, 2011) features a catchy fiddle riff and primal pelvic groove, but it clears men from the dance floor with its repeated urging, "Country girl, shake it for me, girl," and corresponding choreography.
Fashion for women varies widely but often includes cowboy boots and other western wear. Most men wear boots and Rock Revival–style jeans, white-embroidered on fancy back pockets. Some don texanos (cowboy hats) inside the club. A few dress up in western shirts, aka "pearl snaps," but the prevailing choice is the fishing shirt with multiple pockets, vented yoke, and long, roll-tab sleeves—a club manager sports one emblazoned with Hillbilly's name and logo. The two gay men I meet diverge from this look. One of them, Ernesto, wears short, cap-like sleeves that show off gym-sculpted arms.
Hillbilly's on this college night exudes little to no hook-up vibe. Men often socialize with other men, and many women two-step and line dance with women friends. A patron named Seth recounts a college friend's explanation. He says young men are careful not to ask a woman to dance unless they really like her. They don't want to lead a woman on by dancing with her casually.
This explanation matches the accounts I hear a few days later from members of two focus groups a few miles away in Edinburg. We meet in the Center for Mexican American Studies at the University of Texas Rio Grande Valley, home of the UTRGV Vaqueros. My nine interlocutors are millennials mostly between twenty-two and twenty-eight years old (the eldest is thirty-four) and UTRGV alumni. All know others within the group, and all identify as Mexican American country music fans. Everyone is familiar with Hillbilly's and its college night as well as other local country music club scenes. One woman, Viri, worked as a server at Hillbilly's for two and a half years.
Sergio, a gay man and friend of Viri's, tags the "quinceañera politics" of dancing that guide women's behavior at the club: "Don't dance with anybody you don't know." A dialogue among Abby, Bryan, Isaías, Sergio, Verónica, and Viri illuminates the heterosocial codes that govern who asks whom and, especially, who doesn't ask whom to dance at Hillbilly's.
Sergio: Women's "quinceañera politics" of dancing: Now that you've come of age you can dance, and "you don't go off dancing with a stranger; you go dancing with somebody you know."

Verónica's boyfriend (by her account): "You don't say yes to a stranger, because if he's a stranger and he's asking you to dance, it's with bad intentions."

Verónica: If a guy "comes up to you, poor guy," and asks you to dance, "you don't say no."

Viri: "Everybody knows each other at Hillbilly's." When you see people you know, "you go and you say hi to basically the whole bar."

Verónica: "You don't get asked to dance very often by a stranger, but really nobody is a stranger at Hillbilly's, because if you don't know them the friend you're with does—so, they'll ask you anyway. But if neither of you know them, they're not going to ask you to dance."

Viri: "If you don't go with friends, [guys] won't ask" you to dance. Even then, "if Bryan is a regular and I say hi to him every night, every night, and then I go with Abby one night, Bryan will not ask me to dance unless he has somebody else [a friend] to dance with her."

Viri: "So, you end up dancing girl on girl."
We discuss other aspects of the Hillbilly's scene: How Texan style frames the music videos that play in the club. How clothing and footwear—Wranglers, Stetson hats, boots—create a sense of belonging, and people dress to fit in, not stand out.
Ranging broadly, we discuss what participants like about country music, what it's like to be a Mexican American country fan, what it means to be American. The fans speak of country music's connections to working-class Mexican culture: the cowboy, rancho, clothing and gear, and what they identify as "Mexican values"—family, faith, hard work. They express appreciation for country's red-white-and-blue patriotic songs and how these stir deep love for both their American and Mexican identities and cultures.
For Isaías, country is quintessential Mexican American music. "The Valley is essentially the mixing of two worlds, the Mexican and American," he explains. "Country brings those two cultures together in a way that no other music genre can."