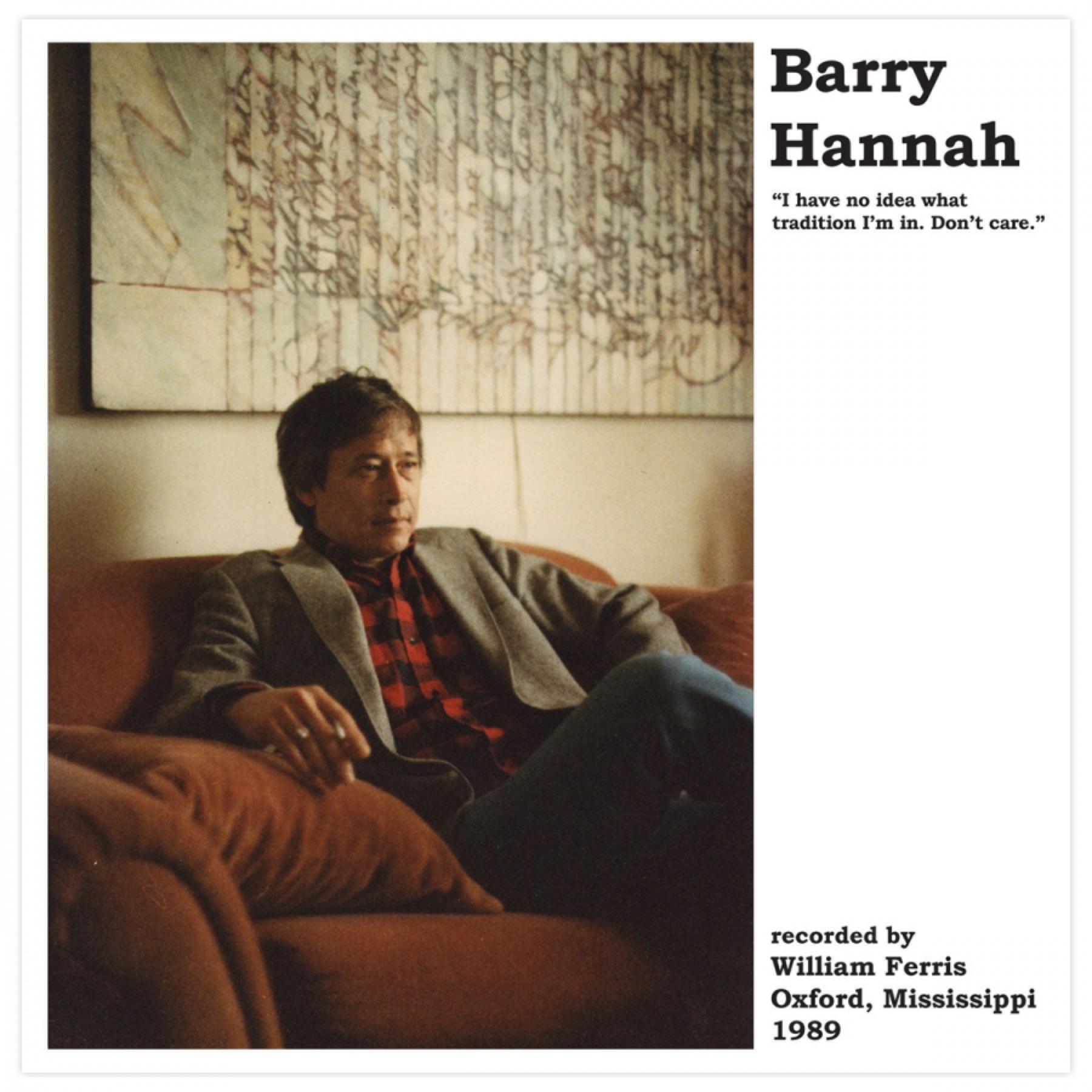 Courtesy of The End of All Music
BARRY HANNAH ON THE TURNTABLE
By Robert Rea
Sporting a black leather jacket, a lit cigarette dangling between his fingers, Barry Hannah looks mad, bad, and dangerous to know on the dust jacket for 1985's Captain Maximus. I came late to the deeper cuts from his oeuvre, but when I flipped to the first page in the collection, I marveled at the combination of strange beauty and twisted humor in his voice. Not only are his narrators unreliable, they speak with an unhinged weirdness that obliterates any ordinary sense of grammar or logic. But hearing Hannah's voice is a different matter altogether.
To celebrate Record Store Day this year, the End of All Music, a vinyl shop in the writer's longtime home base of Oxford, Mississippi, is releasing a limited-edition LP by the self-styled literary rebel. The record is an excerpt from an informal talk Hannah gave at Ole Miss in the spring of 1989, and its title is an appropriately feisty quip lifted from the lecture: "I have no idea what tradition I'm in. Don't care." William Ferris, then the director of the Center for Southern Culture, had invited Hannah to talk with students after assigning Airships in a literature course.
End of All Music owner David Swider unearthed the recording from the Southern Folklife Collection, an archive housed in the Wilson Library at the University of North Carolina. When he proposed the idea of pressing a cut on vinyl, Ferris immediately agreed and helped edit the two-hour-long lecture into a thirty-minute track.
The sleeve features short essays written by Ferris—who champions Hannah as "a wild, untamed spirit whose voice always spoke truth to power"—and Oxford author Lisa Howorth. In addition to saluting an exquisite artist and generous friend, both pieces offer a glimpse of Oxford during the Eighties, when Willie Morris and Larry Brown were hometown heroes and on any given night Allen Ginsberg, Stephen King, or George Plimpton might turn up at Square Books or the Hoka Theatre. "People say that Oxford in the eighties was like Paris or Berlin in the twenties," Howorth writes, "but it was more like Tombstone in 1880."
Hannah is charming and funny as usual on the record, but his wistful mood struck me as especially endearing. He had just published a book with a similar tone, the semi-autobiographical novel Boomerang. "When I came to this town I was homesick after twenty years away from my home state," the narrator reflects in a chapter titled "Oxford." "I had been on my last frightening flight to space, and I returned my rank to the pool. At the last I even poured my last little half vial of coke down the toilet." At this stage in his life, Barry's hell-raising exploits were behind him. He had settled down with his third wife, Susan, and learned to appreciate his avuncular relationship with creative writing students.
Even so, we get flashes of the devilish wit that makes his comedic voice so subversive. A riff on why you should never assault a cop pokes fun at his reputation as a literary bad boy: "I used to do things like that—think I was God, pull firearms, blow limbs out of my backyard with a twenty gauge—for no reason! And the only reason I didn't get arrested was because I was famous." His point isn't to glorify the chemical-enriched lunacy from his hard-drinking days. "I don't think art is worth throwing your life away for. That old romantic myth about dying in a garret from tuberculosis while writing a great poem? Bullshit."
Much of what Hannah says places him in the tradition of Southern writers, despite his reluctance to do so. He defends the mythology of the Civil War that lingered in Airships and Ray and proudly shows the class a photograph of his great-grandfather, a Confederate veteran and "a gentleman who did his part." He also wrestles, briefly, with the conflicted symbolism of the Confederate flag. His writing occasionally drew charges of racism based on casual racist remarks uttered by sympathetic characters. Rather than outright condemning the flag, he admits with a note of resignation, "All of us are racist—a little." Here, as in his fiction, Hannah taps the uncivil fears and desires warring inside us—what Faulkner called the human heart in conflict with itself.
The finished product belongs among the most revealing documents we have about the author. "Listening to the record is like being in a room with Barry Hannah," Swider said. "I'd never heard Faulkner's accent until I came across his Nobel Prize speech. I still hear his voice in my mind when I read his books. It's the same with Eudora Welty, Walker Percy or Shelby Foote. I think people will be blown away when they hear Barry's voice. It's unlike any other."
---
Five hundred copies of Barry Hannah: "I have no idea what tradition I'm in. Don't care." will be available exclusively at the End of All Music on Saturday, April 18, Record Store Day 2015. They'll also be serving Bats Out of Hell Ale, a special single-hop black IPA from local Yalobusha Brewing Company.
And if you can't make it, the Oxford American is giving away one copy of the LP this week. To enter, send us your favorite Barry Hannah quote. (Ends April 10.)