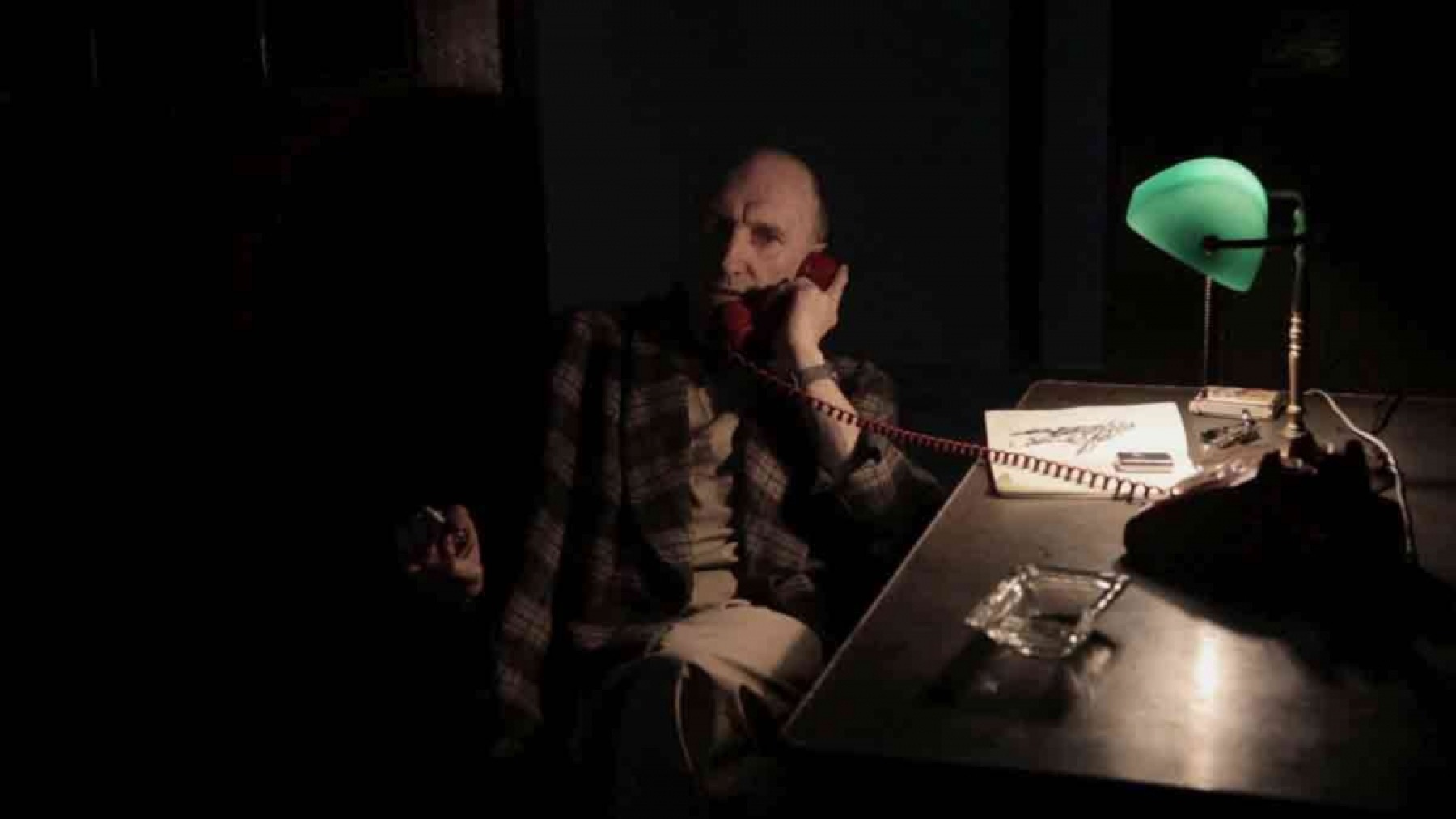 Still from "I Don't Talk Service No More," a Katrina Whalen short film based on the Charles Portis short story.
BOLD TALK
By Jay Jennings
Katrina Whalen worked in production for directors Charlie Kaufman (Being John Malkovich; Adaptation; Synecdoche, New York) and Julie Taymor (Titus; Frida; Broadway's The Lion King) after her undergrad education at Yale, but she really wanted to make her own films, so she applied to New York University's famed graduate school. She was a first-year at NYU when she was faced with a segment that required her to undertake a short adaptation. As she was puzzling over the project, she remembered a story she'd read by Charles Portis, "I Don't Talk Service No More," in which an institutionalized Korean War veteran furtively calls members of his old unit. A friend and colleague, John Parlante, was a Portis enthusiast of the highest rank and had pressed the author's work upon her, including the short story, saved from its original appearance in The Atlantic in 1996. She sought and was granted permission to make a nine-minute film of the story.
I first learned of the existence of Ms. Whalen's film when she contacted me just before the publication of the book I edited, Escape Velocity: A Charles Portis Miscellany, in which "I Don't Talk Service" appears. At the book-release event in New York, I met her and Mr. Parlante, who alerted me to a Portis short story I was unaware of previously, "Damn!," a funny that ran in Nugget magazine while he was still in college in 1957. That story appears for the first time since then in the paperback version of Escape Velocity, which is being published by Overlook Press on August 27.
On the occasion of that release, Ms. Whalen has agreed to let her film make its virtual world premiere on the Oxford American's website, below. A native of Casper, Wyoming, she has finished her classwork at NYU and is now working on her thesis film from her own script. At some point, she and Mr. Parlante are hoping to make an adaptation of "Damn!" as well. She spoke with me recently about the process of turning the Portis story into a film.
---
Did you know anything about Portis before John gave you Dog of the South?
My dad used to throw around a quote from the old John Wayne True Grit. When I was getting too big for my britches, he would say, "Bold talk for a one-eyed fat man." I never had any idea what he was talking about. About eight years ago, John gave me a copy of Dog of the South, and that was the beginning. He had saved a copy of "I Don't Talk Service" from when it was published in The Atlantic, and so I read it about six years ago, and it stayed in my brain until I came into this part of NYU where we work on adaptations. I looked at a couple of different stories, but this resonated more for what I wanted to do—to work with actors and not be worried about locations.
At that point I typed up a letter and sent it off to Mr. Portis, as well as one to the people at Overlook. They directed me to [Portis's agent] Lynn Nesbit's office. About a week before we were supposed to begin shooting, I got word from Lynn Nesbit that Mr. Portis was okay with me doing the adaptation for school, which was really exciting. I also received a type-written note from him after I completed the film, which is now a prized possession.
Where did you shoot it?
Neap's sinking house in the bog was my apartment in Brooklyn. Richard Marshall played Neap and his wife, Alix Elias, played Neap's wife. Two weeks later we were going to shoot Buddy's side and found an old Catholic school in Greenpoint, Brooklyn: St. Cecilia's. There was something amazingly beautiful and aged about the architecture, which hadn't been touched since the '70s.
Were the actors, Peter McRobbie as Buddy and Richard Marshall as Neap, familiar with Portis?
Even before the Coens' adaptation of True Grit, the original version from 1969 was a familiar touch-point, so I think that resonated for both of the actors. We spoke about Portis's work and language in our rehearsal, which is a great place to start. The material was a real draw for them because it featured both of them so prominently, and the dialogue is so sparkling and wonderful to play with. Peter had been in the military as a young man, and Richard grew up in Texas—that was a nice bit of serendipity. It was my first time directing professional actors, so I was exceptionally lucky to work with them.
What were some of the challenges of turning the story into a film?
One of the hardest things I started to think about with the project was how much we're in Buddy's head in the story and how beautifully that point of view is done through language. So I wondered how much we could show in the filmmaking without using a voice-over. I had Peter record some of the really great things Buddy's thinking as he's walking through the hall and prepping to call people and his reflections on the call. But I liked the simplicity of the connection between these two men and letting the performances carry that, and decided against adding the extra layer. I know that's a piece of the story that's not exactly present in the film, but having to make that sacrifice, I liked how that came out.
How has the film been received by those who've seen it?
I sent it to Charlie Kaufman, and we had a really great conversation about adaptation, and the ways to tackle someone else's words. That was worth the price of admission right there. The chance to play it on the OA's website seems like a really great way to launch it out into the world, because it will be a wide audience of unexpected viewers.
---