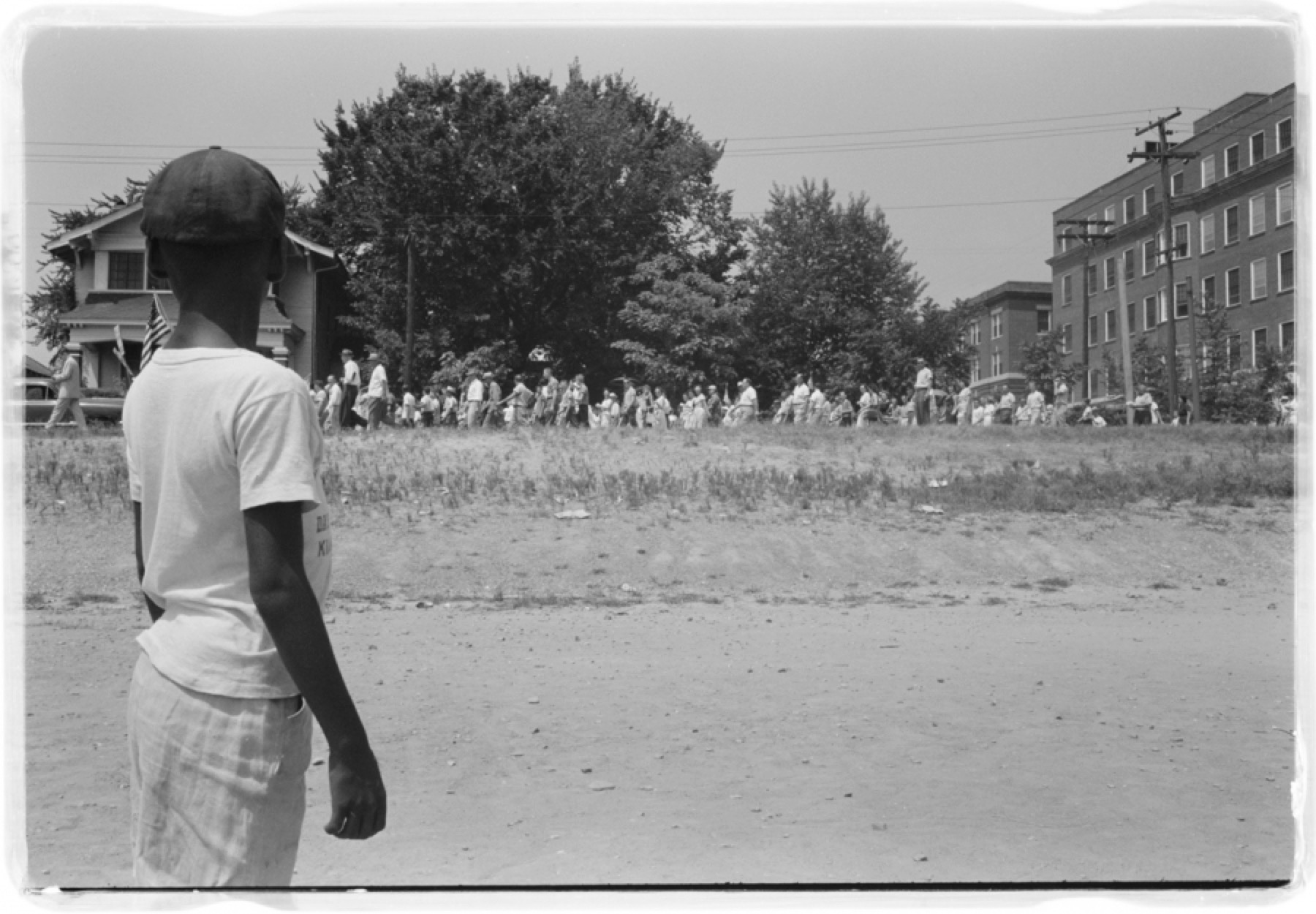 Little Rock, 1959. Mob marching from capitol to Central High, by John T. Bledsoe. Courtesy of the Library of Congress
LASTING PEACE
By Sara A. Lewis
A conversation with Dr. Terrence Roberts and Mary Liuzzo Lilleboe
---
In 1957, at the age of fifteen, Dr. Terrence Roberts volunteered to desegregate Little Rock's Central High School. Along with eight other African-American students, Roberts was met at the school by hundreds of angry members of the community, determined to keep Little Rock schools segregated. The threat was so great that President Eisenhower ultimately intervened, sending the 101st Airborne Division to escort the Little Rock Nine to their classes. This solution, however, was short-lived. Rather than desegregate the schools, Governor Orval Faubus elected to close all public schools the following year.
Eight years later, Viola Liuzzo, a mother from Detroit, visited Alabama to join Dr. Martin Luther King Jr.'s marches on Selma. Liuzzo volunteered to shuttle fellow marchers and volunteers between Selma and Montgomery. On March 25, 1965, Liuzzo was murdered by members of the Ku Klux Klan while giving a ride to Leroy Moton, a nineteen-year-old African-American activist.
On Tuesday, Liuzzo's daughter, Mary Liuzzo Lilleboe, and Dr. Terrence Roberts will join Clarion-Ledger reporter Jerry Mitchell for a panel on nonviolence on the campus of Central High School. The Oxford American, in partnership with the Central High School National Historic Site, is excited to facilitate this unique event with Mitchell, Lilleboe, and Roberts, who have dedicated their careers to civil rights.
In anticipation of this discussion, Lilleboe and Roberts shared with the OA some lessons we can learn from our collective histories and the goals they have for the future.
---
Your talk at the Central High School National Historic Site is titled "From Non-violence to No Violence." As an activist for civil rights, are you optimistic about our country's ability to achieve equality peacefully?
Mary Liuzzo Lilleboe: I am not only optimistic for me—there is no other way that it can or should be done.
Dr. Terrence Roberts: In light of my assessment of the historical record we have compiled so far, I am not optimistic that we can achieve equality by any means, peaceful or otherwise. Equality is not and has never been a goal for those who hold decision-making power in this country. From 1619 to 2018, a period of 399 years, it has been the intention of those in control to legalize, support, and institutionalize inequality in this country. For 335 of the 399 years it was deemed legal to discriminate based on racial group membership; the Brown decision in 1954 changed the legal landscape although nothing else changed with it. Things social, economic, psychological, ideological, institutional, and systemic have remained in place. Greed, selfishness, and a deeply felt racial animus have combined to create a society devoted to maintaining a distinct unequal status quo.
The civil rights era—and each of your lives—has been shaped by horrific violence as a reaction to the pursuit of racial equality. How have you remained committed to principles of non-violence in your activism despite the viciousness you have experienced in response?
TR: My commitment to non-violence is not shaped by the actions or attitudes of others. It is my firm conviction that membership in the human family demands that I treat my family members with respect, that I do unto them what I would have them do unto me. On Yom Kippur this year, I spoke to the congregants at Kehillat Israel in west Los Angeles. My topic: "Forgiveness: The Gateway to Lasting Peace." In my talk I emphasized the need for all of us to learn how to first love self, then others.
MLL: My mother always told me that hate hurts the hater, not the hated. To choose hatred as my response would betray everything my mother taught me and to join forces with the very thing that murdered her—hatred. Dr. King's blueprint of Nonviolence gives me the tools to be true to my mother and myself and carry forward the precious legacies of both my mother and Dr. King.
I know that each of you are coming to this event with different connections to Central High School. Can you tell us about the importance of holding events such as this at the historic site, and how engaging with the history of civil rights, in general, and the Little Rock desegregation crisis, in particular, informs a contemporary call to action?
MLL: The people's struggles have often been misrepresented in American history, if the narratives were there at all. How can we truly learn from history if we don't know what the true history is?
In addition, it is difficult to imagine life without the things you have always had. Things like bathroom facilities when you're traveling, going into any restaurant you choose for a meal—and voting.
Without the true history, young people cannot comprehend life without the rights that were withheld from them prior to the movements of the twentieth century and before. Learning the struggles and suffering of those who fought to secure those rights gives them value. It allows new generations to cherish and protect the rights that came at a great cost.
I find that young people who don't know theirhistory feel that it's never been this bad. They need to know it was so that they know they can change it.
TR: I am aware that symbols are important to most of us, we tend to use them as touchstones or we infuse them with qualities or meanings that transform them from inanimate objects into manifestations of the ideas, emotions, or ideals we wish to glorify. I would prefer to invite all others to move beyond worship of the symbols to learn the truth about who we are and choose to change that truth in ways that promote peer-to-peer interaction at any and all levels of society. And that we can do here at Central High School or anywhere else in the universe. It is not so important where we hold the event, it is important to realize why the event is necessary! That is the true call to action!
What drives you in your work? As decades-long activists and advocates, what motivates you to keep fighting? Are you ever overwhelmed by all that still needs to be done?
TR: Tikkun Olam is a concept found in Judaism. Essentially it commands each and every human being to work toward repair of the world. Further, it states that repairing the world is a work that can never be accomplished. But, even with that knowledge, no one is released from his or her commitment to repair the world.
As I see it, I have no choice but to do this work. I suppose the hope I have is that, perhaps, through some mechanism of which I am unaware, all of us will accept his or her Tikkun Olam commitment!
MLL: I wish I could answer your question about what moves me with pictures. I would show you the beautiful faces of people I've met who love me simply because I am my mother's daughter. What was life like for them before my mother made her fatal trip to Selma? How they must have been suffering to honor and cherish her memory all these decades later. I'd show you the faces of young people stung by racism who are so grateful to know that there are white people who care. And then I would share with everyone the intricate blueprint that Dr. King left us—it is so much more than a march and a song. It is a very precise plan for creating a world where justice and equality prevail and every human being has the opportunity to reach their highest potential. It should be taught in every school in this country. Everyone should see the documentary Woodruff: A Lesson of Non-violence about the Woodruff school right here in Little Rock.
There are times I feel overwhelmed but it takes so much energy—it's a useless feeling really. Even the tiniest move forward is a better choice and there's so much to do.
At your panel on Tuesday, what do you hope the audience takes away from the conversation?
MLL: Violence begets violence. Violent victories are not as enduring as nonviolent victories and the side with the biggest guns wins. Value your life and the lives of your children and their children enough to do what needs to be done with the proven principles and steps of Dr. King.
TR: It is my hope that audience members will make a fifth-level commitment, one that demands doing whatever it takes, to move this country forward. And, having made that fifth-level commitment, will speak truth to power consistently, and forcefully both now and forevermore!
---
"From Non-violence to No Violence"
Tuesday, Sept. 25, 2018 | Little Rock Central High National Historic Site
Dr. Terrence Roberts and Mary Liuzzo Lilleboe in conversation with Jerry Mitchell.
Following the panel there will be a reception with refreshments, where Dr. Roberts and fellow Little Rock Nine member Elizabeth Eckford will sign copies of their books.
---
Enjoy this interview? Subscribe to the Oxford American.