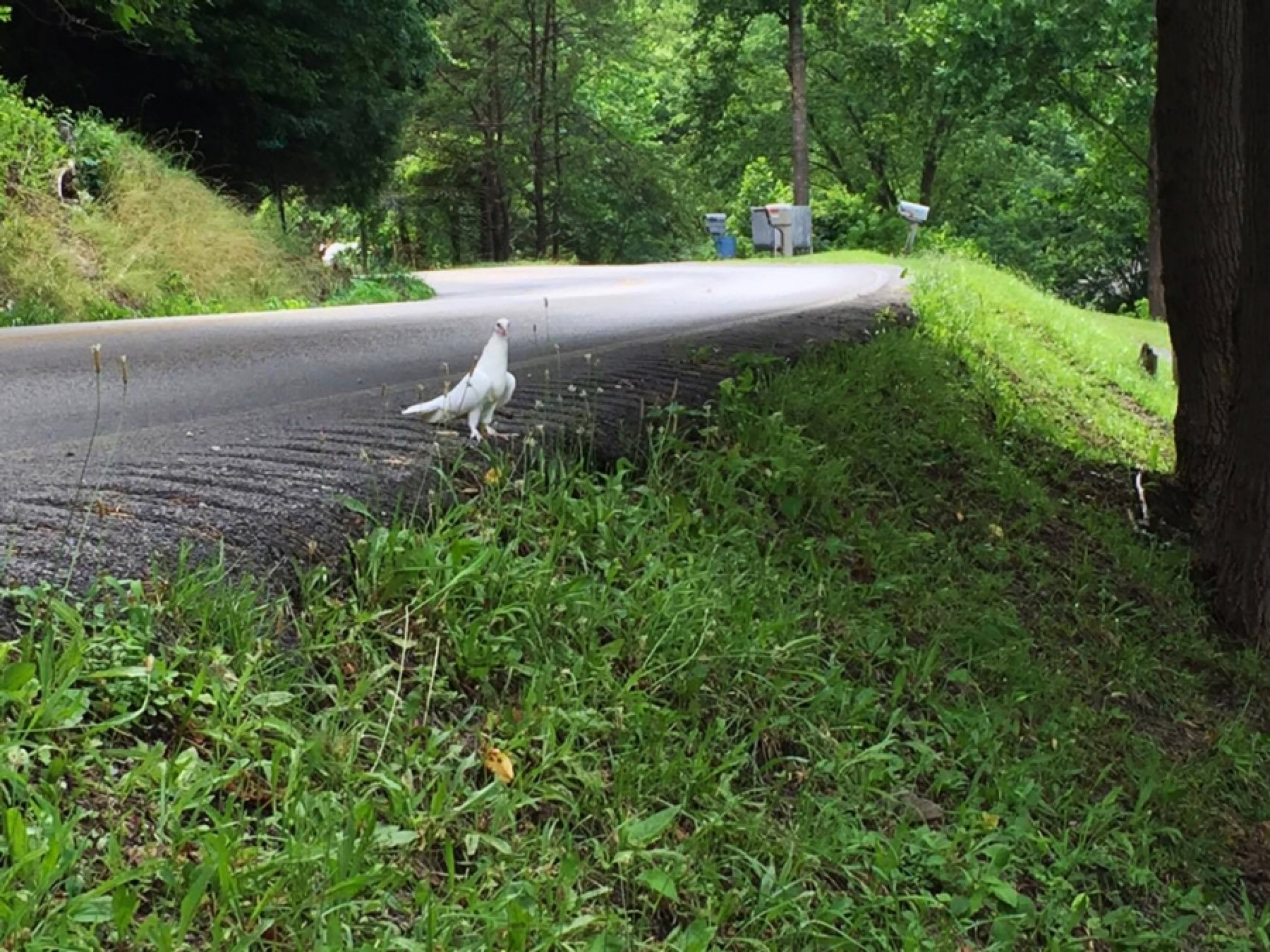 Snapshot of Ralph Stanley's Ghost. Photo by Brett Ratliff.
O, DEATH
By Rebecca Gayle Howell
Last week, a few hundred people, ages five to eighty-five, traveled from near and far to set down on Cowan Creek in Letcher County, Kentucky, and play their fiddles, their banjos, guitars, and uprights, to learn and love—we know better than to call it bluegrass, don't we?—that good old mountain music. If you've ever had your breath stolen by a morning fog moving across ancient valleys, you know exactly why every year since 2002 this gathering has come up these hills to enjoy a best-kept secret among musicians: Cowan Creek Mountain Music School.
This being the camp's fifteenth anniversary, it's no surprise that a group of adolescent girls took over Thursday night's jam at the Parkway Inn with a fiddle circle so hot it could have set fire to the moon, let alone the picnic tables the girls were sitting on. But what did shock everyone was the day before when a white dove landed his pink feet right there on Highway 931. Besides the fact that white doves are rare in East Kentucky (unless they are being released from wire cages at your mine-site nuptials), this dove sent a cold chill across Cowan because he'd arrived none other than on the day after Ralph Stanley passed.
Dr. Ralph Stanley. Who gave the world the voice of death, and—to those of us who listened to him beyond the Grammy—the voice of life, too. Dr. Ralph. Who reinvented music by not reinventing it.
After Carter Stanley passed, Ralph turned away from his beloved brother's desire to break tradition and instead devoted his music to honoring the techniques the two had learned as boys in the hills of southwest Virginia. In that voice so many have called "original," we hear Ralph's childhood Primitive Baptist fellowship, harmonizing in lined-out hymnody against poverty and loss. We hear his daddy, who sang in that fellowship the very songs for which Ralph would go on to be world-renowned. And, in that clawhammer banjo, his mother Lucy, who'd grown up playing the old way and who bartered groceries for Ralph's first instrument, then put his teenage knuckles against its five strings. White dove will mourn in sorrow / The willows will hang their heads. Night after night, on stage after stage, Ralph and Carter used to worry those lines, missing their mom and dad. No one can blame the camp at Cowan for thinking Ralph himself had stopped by in the body of that bird, maybe to hear those little girls light it up, before he headed home.
Dr. Ralph didn't call his music bluegrass. That was the name for the commercial roll dawned by Bill Monroe. Instead Ralph took up the phrase "old time," which has come to mean the mountain amalgam of West African, Italian, and Celtic folkways forged a hundred years before Monroe ever saw a microphone. But it seems to me, toward the end, Dr. Ralph left even that term behind. In between explaining to reporters that it was God's voice, not his, he sang with, he took to calling his music just "plain old American."
And the fellowship says, Amen.
---
For more from the Oxford American, subscribe to our weekly newsletter.