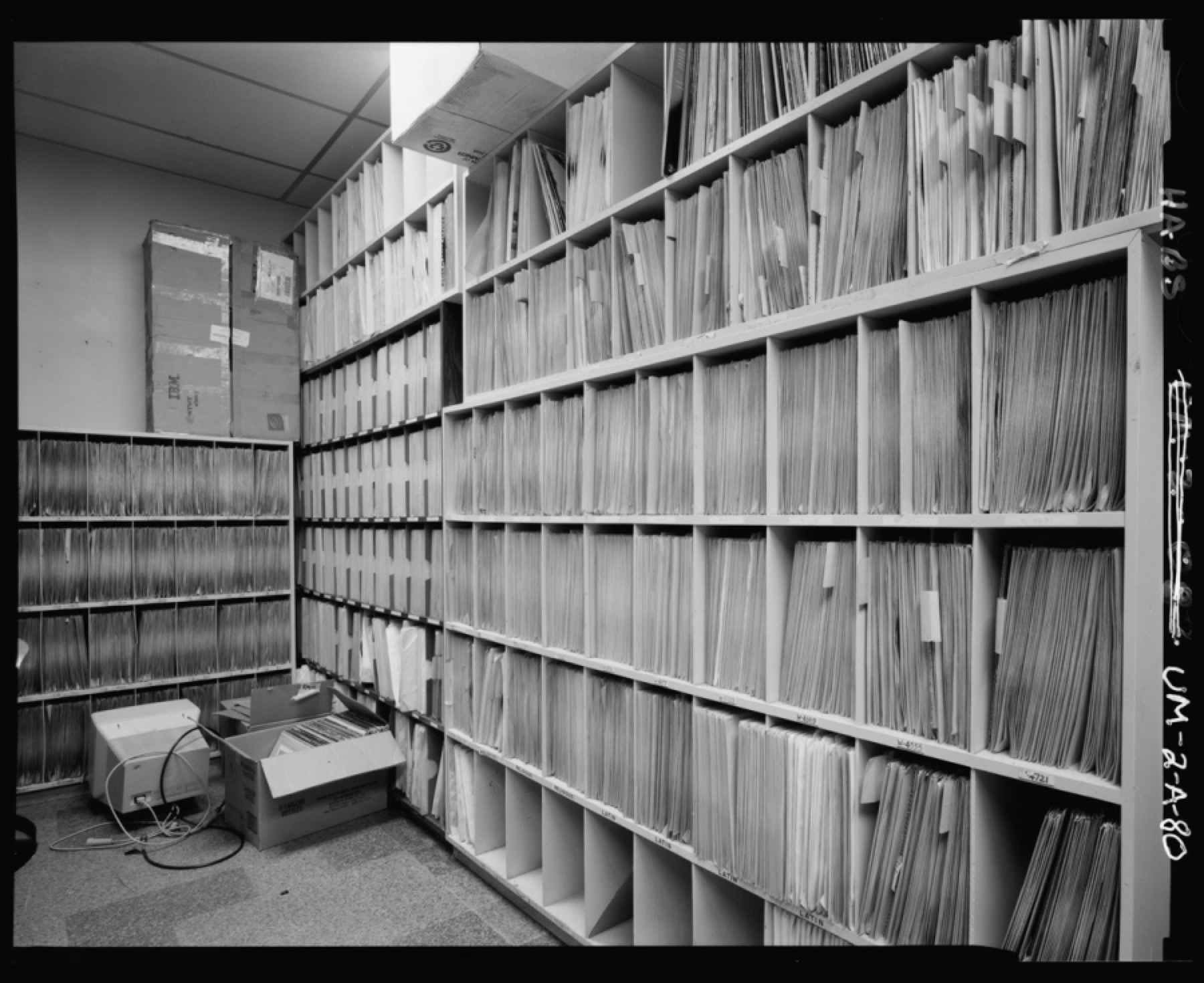 The radio station record collection at Wakefield Island Airfield. Photograph by Timothy McGrath © Library of Congress
OBSESSED, UNKNOWN
By Oxford American
End-of-week recommendations from the editors of the Oxford American
---
In our latest issue, Wyatt Williams writes about Lance and April Ledbetter, the husband and wife behind the incredible Atlanta record label Dust-to-Digital, and their stalled project to encapsulate the early history of Georgia music in one box set. Observing the Ledbetters' archive, Williams writes: "Just looking at the neat stacks, the careful preservation, you could see the efforts of a hand trying to keep something very big under control." Therein lies the essential challenge facing any historian, curator, or collector, and Williams's piece offers a fascinating glimpse at the interior of this idiosyncratic breed: the obsessed. The Oxford American has a well-established curiosity about these sorts of folks, and so it follows that we enjoyed The Record Store of the Mind by Josh Rosenthal, the founder of another exceptional independent label, Tompkins Square. An episodic tour of Rosenthal's stacks—how he came to own this music and why he likes it—the book is one every collector (however casual) would love to write, and thus it engenders competing emotions of envy and enthusiasm, boredom and validation, sometimes disbelief. "Chance visits to record stores have changed the trajectory of my . . . life," Rosenthal writes in his introduction; if you share in this sentiment at all, you'll find something of yourself in his book.
After Eileen, the debut novel by Ottessa Moshfegh, found its way into our home, its daring book jacket stared at us from our makeshift coffee table for some time, while we wondered when would be the right time to begin. The cover is black matte, with the title stamped across in red block letters, the Es cut at an angle, as if by a blade: EILEEN. A Dodge Coronet, illustrated at the bottom, idles in flecks of snow, the lights from the headlamp pulling your eyes down—the title, Moshfegh's name, the car. EILEEN. It's a cover fitting of a mystery; the art wafts suspense and irreparable decisions. We finally opened the book over our holiday break—ironically the same season during which Eileen is set—and finished it by Christmas. We fell instantly for the self-obsessed twenty-four-year-old eponymous narrator. She's straightforward, blunt, vivid and human. She's on a mission to escape her life as caretaker of her drunk, abusive father; as an idle resident of her Massachusetts hometown (disguised throughout as "X-ville"); as a lonely clerk in a boys' juvenile prison. She's a woman of certain, shameless habits (she regularly goes without bathing, or washing "down there"). And a tease—you know from the beginning that she will escape; and that the event will likely involve murder. Pair with Moshfegh's hilarious and sparkling Lucky Peach essay ostensibly on mayonnaise ("My mother came very close to buying mayonnaise in 1992, however.").
We had no idea how old (or young) Julien Baker was when we streamed her debut solo album, Sprained Ankle, after glancing at an intriguing short review in the New York Times in October. The writer identified her only as a "Tennessee singer-songwriter" and in the accompanying picture the dirty blonde in a floral-print blouse could be almost anywhere in her second or third decade. He praised her "lyrical precision" as "gobstopping"—though we suspect that should be "gobsmacking," since the Oxford English Dictionary defines "gobstopper" only as "a large, hard, freq. spherical sweet." On record, Julien Baker is not sweet but she is hard, her sparely arranged songs of plucked guitar and simple piano chords telling of not just emotional pain but actual injury, as in the opening track, "Blacktop." The song finds her in the aftermath of a car collision, imploring her love to "come visit me in the back of an ambulance." Elsewhere, she calls herself a marathon runner with sprained ankles (the title song) and gives voice to a patient in a hospital whose "Pulse is slow, faint metronome on my left side beneath my protruding spine." Recalling the immediacy of early Cat Power but with less guile, Baker's raw emotion builds to a scream in the junkie's lament on "Rejoice," the volume of that word conveying simultaneous faith and despair, innocence and experience. In its worldliness and wisdom, anguish and, yes, lyrical precision, Sprained Ankle is a strikingly mature album start to finish, and we're gobsmacked to learn that Baker, who hails from Memphis, is young enough to be a junior at Middle Tennessee State University, where she's an English major. Indie label 6131 Records, based in Los Angeles and Richmond, Virginia, where the songs were recorded, has also produced a vinyl version, which seems the right medium for Baker's authenticity. The first pressing has sold out, and another won't ship till spring 2016, but other formats are available.
Julien Baker's "Sprained Ankle"
---
For more staff recommendations, subscribe to our weekly newsletter.