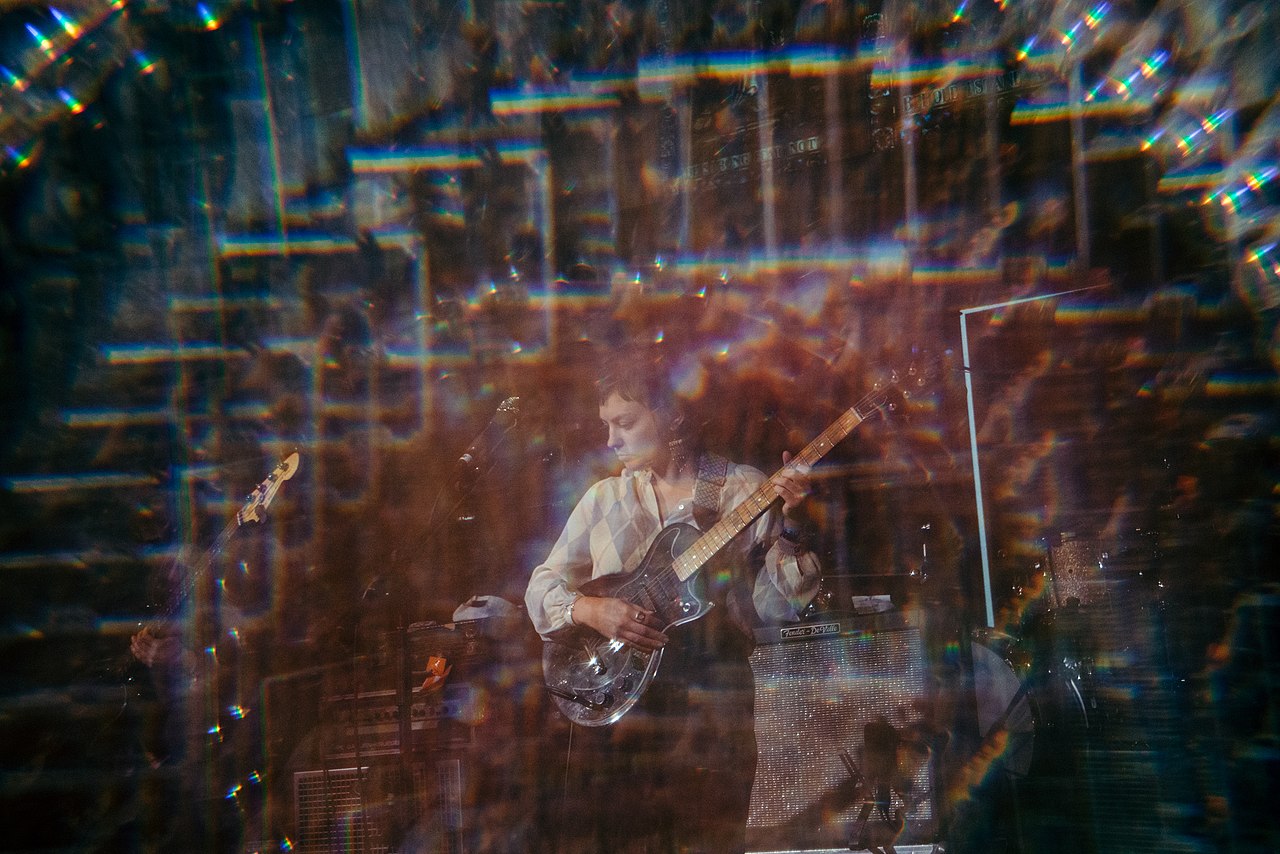 Photo by Levi Manchak via Wikicommons
Songs That Hit a Nerve
Angel Olsen's Country Playlist
By Sarah Rose Etter
This exclusive feature is a part of the OA's Country Roots: Web Edition, an online extension of our annual music issue. Pre-order the Country Roots Music Issue and companion CD here.
It's been a big two years for Angel Olsen. From her new album Big Time to her hit collaboration with Sharon Van Etten and subsequent The Wild Hearts Tour, she's been building on her indie cult following. Her latest album led to profiles in the New Yorker and NPR, and a set on The Tonight Show with Jimmy Fallon.
Big Time makes her a perfect fit for the country music issue. Vocally, Olsen has always had a tinge of velvet melancholy running through her songs. On the album, she transitions into a country sound with her own touch, calling in comparisons with Tammy Wynette, Dolly Parton, and Loretta Lynn.
Alongside her artistic successes, though, she has also suffered immense loss: Three days after coming out to her parents, her father died suddenly. He was followed shortly after by her mother.
It's no coincidence that Olsen turned to country as an influence. Country music has always taken on the greatest human emotions: grief, loss, betrayal, love. Whether through heartbreaking melodies or tongue-in-cheek lyrics about everything from death to being cheated on, country has put the human heart center stage. And Olsen, always an incredible songwriter in her own right, took her grief and transformed it into art through that same lens.
For the country roots issue, I spoke with Olsen as she wrapped up The Wild Hearts tour: I asked her to share her favorite country songs with me, and we discussed their power and heartache. It's a set of five songs that run the full country gamut, from a final date with a lover to falling slowly in love to being blacklisted by the P.T.A. We talked through each song of the playlist, how she found her way to country music, and more.
"My Last Date (With You)" by Skeeter Davis
Sarah Rose Etter (SRE): Let's start at the top. Talk to me about "My Last Date With You." What a heartbreaker. Do you remember the first time you heard this song?
Angel Olsen (AO): It must have been 2009 or 2010 because I got obsessed with this song and put it on a tape. It was one of the first things I recorded and put out. The tape was called Lady of the Water Park—there was a Dolly Parton song on there—but I just got so obsessed with Skeeter Davis and the story of Skeeter Davis. Most people would probably know her song "[The] End of the World" because it was in Girl, Interrupted.
But anyway, she had a best friend. They sang together as the Davis Sisters even though they weren't sisters and Davis wasn't Skeeter's last name. But her friend got into a terrible car accident and passed away. Skeeter went on to take her last name and harmonize with herself after that.
SRE: Jesus. That's insane!
AO: Yeah, pretty crazy story. I love her singing because she sounds like a messy, dirty kid. She sounds like that kid who always has schmutz on her face. It's one of those voices that's kind of brash.
SRE: It's a voice with depth. You know, the other thing I love about this song is it does justice to that feeling you get in your gut when you just know something isn't going to work out with someone.
AO: Oh yeah, absolutely, that really sad feeling. I used to listen to Skeeter Davis when I lived in Chicago. I lived with a few people on the top floor. We'd just listen to Skeeter and Townes [Van Zandt] and we just told stories, you know, and that was my 20s. We had a really sketchy ladder we'd climb up to the roof and we'd listen to a little radio and smoke hand-rolled cigarettes and listen to these songs.
"Why You Been Gone So Long" by Jessi Colter
SRE: Was Chicago your intro to country music?
AO: Yeah, honestly! I met a lot of people who introduced me to good country music because I'd only really listened to the oldies. And these songs just hit a nerve, like "Why You Been Gone So Long." I just remember thinking, Oh man, I know that feeling when you're waiting for someone to come home and they're just not coming back.
SRE: It's a brutal song, but it's also so punchy.
AO: It feels like female outlaw country music, you know? It's got that edge when she's singing about the wolf scratching at her door. It's one of those songs where it just captures a feeling so perfectly, and I definitely went through that. One of those relationships where it's like Well, guess you had a great time with your friend so-and-so last night. You really tied one on, coming home at 5AM like that.
SRE: It ties back to that current of heartbreak in country music. That whole "somebody's running around on you" vibe.
AO: Exactly, that's the spirit of it: I see you running around, you little piece of shit! And I still love you. You little piece of shit!
"Slowin' Down Love" by Tucker Zimmerman
SRE: So what pulled you to "Slowin' Down Love"? It really jumped out to me on this playlist.
AO: A friend of mine has a radio show and sent this song to me. And it stopped me in my tracks. I'm trying to learn a bunch of country songs right now because I was supposed to do this Americana thing, solo. And, touring with COVID and everything, I just wanted to learn a bunch of covers in case anyone got sick. Because if it's me, I'm still going to play.
I heard that song, and it's just one of those songs that is for when you fall in love with someone and everything is alright. It's the feeling of Oh my god, I'm so glad I found you. Come into my warm, warm arms.
SRE: It's so warm, you're right. A song like honey.
AO: I've recently fallen in love again after going through hell. And this song completely underlined those feelings—not just falling in love, but through falling in love recognizing the beauty and the light and the people around me.
SRE: I love the way this song sums that up for you. It's counterintuitive as a love song in a way. Because it's not about rushing.
AO: Exactly. Falling in love does make me want to slow down and want to nourish the relationships in my life that are meaningful. I just got off of The Wild Hearts tour with Sharon and Julien. The tour was like forty people deep, and it just felt like adult summer camp. And on the last few nights in New York, we were all dancing on stage together. And we had this final moment on stage where it felt so good to be in love with life right now, to have fun, to let people feel and see that.
"If I Needed You" by Townes Van Zandt
SRE: So we move from "Slowin' Down Love" into "If I Needed You" and I really love the trajectory here because the first two songs are sort of about not getting what you want, but then these two songs together are a big ray of hope.

AO: You know, "If I Needed You" is such a grown-up question. It's a really mature question to have of love.
SRE: Do you see this as a song that influenced your work?
AO: I'm not sure that I've really written any songs like Townes. I think I more go in the direction of Leonard Cohen. Then again, Townes is sort of the Leonard Cohen of country. I think that is what pulls me to this song. It's sort of the maturing of love. This song should be close to the Tucker Zimmerman song. I like them together.
"Harper Valley P.T.A" by Jeannie C. Riley
SRE: Ok, now, this song whips. This one just got me shaking my ass!
AO: You know, my friend played this song for me a few years ago, and we just went crazy. We put on wigs and started dancing around. And I was just going "What is this song, it's so good!?" This energy is just so great—you can totally see her walking into the PTA meeting and saying "All of you are frauds!"
SRE: The storytelling here is INCREDIBLE. This song has a better narrative arc than a lot of novels. Blew me away.
AO: I love her voice, you know? I want to find more full albums where someone is using their voice all the way through like that. You can feel this song is something she knows, like she's winking at us. It's one of the things I love about country music. It's so often playful and upbeat, but the words are usually so sad. The lyrics are intense and profound enough to make you wince. I really love that about country: the combination of this upbeat music and these fucking crazy lyrics that hold all of these stories and experiences.