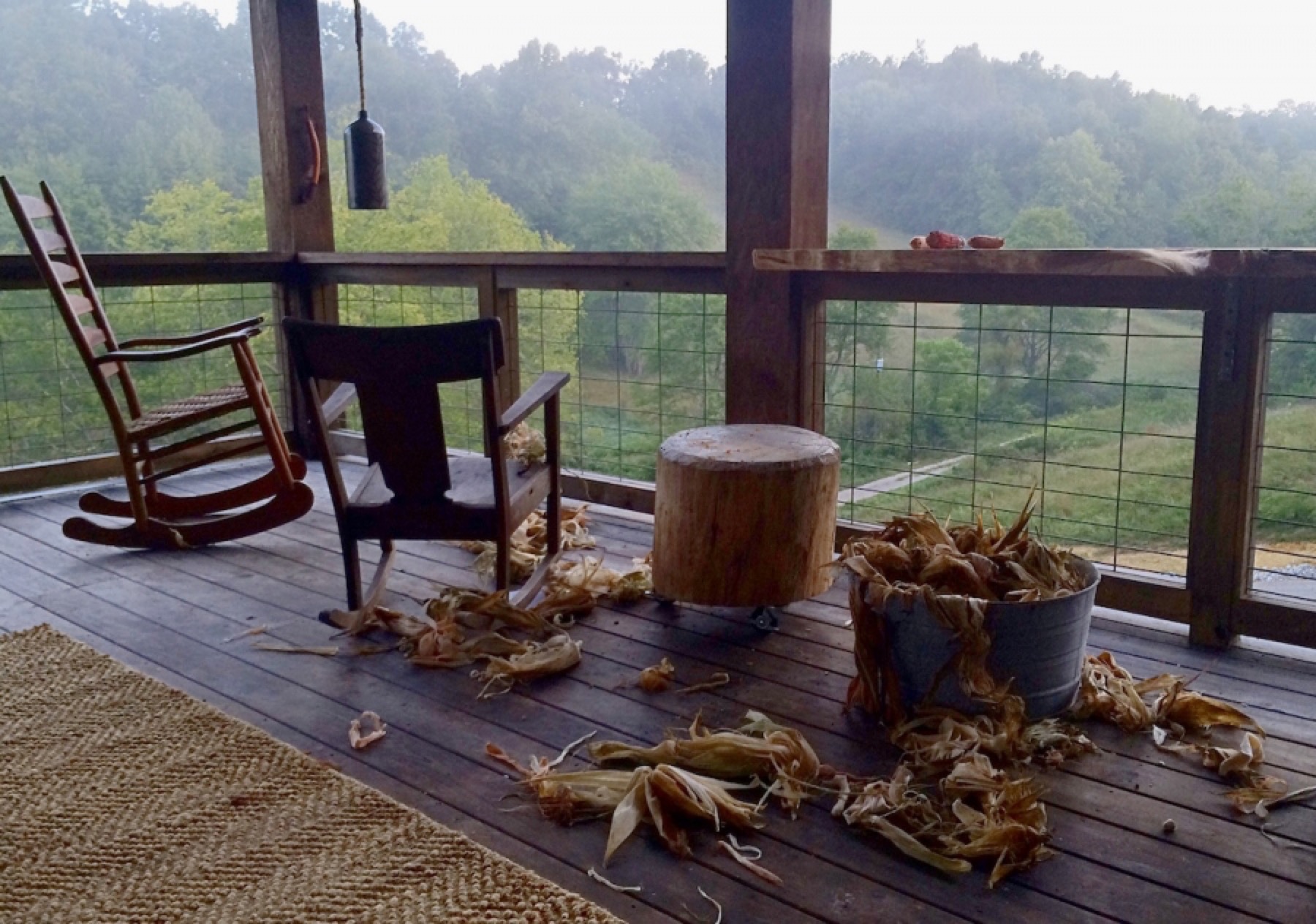 The porch at Big Switch Farm. Photograph courtesy of Tunde Wey
THE NIGERIAN APPALACHIAN REMIX
By John T. Edge & Tunde Wey
Two Nights at Big Switch Farm
---
Nothing I met in Egypt, Kentucky, was like I imagined, except the cliché of rolling hills and craggy mountains. Except the poke, and other ground cover, green. No guns were visible except the Confederate flags that flew, that hung limp, wrapped in a wan clutch, not fluttering, clinging to their poles. I'd known, in theory, that melons must be too heavy to hang off trees, but here watermelon and banana cantaloupes lay on the ground. To see them harvested in a quick snap from their thin snaking placenta, lifted off their floored womb, was both ordinary and fantastic.
I'd been invited to dinner here, at a family farm called Big Switch at the head of its Egypt holler. The two-story home's exterior was weathered wood, and the house sat on its haunches against a hill, overlooking the habitable portion of the farm. From ridge to ridge, the land was watched, gossiped on. The panorama of extractable minerals buried underneath malachite greens; it's the way in these parts.
Big Switch exists as a haven—for hemp, for apples of a hundred varieties, sweet peppers, sauce and slicing tomatoes, those melons I mentioned, and for its owners, Lora and Joe, community organizers and parents to Wiley and Alma.
Lora and I met a few months back in the beautiful but tame Rivendell, Tennessee, at a supersecret retreat that we still wonder about to each other—a slight convocation of cooks and writers, holed up with expensive meats and a few bourbons from God's bar. I like to hitch myself to stars, and Lora was bright. A month after we met, I invited myself to Big Switch. I would be in Louisville on September 9 to cohost a collaborative dinner with Edward Lee. Maybe I could come down then. Lora never hesitated. The day after my dinner, she drove the 150-mile trek between Egypt and Louisville to bring me to her home.
The roads that lead to Big Switch are not roads; they are endless lanes of boomeranged tar that wrap around hills so mighty. Wrap around hills so mighty that everyone in the vehicle stays pressed to the side of the car opposite the tall rocks. When that mess of a meander is done, you fall to the flat bottom of tall mountains, and your attention—previously loaned to death due to the incessant, narrowly missed collisions with expert oncoming traffic—is now tuned to the natural canopy that rises. These trees grow high, and they are insulted by you. But the mountains are inevitably stone-faced oath-breakers, and they eventually open into freedom, the peace of Big Switch.
By the time we reached Jackson County, night was with us. As we glided over the farm's gravel drive, a cool breeze blew up from the expansive cockpit of Lora's late model Toyota Prius. I alighted into all the normal noise of dark woods. This part of Appalachia was wholly uninterested in my fantasy of what Appalachia was supposed to be.
My ideas on Appalachia were formed early. An opaque, wobbly jelly that set against time deeply creased, weary, soiled faces. Even the babies were old. I'd heard of Central Kentucky, by way of its swift mares and mint juleps, all cast under a wide-brimmed shadow. But I was going to East Kentucky, and I prepared for my two scheduled nights by learning about coal and its history. Men whose lungs were clogged with so much ambition they ground their teeth at night. Men who slept so fitfully, they woke their women. Women who in turn kilt lettuce, strung beans, dried them to a wilt. This they did in lieu of the dreams their men snatched.
Coal is a helluva drug. It starts with a pretty conventional high—then explodes. Love is a helluva drug, too. Unrequited and exhausted, love is a sober stranger thrashing around in an empty room. I know love. I touched its hair on the back of its stiff neck; my hands got stuck in its coarse hair. That was all the conquering I could do, and it was never enough. In rage I set it all on fire, let it burn. The companies that destroy East Kentucky are men in love. They wanted only a kiss, they said. Then they got it.
In one of the quiet moments of mine and Lora's two-hour ride out of the meager, outsized city of Louisville, I remembered a story she'd told me before I came to Kentucky. It played back to me against the September bluegrass that rolled out on the other side of the window:
Once there was a mighty mighty man, who came from Mingo. His face was kind, but in the way Pablo Escobar's face was kind, in the soft-and-round-except-for-the-eyes way that Pablo Escobar's face was kind. Mingo was poor and beautiful with coal. The man rose high because he knew Mingo. He clawed into unimaginable wealth. But his rise was powered by a dark resentment. He hated what cared for him, despised simple things, rationalized his schemes. Before long, he took his revenge. Pulled the skin off the mountains, pissed in all the good water, left.
I realized my ambition was kin to this man. His love had turned to poison, like mine.
I forgave myself.
Joe looks young, mid to late thirties, very dark hair, enviably trim. I saw him the next morning in a pair of jeans torn, either from fashion or farm work; the effect was the same: unassuming and assured. His t-shirt was white with a hole through which I saw a tattoo, or maybe it was dark chest moss. He was young, except when he held Wiley, his and Lora's one-year-old; except when his three-year-old daughter Alma held his legs for comfort.
That morning he made the most delicious omelette with bacon. It was a masterful rescue operation—Joe had walked away from the whisking bowl to briefly settle Wiley when Alma pushed a one-rung step stool to the kitchen countertop. She climbed up, took an egg and cracked most of the shell into the bowl. I looked with disappointment to see Alma's cracked, light brown shells slide into the yellow yolk and translucent white.
"What is that white thing in there, mommy?"
"Cream. Daddy added some cream to the eggs," bright Lora said.
"YUMMY. Cream is yummy."
I wrote off breakfast. Until I tasted it. Cream in eggs. And toddler interference. An Egypt secret revealed?
The next evening, Lora invited her people. They came from Harlan, Hazard, and Jackson County. They mostly looked conventional, but they brought accents. Also, platters of foods: chicken and dumplings; leather britches, green beans; cornbread, pie, sausage and sauerkraut, kilt salad, sorghum butter, bourbon everywhere and back. Then an inedible banjo, and an impossible-to-eat fiddle, both to feed the feet shuffling. I shared what I cooked from my ripe finds on the farm; my own back-home favorites: jollof rice, fried plantains, red stew with fried chicken feet, Nigerian yam pottage, wild mango seed stew with fermented yam flour. Lora called the potluck spread the "Nigerian Appalachian Remix."

Lora's people were young and middle-aged and politely lascivious and intelligent and liberal and they laughed and drank bourbon highballs and were literary, and—I was too drunk to remember too much more except that they were smarter than me.

I was not too drunk to go four-wheeling on the property. Me driving; Joe in the passenger seat yelling. In the back: Jacob the handsome fiddle player and Brett Ratliff the Banjo Man, who had a singing voice that made me turn around—even though I saw his voice leave his mouth, I couldn't hear it until it crooned to the back of my head. Together we ripped and roared through the danger and the dark, all of us the bright and beautiful, and nothing could touch us, not even in this place that coal had tried to kill.
---
Enjoy this story? Subscribe to the OA Newsletter.