Warrior in Crinolines
Naomi Judd respresented the best of Kentucky
By Jason Kyle Howard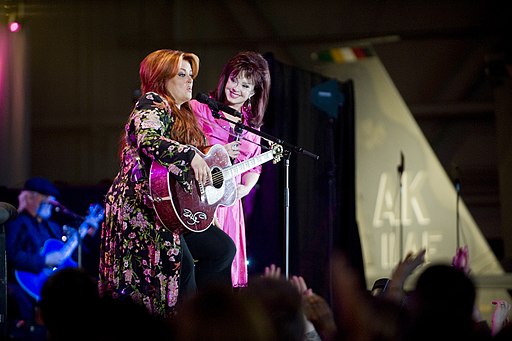 Jonathan Steffen via Wikimedia Commons

Our school librarian had placed pencils and sheets of paper on the tables. A familiar word was written on the chalkboard, underlined for emphasis: Kentucky. In our weekly library sessions, she normally directed us to books by Kentucky writers like George Ella Lyon, Rebecca Caudill, and Jesse Stuart. But this week, she had something else in mind: we were to choose a prominent Kentuckian to research for a project. We had to write about them, she explained, and to create a visual component. At each table was a list of names, but we could also choose someone with her approval. While my classmates began studying the list and writing down options that interested them—Abraham Lincoln, Muhammad Ali, Loretta Lynn—I raised my hand. I didn't have to think twice about my decision. I informed the librarian that I had chosen The Judds, whose cassettes I listened to on my little yellow Sony Walkman.
She beamed. "Oh, that's a good choice. I love them."
I did too. I loved the raw power of Wynonna's voice, the mountain twang of the harmonies they had started honing on a mountaintop in nearby Morrill, Kentucky, after a tumultuous stint in Los Angeles. But I especially loved Naomi. It was the autumn of 1991, and she was on the verge of retiring due to having hepatitis C, likely contracted from an accidental needle stick during her time as an ICU nurse. She and Wynonna had embarked on a year-long farewell tour and country music stations were playing their latest singles—"One Hundred and Two" and "Love Can Build a Bridge"—on constant rotation. To me, The Judds' music sounded like home, and I set out to make a diorama of them onstage.
Kentuckians have a special attachment to their musicians. They see their own experience reflected in the music—in the lyrics about hardship and family, in the strum of a guitar or mandolin—and they often see a glimmer of themselves embodied in the singers themselves. "Naomi and Wynonna," people would say in Bell County, where I grew up along the Tennessee-Virginia border. "They're from Ashland, up in Boyd County." It was as if they knew them, but of course they didn't. And it didn't matter that Ashland, while relatively close as the crow flies, was a three-hour drive over winding, treacherous mountain roads. The Judds were from eastern Kentucky; therefore, they were one of us. But more important than the mere accident of their geographic origin was the conscious choice Naomi made in claiming it. She wore her identity as an Appalachian with pride, making sure it sparkled and shone as brilliantly as the vivid silks and glimmering rhinestones she wore onstage.
Years after I made that diorama, I came to know Naomi through her daughter Ashley, as well as through a book I wrote on Kentucky music. Since her death to mental illness on April 30th, Naomi has been rightly lauded as a country music superstar—half of the beloved duo which has sold over twenty million records and a six-time Grammy winner, whose rags-to-riches story has captivated the public for nearly forty years. But I would also like to add something humbler and more intrinsic to who she was: Naomi Judd exemplified the best of Kentucky. Being a seventh-generation eastern Kentuckian was not simply a marketing tool pushed by industry publicists. It was an assurance inscribed on her very heart. Naomi was born and died a Kentuckian.
These days, what emerges from Kentucky is all too often cause for mortification and derision: the rejection of science by many of the state's politicians and a good portion of its populace, scorn for intellectual curiosity and open-mindedness, hostility towards difference and diversity. In the national media, Kentuckians are often reduced to easy stereotypes.
Naomi defied those. Somehow, she was able to mirror the finest qualities of her home state for the rest of the world to see: resourcefulness, intelligence, hospitality, eccentricity, a strong work ethic, a love of storytelling, a commitment to family regardless of any foibles or disagreements. The courage to change and adapt.
She came from a family of Kentucky matriarchs, many of whom exemplified these qualities and gave her, Naomi once told me, a "dynastic awareness of the land"—an understanding that was rooted not only in place but also in gender. Her great-aunt Margie and great-aunt Zora lived on the Judd family homeplace on Little Cat Creek in Lawrence County, not far from Ashland. As Naomi explored the surrounding woods and creek, this farm became the center of her spiritual geographic coordinates, the place her creativity and originality flourished. Margie and Zora were fiercely independent. Genteel and well-read, Margie enquired about Naomi's grades. Zora planted and raised a garden, mended fences, and exhibited a singular sense of style, wearing outrageous, mismatched clothing that fascinated the young Naomi. She watched Margie and Zora be nothing less than completely themselves, always ready to adapt to the ever-changing circumstances of farm life.
Another aunt, Pauline, adored dogs and spoke to them in a private language. She paid attention—to animals, whose behavior she monitored to predict the weather, and to Naomi. On summer evenings, as they sat on the screened-in back porch and watched the gloaming descend over the fields, Pauline passed on folk wisdom and the knowledge that beauty can be found in simplicity.
Naomi's own life took her back-and-forth across the country with her daughters in tow, searching, enrolling in nursing school, working two or three jobs to make ends meet, enduring abuse and sexual harassment, until 1979, when she moved her family from northern California to Nashville, living out her lyrics to The Judds' hit "Guardian Angels": I might not know where I'm going / but I'm sure where I come from. Since her death, this moment keeps returning to me: there she is, newly arrived in Nashville, on the precipice of success, but she doesn't know it yet. Or perhaps she does. Perhaps she senses it nestling inside her, about to bud.
How much faith does it take for her to make this move? She is certain her daughter Wynonna possesses a tremendous talent, and she wants the world to know about it. But I think she also wants this for herself—this Kentucky girl who has so often found herself under siege, underestimated and counted out, all while trying so desperately to hold herself together. Barely four years later, she will conquer Nashville.
Publicists, and even Naomi herself, shaped this into a Cinderella story: the poor, scrappy mother who pulled herself and her family up by her bootstraps, going from a stint on welfare to singing at the White House. But that narrative is far too neat and sanitized, and it doesn't account for the price she and her daughters paid. It reduces her to a character in a fairytale when in fact she was a warrior in crinolines. Know this: she had to fight for what she earned. She went to war for her music, for new career opportunities after her hepatitis went into remission, for her physical and mental health.
Where did she find those internal resources? The answer must be rooted in the notion of ancestral memory she liked to research and discuss, and in matriarchy. I think she reached back to Lawrence County and the survival skills she learned from observing Margie and Zora go about their farm work and hearing Pauline accurately forecast the weather—Kentucky mountain wisdom she tucked into the bosom of her dress for safekeeping.
Like these women, Naomi was wholly, unapologetically original. The country music industry didn't always know what to do with her. That was their loss. She didn't fit the mold of a female country performer. She was far too bold and audacious—living "a spectacular Technicolor dream," as Ashley observed at her mother's public memorial. In both formal interviews and intimate conversation, Naomi was as apt to talk about her passion for neuroscience and literature as she was about country music. Once, when she had made lunch for me and my husband, she offered a grace recited from Walt Whitman's Song of Myself:
"Why should I wish to see God better than this day?
I see something of God each hour of the twenty-four, and
each moment then,
In the faces of men and women I see God, and in my own
face in the glass,
I find letters from God dropt in the street, and every one is
sign'd by God's name,
And I leave them where they are, for I know that wheresoe'er
I go,
Others will punctually come for ever and ever."
Insatiably curious, she had a keen, restless mind that she refused to keep under wraps. Country music, you see, has always bristled at intelligent women who decline to be reduced and neatly categorized.
As the harmony singer who sashayed and flirted across the stage, Naomi was sometimes dismissed by the industry, her own talents minimized. She was too often relegated to the role of The Mother—a conduit who gave birth to two daughters with undeniably miraculous talents in their respective fields: Wynonna, the vocal heir to Elvis and "the most complete and gifted female singer of her generation" (in the words of Los Angeles Times music critic Robert Hilburn), and Ashley, the acclaimed Emmy and Golden Globe-nominated actor whose commitment to social justice advocacy and service is one of the most tender, honest reflections of God I have ever seen.
But make no mistake: Naomi Judd was herself a miracle. Who else could move to Nashville and only four years later, at the age of thirty-seven, not just sign a recording contract with her eighteen-year-old daughter, but also bend a patriarchal industry around to her vision of what country music should be?
This has been forgotten: When the Judds' debut EP Wynonna & Naomi was released in 1984, country music was, to a large degree, stagnant. In the aftermath of Dolly Parton's crossover to pop and the Urban Cowboy phenomenon, the line between country and pop had blurred. While a few innovators such as Rosanne Cash were producing imaginative, lyric-driven work that straddled genres, many of the songs on the country charts were bland and formulaic.
Credit for the remarkable turnaround in country music's artistic and commercial fortunes has often been given to the fabled Class of '86—Steve Earle, Randy Travis, Keith Whitley, and Dwight Yoakam (all men)—who supposedly helped return country music to its traditional roots. In fact, The Judds beat them by two years. Along with Emmylou Harris and their fellow Kentuckian Ricky Skaggs, they reoriented the industry closer to the sounds Naomi had encountered during her spell in Morrill. There, after buying a used Hazel & Alice record from a store in nearby Berea, she and eleven-year-old Wynonna had accessed the wellspring of Appalachian music that would come to define The Judds' sound: sparse, acoustic instrumentation and lush family harmonies that created, in effect, a third voice.
Naomi's contralto, so rich and ambered, bolstered and elevated Wynonna's majestic voice to new altitudes while supplying the duo's emotional bedrock—a pensive, motherly concern on "Mama, He's Crazy"; knowing elation on "Rockin' With the Rhythm"; tender assurance on "Young Love (Strong Love)"; and steadfast conviction on "Love Can Build a Bridge."
From the very beginning, Naomi was also a songwriter. She had started practicing her craft back on the mountaintop in Morrill, making up little ditties to sing to the girls around the house. Along the way, her confidence grew, and she became one of country music's most underrated composers. Her songs were unpretentious, drawn from a well of emotional honesty and the rural, poetic language her aunts had spoken. They were at once country, and yet they reached beyond that genre's boundaries to include pop, blues, and even Big Band influences.
Her song "Change of Heart," a quiet, romantic ballad with a 1950s sensibility, was included on The Judds' debut EP and eventually went to number one on the country charts. "Guardian Angels" (number sixteen in 1990, and co-written with John Barlow Davis and Don Schlitz) pays homage to her Kentucky ancestors and has long been a fan favorite, admired by Bono, who recited it in a video at her memorial. Her transcendent anthem "Love Can Build a Bridge" (number five in 1990 and number one in the weeks following her death, and co-written with Paul Overstreet and Davis), still so relevant in our fractured times, will remain her living testimony.
Her deeper cuts are just as rich and meaningful. The mournful "River of Time" (co-written with John Barlow Jarvis), an elegy for the brother she lost when she was nineteen; "Lazy Country Evening," which captures a country gloaming; the Big Band-influenced "Big Bang Boogie" (co-written with Gary Nicholson) that showcases her playful side. Two of Wynonna's finest solo cuts, the aching "My Strongest Weakness" (number four in 1992 and co-written with Mike Reid) and the searing blues number "That Was Yesterday," are Naomi compositions. There are many others: "Mr. Pain," "Cadillac Red," "This Country's Rockin'," "Rompin' Stompin' Blues," "When King Jesus Calls His Children Home."
People saw something of themselves in her music and in her—even when her homespun wisdom sometimes veered toward the corny, as she herself readily admitted, and belied the fascinating complexities of her character.
She was charming and beguiling, which could mask a steely resolve.
She was a searcher, a seeker, with a fixed notion of home.
She was a proud country woman who reveled in rural life, and she allowed herself to be expanded by ideas and people she encountered in cities.
She was an empathic listener, and a brilliant conversationalist.
She could chat with a fan at Walgreens, and discuss the cellular intricacies of the Human Genome Project with its director.
She was a student, intellectually omnivorous, and a teacher who taught us to safeguard our mental health.
She celebrated her daughters— "the jewels in my crown," she called them—and her husband Larry Strickland, and she was open about her regrets, the mistakes she had made as a parent.
She was Everywoman, and yet undeniably herself.
She was an absolute marvel.
The night of her public memorial at the Ryman Auditorium, I stood on the roof of a posh Nashville hotel and surveyed the skyline of the city whose will she had pulled in her direction. I gazed across to the Country Music Hall of Fame, of which she and Wynonna are now, at long last, members, and I studied the ridgeline of the Ryman. I thought of the diorama I made so long ago, and most of all, of the woman who came here all those years ago and everything she brought along: her two beloved daughters and a dream she hoped to somehow will into existence; her trauma, fears, and anxieties. Of starting over yet again, of approaching middle age and having little to show for it. Of whether she was good enough.
I thought of how on March 2, 1983, in a conference room only a few blocks away, she stood in front of a bathroom mirror, riddled with nerves, before she and Wynonna auditioned for RCA. In that moment of fear, of doubt, where did she go? "We're back in Morrill," she told her eldest daughter, and then they went and sang.
"Kentucky is past, present, and future for me," she once said to me, locking her hazel eyes to mine for emphasis. May she find peace, and may she rest, finally, among the laurels and redbuds she loved so deeply.
The author is donating his proceeds from this essay to NAMI, the National Alliance on Mental Illness. If you're struggling and need to talk to somebody, you're not alone. Call 1-800-273-TALK (8255) for a free, confidential conversation 24/7. For more ways to take care of your mental health and support others, visit NAMI.org.