Country Roots Recs
Weekly Album Recommendations from the OA Editors and Staff
By Oxford American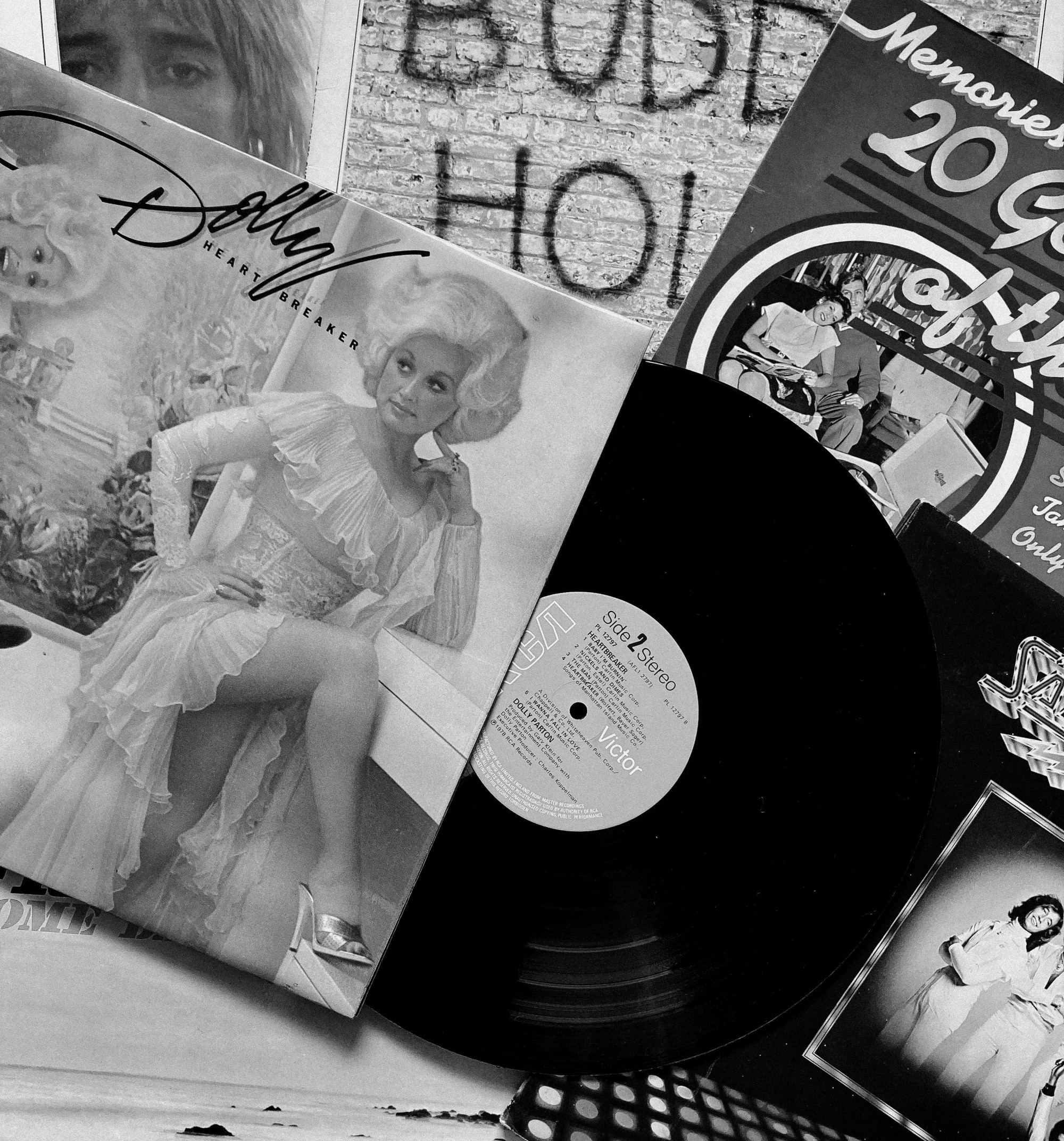 Photo by Lisa Fotios via Pexels
LeAnn Rimes's Blue


My first concert was at a theater inside an outlet mall connected to a casino. I was seven. The headliner was a fifteen-year-old singer from Texas named LeAnn Rimes. She was touring on the back of her debut studio album Blue, which she recorded when she was thirteen. Just like Mickey Guyton, who gushed about LeAnn in our Country Roots Music Issue, I'm not sure that I'd be a fan of the genre today if not for Blue—an album that, despite topping Billboard's country charts and earning the singer multiple Grammys, still feels underappreciated. A sincere-sounding mix of throwback ballads and radio-friendly hooks, Blue was the perfect gateway drug for a sensitive second-grader who liked listening to his sister's cassette tapes. At the concert, when LeAnn sang the album's title track—written in 1958 by Bill Mack, who allegedly had Patsy Cline in mind to sing it—I was spellbound. While Bill's "Blue" wobbles with drunken fragility, LeAnn's room-filling interpretation channels the bittersweet ache of first love turned sour. Watching her from my seat, I wondered if I'd ever be old enough to feel things that deeply. There's a part of me that wishes I never found out.
—Patrick D. McDermott, Multimedia Editor
The Best of the Statler Brothers (1975)


Since learning our 2022 music issue would be on country roots, I've had The Best of the Statler Brothers album within arm's reach of my record player. These guys—only two of whom were actual brothers—originated as a gospel quartet. However, their legacy shifted forever into country after they were hired as the backup group on the show of another gospel-rooted country artist—Johnny Cash. This 1975 "Best Of" collection highlights the quartet's flawless harmonies and jaunty instrumental twang that made them so renowned. And, if you know to listen for it, you can hear their shared gospel roots peeking above the country landscape lyrically and vocally throughout.
—Kelsey White, Marketing & Communications Manager
John Prine (1971)


My earliest memories of listening to John Prine were not, in fact, actually listening to John Prine. Instead, my childhood love for Prine's music developed over years of minivan rides soundtracked by a beloved homemade cassette tape. On it, my maternal grandfather and a host of uncles play instruments and sing "Hello In There," "Paradise," and "Please Don't Bury Me" at some family gathering of yesteryear, perhaps in a garage or a driveway, perhaps in the late '80s or early '90s. The tape was a tie to a grandfather I'd never met, to an uncle who died when I was too young to remember much about him, to a set of lives connected to me only by blood and a set of staticky songs. At the end of their rendition of "Hello In There," you can hear the voice of some member of this makeshift band say, "That's pretty. Did you write that?" and another reply, "No, that's John Prine." And they go on to speak his name, John Prine, rolling it across their tongues over and over, as the recording dissolves into the next track.
When I finally heard the self-titled album John Prine (1971) that is home to most of these songs, I was disarmed by the nasal quality of his voice, by the lack of idle chatter between tracks. But I loved it, and I still do; the lyrics and the melodies remind me of my extended family, of the threads that continue to connect me to them, some alive, some having passed, but all preserved in song.
—Laura Daley, Engagement Editor
Orville Peck's Show Pony


Show Pony, a companion to Orville Peck's debut album, Pony, released mid-pandemic in August of 2020. A masterful continuation of his considerable vocal skill, Show Pony allows Peck's sultry tones to dazzle, dipping the listener in such memorable ballads as "Drive Me Crazy," a queer love story of truckers passing in the night, "Legends Never Die," which he wrote and recorded with Shania Twain at her ranch just before quarantine began, and a heart-ripping cover of "Fancy," which nods to Reba McEntire's version of the Bobbie Gentry original. Although not his longest, or best-performing album on the country charts, Show Pony features some of the best tracks of Peck's career and showcases the emotionality and longing Peck often infuses in his music and persona, creating a stunning journey of a listening experience.
—Annika Warrick, Editorial Intern
[EDIT: The original version of this post attributed "Fancy" to Reba McEntire to draw a connection between Peck's cover and McEntire's rendition, but has been revised to include an attribution to Bobbie Gentry, the writer and original singer of the song.]
CMAT's If My Wife New I'd Be Dead


In the country roots issue, Brían Mac Gloinn examines the patterns of immigration which inform the musical commonalities between Irish folk music and American country music: "Adding a guitar and a harmonica to their old local songs, alongside new songs featuring places like West Virginia and New Orleans, people could feel part of a bigger, newer world." In isolation, If My Wife New I'd Be Dead is already one of my favorite albums of the year, but I find it takes special precedence among the context of that essay. CMAT is Ciara Mary-Alice Thompson, an artist originating from Ireland; hers is not a traditional origin for country music, but the reverence for her influences rings true. On her biggest single, "I Wanna Be a Cowboy, Baby!", Thompson laments the titular sentiment with a deep yearning: "I hate the way my life turned out/There ain't no ranch to roam inside my room." Despite the physical distance between this conjured utopian object of Thompson's longing and her own homeland, the Countrypolitan heart of If My Wife New I'd Be Dead overflows with sincerity, humor, and emotion. It's just as Mickey Guyton theorizes in her Q&A in the country roots edition: "Country music is life, no matter where you're from. We define it as American and American culture, but you are literally singing about what is before your eyes. It is homegrown. It is you singing about your family and life."
—Zhenzhen Yu, Editorial Intern
Mary Chapin Carpenter's Come On, Come On


In the early 90s, my musical tastes were determined by the cassette deck in my mom's minivan, which meant I listened to Paul Simon, Cowboy Junkies, and Mary Chapin Carpenter, and I loved nothing more than Carpenter's 1992 album, Come On, Come On. The album is solidly 90s-pop-country-rock easy listening, yet there's an inkling of rebellious feminist energy in the way the album dances around themes of fate, luck, and love. In "I Feel Lucky," Carpenter ignores her horoscope and a voice from above that tells her to "get back in bed;" she wins the lottery and gets hit on by Dwight Yoakam and Lyle Lovett (it seems that she turns them down). In the background, the piano bangs a jazzy chord progression, and Carpenter tells us "the stars might lie but the numbers never do." In the penultimate song, "I Take My Chances," she sings, "I never learned nothing from playing it safe / I say fate should not tempt me" to a wailing electric guitar. As a pre-teen, I rebelled into that typical early-aughts "anything but country" music fan. While we were producing this issue, I had to reconsider my stance on country music, and it has been a delight to get in touch with my own country roots and revisit childhood favorites.
—Allie Mariano, Assistant Editor
Sarah Jarosz's Song Up In Her Head


I was an "everything but country" kid when I first heard Sarah Jarosz on my dad's truck stereo. Jarosz is only a few years older than me, and she recorded Song Up In Her Head in her last year of high school, just as I was about to begin my first. Both the music and my memories of it are warmed by the passions and uncertainties of adolescence. That's not to say that it's unsophisticated—it features an all-star cast of players, including Chris Thile, Jerry Douglas, and Stuart Duncan, as well as Jarosz's own virtuosic picking, which netted her a Grammy nom for Best Country Instrumental. But it was Jarosz's songwriting, tender and wondering, self-conscious and wishful, that kept me playing the album on repeat throughout my own coming of age and opened my ears to a whole genre. Since then, Sarah Jarosz's musical sensibilities have evolved and matured, shining in projects like I'm With Her, the supergroup Jarosz founded with Sarah Watkins and Aoife O'Donovan, and Blue Heron Suite, an avant-garde song cycle she released in 2021. I hope that my tastes and skills have matured alongside Jarosz's and that her music can keep me company for many years to come.
—Christian Leus, Assistant Editor
Pam Tillis's Homeward Looking Angel


Pam Tillis and her video "Cleopatra, Queen of Denial," which aired frequently on CMT circa 1992 (a staple channel in our house right after whatever station televised football games), introduced me to country music beyond my parents' loves of Patsy Cline and Hank Williams (though I inherited their lifelong long for Patsy). As a second grader when Homeward Looking Angel came out, I fell for Pam through the gold Egyptian costumes of the Cleopatra video, and spent my allowance money on the album, my second album purchase ever (right after my first, the Dinosaurs show soundtrack). In addition to being my first introduction to puns, Pam Tillis taught me how art and music serve as doorways to emotion, and that the big feelings of sadness and frustration common in early childhood don't necessarily dissipate for adults, but can be transformed into something beautiful.
—Amanda Boldenow, Development Coordinator